One of the things I find interesting about reading a book is to learn what inspired the author to write about that particular person, place or topic. When I picked up Sigmund Brouwer's new book Thief of Glory, I was fascinated to learn that this World War II-era novel was inspired by a family story. Sigmund's father spent part of his boyhood in a Japanese Internment camp in the Dutch East Indies, just as Jeremiah, the main character in the novel, does. From there, I was hooked.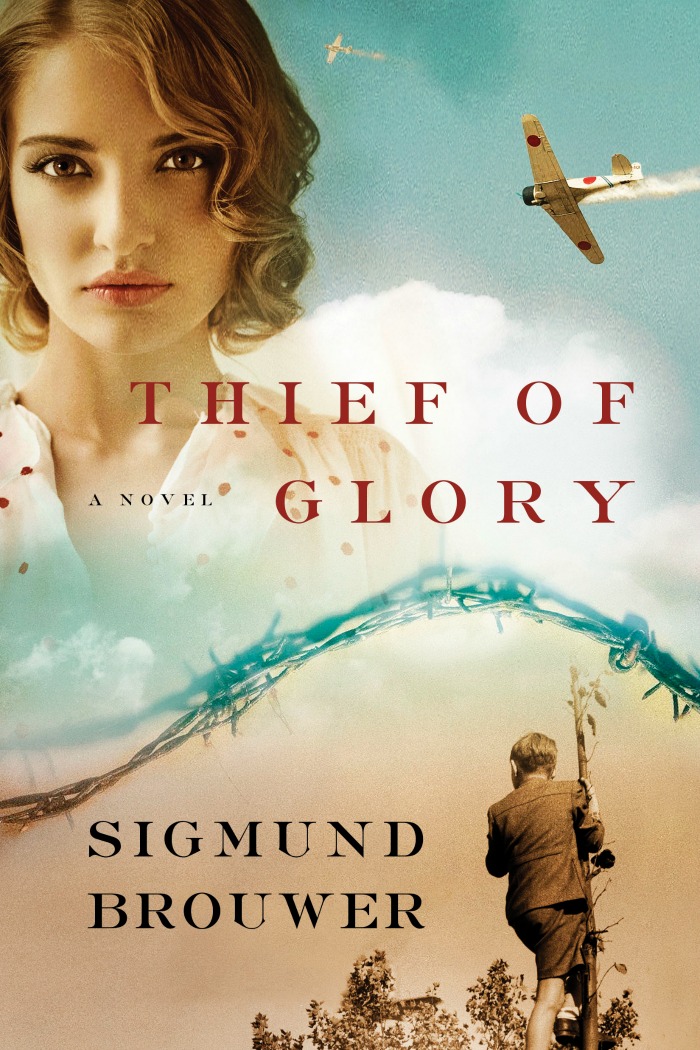 This post contains affiliate links; as an Amazon associate, I earn from qualifying purchases.
Thief of Glory Plot Summary
Thief of Glory is written in retrospect by Jeremiah as an old man, looking back upon his boyhood and the events that happen the year he was ten. The story begins with a critical moment in his life: the day when he meets both the love of his life and his archenemy.
From that pivotal yet ordinary day, Jeremiah's life changes completely as the Japanese invade the Dutch East Indies. Jeremiah's father and three older half-brothers are taken away and then Jeremiah, his mother, and his younger siblings are taken the internment camp. There, Jeremiah attempts to keep his family alive and together, despite disease, starvation, and his mother's mental illness.
When the internment camp is liberated, halfway through the novel, the story abruptly jumps ahead to the "present," with Jeremiah as an old man. He's now in jail for attacking a senator and his daughter, who is also his lawyer, is trying to help him stay out of jail—and open up about his past.
As Jeremiah fights his own mental illness, he must also struggle with the memories of what actually happened in the internment camp—and his last chance to reconnect with his true love and his daughter.
My Thoughts on Thief of Glory
If you've read any of my book reviews, you probably know I'm a huge Sigmund Brouwer fan. I expect a good book when I see his name on the cover. With Thief of Glory, Brouwer exceeded all of my expectations.
This is one of his best books, I believe, and one of the best books I've read this year. From the precocious ten-year-old Jeremiah to the proud old man he becomes, to the impeccable historical research and descriptions that carried me to the Dutch East Indies, to the mysteries that help propel the story forward, Thief of Glory is a fantastic novel.
One of the things I really liked about Thief of Glory was the retrospective perspective in the narrator. We find out halfway through the novel why Jeremiah is looking back on his life and retelling his story, but this perspective allows him to add some commentary to the events of his boyhood that helps push the story ahead.
At the same time, in writing his story, Jeremiah suppresses memories that come out at the end of Thief of Glory, adding to the revelations of his character. His character itself is deeply fascinating, as Sigmund does an excellent job of creating an old man still burdened and affected by the past.
If you like this World War II novel, you may also like:
More about Sigmund Brouwer
Sigmund Brouwer is the author of nearly thirty novels, including the Merlin's Immortals series,  The Canary List, and Flight of Shadows. He is married to Canadian recording artist Cindy Morgan and has two daughters. You can find out more about him, the inspiration behind Thief of Glory and his Chapters of Our Lives seminars at the Thief of Glory website.