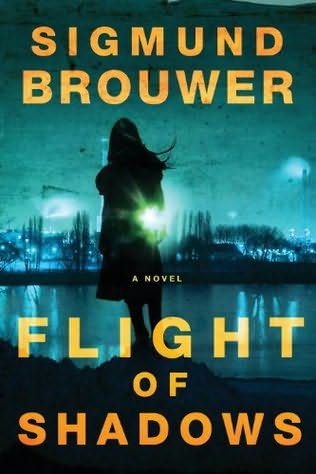 Sigmund Brouwer was one of my favourite authors growing up. I read the entire Accidental Detectives series and am still annoyed that I'm missing one book in the Winds of Light Series.
He's an author I admire for the variety of what he's written—everything from westerns to Biblical fiction to historical fiction to sci-fi-/futuristic fiction, children's board books and YA books and adult books. I've met him at Inscribe conferences twice and he's an incredibly inspiring teacher.
So even though I already had a large stack of books in my review pile before Christmas, I jumped at the chance to read Brouwer's latest offering, Flight of Shadows.
This post contains affiliate links; as an Amazon associate, I earn from qualifying purchases.
Flight of Shadows is a sequel to Broken Angel, which I haven't read yet. Brouwer fills in the backstory well enough that this book can stand on its own. At the same time, the hints of backstory make me curious about the rest of the story, so I might have to track down Broken Angel.
Flight of Shadows Plot Summary
Caitlyn works as a maid in a big-city hotel, but she's not an ordinary girl. She's the result of a genetic experiment that left her with a set of wings, which she keeps carefully hidden so she appears to have a hump on her back.
The wings give her the glorious freedom of flight—but also set her apart from the rest of society and mark her for those who want to find her and use her special abilities.
Soon, Caitlyn is on the run—from Mason, the bounty hunter who has been chasing her since Appalacia, and from Pierce, the National Intelligence agent who's been ordered to bring her in.
In this futuristic society, where people live in city-states for protection and there are rules about everything, Caitlyn finds help from an unexpected source—a street-wise man named Razor who can move comfortably among all four classes—Illegals, Industrials, Invisibles, and Influentials.
Yet Razor has no idea what he's up against. It will take all of his illusions and tricks to stand against those who want Caitlyn.
My Thoughts
It's been a while since I read any Sigmund Brouwer, so there were several things that jumped out of Flight of Shadows at me. First, the short chapters. I remember Brouwer telling a group of writers once how to create suspense. He's a master at it. Each chapter left a character in danger, a question unanswered, or something puzzling happening—and then switched to another character.
Second, all the characters. At times, I almost got confused keeping them together, especially since there seemed to be more bad guys than good guys. At the end of the story, it was nice to see one of the bad guys come out on the good side.
Third, information is given only on a need-to-know basis. Even though Caitlyn is the main character, we know no more about her (unless you've read Broken Angel) than Razor does. Backstory is provided as other characters in the story demand it, not when the reader wants it.
Flight of Shadows was a suspenseful, interesting read (one that, at one point in my life, I would have read in one sitting because I didn't have a toddler and a baby to demand that I put it down and give them attention).
At the same time, Brouwer put a lot of thought into the society and situation that he created in the novel, as he outlines in an afterword:
My hope is that the novel's fictional setting will remind you that the real America, with all its imperfections and infighting, is still a glorious democracy and a unique bastion of freedom, a legacy built by the women and men who have sacrificed for it over the last few centuries.
Flight of Shadows is indeed thought-provoking and would be great for a book club discussion.
If you liked Flight of Shadows, you may also like:
This book was provided for review courtesy of the publisher.