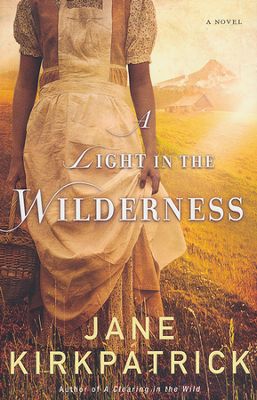 Between 1841 and 1869, over 200,000 men, women and children travelled west across the United States on the Oregon Trail, searching for a better life in a new land. Among those were black families, hoping to escape the slavery laws of the U.S.
Jane Kirkpatrick's newest novel A Light in the Wilderness is the story of Letitia Carson, a free black woman who travelled from Missouri to Oregon in 1845.
I received this book for review courtesy of the publicist; all opinions expressed are my own. This post contains affiliate links; as an Amazon Associate, I earn from qualifying purchases.
A Light in the Wilderness Plot Summary
Letitia works for the Bowman family as a free woman, but they are heading to Oregon. At the last minutes, she decides to remain behind. Working at the local hotel, she lives off her earnings and the income from her cow, Charity.
A local Irishman, Davey Carson, offers her his help and protection, and soon that turns to affections and the decision that they too will head for Oregon—together. However, since blacks and whites can't marry, their marriage remains more of an agreement that Letitia will help Davey establish his claim in Oregon.
Letitia's friend Nancy Hawkins and her family are also heading west. Letitia values Nancy's friendship as other women on the wagon train exclude her because of her skin. Her daughter, Martha, is born on the way. Yet tragedies dog the wagon train, and Letitia and Nancy are often separated as their parties travel at different speeds.
In Oregon, the Carsons settle on a homestead, but Davey still has restless feet, leaving Letitia in danger from those who would enforce Oregon's anti-black laws.
My Thoughts on A Light in the Wilderness
As usual, Jane drew me into Letitia's story from the very first pages. I admired this young woman for her courage and tenacity in a difficult time. While I've heard of the Oregon Trail and read other stories about pioneers heading west, I'd never thought of people of colour taking the trail.
I was hoping for Letitia to find a place she could call home, where she wouldn't be judged for her skin (or her relationship with a white man). I loved the ending of the book, where Letitia finally gets justice in Oregon courts.
If you liked A Light in the Wilderness, you may also enjoy:
About Jane Kirkpatrick
Jane Kirkpatrick is the author of over 25 books, including Mystic Sweet Communion, One Glorious Ambition, and A Gathering of Finches. Many of her novels are set in the western United States and tell the story of historical women like Letitia.
Jane grew up in Wisconsin and now lives in Oregon, where she and her husband homesteaded land for 26 years. She has a master's degree in social work and has won numerous awards for her writing. You can find out more about her and her books by visiting her website.