Jane Kirkpatrick's novel Mystic Sweet Communion is the story of Ivy Cromartie Stranahan, a young woman living in Florida at the turn of the 1900s. Kirkpatrick explains that this story is "fiction based on fact" and she expresses her appreciation to the people who preserved the materials that Ivy left behind. Most of the characters in the novel are actual historical persons, brought to life by Jane's impeccable research and bright imagination.
The story begins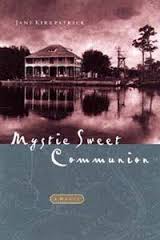 in Lemon City, Florida, in 1898. Ivy is the eldest of six children and about to take her teacher's examination. She has dreamed for years of becoming a teacher and worked hard at school to achieve that goal. Her first teaching job takes her away from her beloved family to a small town known as the New River.
As Ivy begins teaching her class of eager students, she get to know the town postmaster, Frank Stranahan. She also meets the local Seminoles, who sell their goods in town but otherwise have little interaction with the white settlers. When Ivy returns to her family for the summer, her relationship with Frank continues via post and she returns to the New River not as a teacher but as Frank's wife.
A tragic childhood experience causes Ivy to decide she'll never have children. However, as a teacher she still has a deep love for children and a desire to see justice in the world around her. She risks the anger of her community by reaching out to the Seminoles, teaching them English and her faith and finally becoming their advocate in the turbulent changes that come to the Everglades of Florida.
Mystic Sweet Communion (Multnomah Books, 1998, ISBN 978-1576732939) is part of Jane's Dream Catcher Series: "Four frontier stories based on actual historical couples who had a dream and how their faith and families enabled them to succeed. Told through the eyes of the woman but each is a story of a strong man as well."
Ivy's house still stands at the edge of the New River in downtown Fort Lauderdale, Florida. It is currently a museum and tourist attraction open to visitors. Ivy came to Fort Lauderdale in 1899 as the town's first school teacher and remained there until her death in 1971. Stranahan was active in the women's rights movement in Florida and the Audubon Society and helped established the Everglades National Park. All of this is brought to life in Kirkpatrick's novel, as we follow Ivy through the significant moments in her life and the events that motivated her choices.
Jane Kirkpatrick is an author, speaker and teacher who has written over twenty books, both fiction and nonfiction, including A Gathering of Finches and One Glorious Ambition. Many of her novels tell the untold stories of women who had a large impact upon American's history, such as Ivy in Florida and Cassie Hendrick Stearns Simpson in Oregon.
Jane grew up in Wisconsin and spent over a decade homesteading in Oregon with her husband. She has a master's degree in social work and has worked as a mental health and educational consultant. For more information about Jane or her books, visit her website.
I bought this novel when I heard Jane speak at a conference. This post contains affiliate links; as an Amazon Associate, I earn from qualifying purchases.

Pssst—I'm starting a weekly email newsletter! Sign up during the month of September to receive it and you'll be entered to win a $35 Amazon gift card!!!