If you've talked to either Sunshine or Lily recently, you'll have heard something about letting it go or wanting to build a snowman. The movie Frozen has completely captured their imaginations since we saw it in theatres in early December. We now have the movie and the soundtrack and I think they have both memorized (including the score in the soundtrack—they can tell you exactly which swell of music is the ship sinking or the wolves attacking).
Sunshine asked me several times to make her a cape like Elsa's. I toyed with the idea of getting them Frozen costumes (since they were playing Frozen every spare minute together). Then Holly from BuyCostumes.com told me she had a new shipment in and asked if we wanted to review the Elsa and Anna costumes. In a week, a box arrived at our door and I smiled as I handed it to the girls. I wish I had captured their expressions on camera; let's just say they were both extremely excited.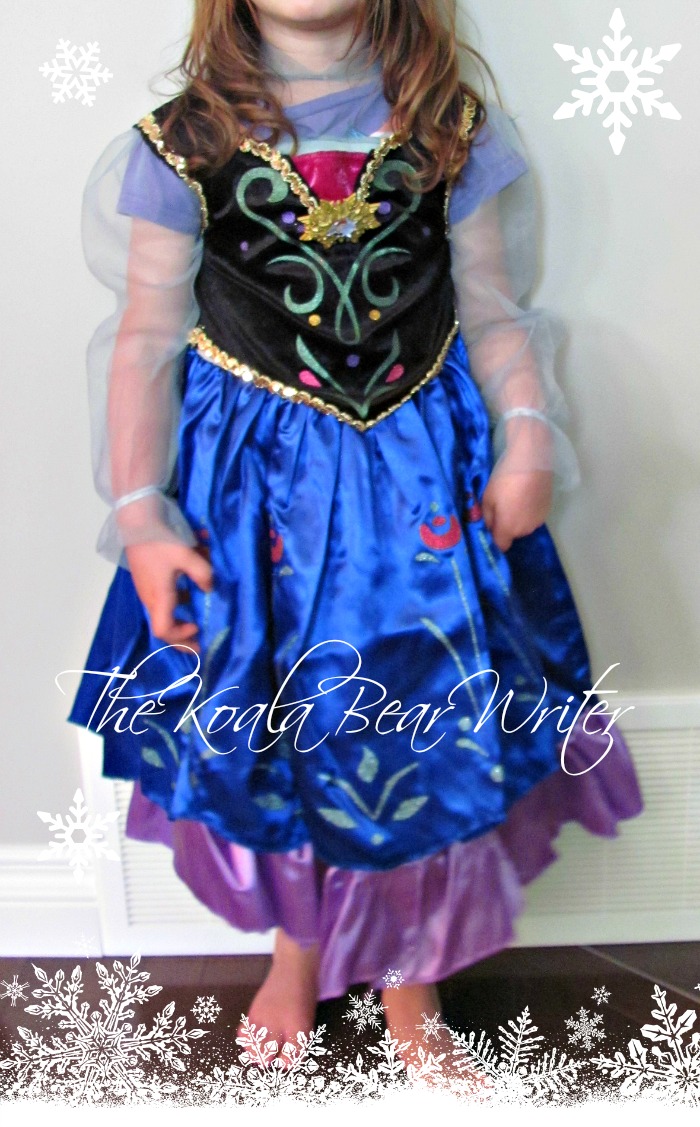 I was just as impressed as the girls were with their Elsa and Anna costumes. Lily's Anna costume came in three pieces. There is an underskirt with a purple ruffle all the way around, then the dress, and then the embroidered bodice that goes over the dress. Gold braid trims the bottom of the bodice and the arms and neckline. The collar stands up lightly against her neck and the sleeves are gathered to a pretty cuff at her wrists. There is plenty of sparkle all around for my "glittertastic" girl.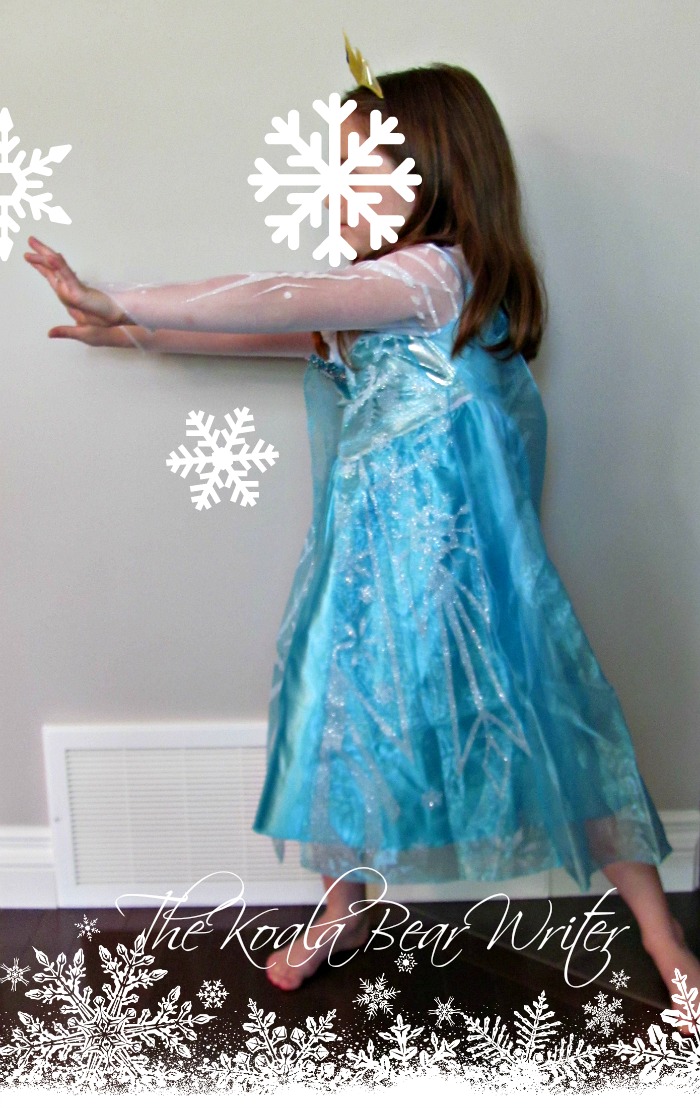 Sunshine's Elsa costume is one piece but has the same level of detail (that's Sunshine striking a "let it go" pose above). The dress itself is a shimmery light blue fabric, with an overlay of icy blue chiffon. The sleeves are sheer white with sparkly white snowflake details.
Sunshine was a little disappointed her dress wasn't floor-length like Elsa's, and didn't have the knee-slit. I thought the sleeves were beautiful; they reminded me of my wedding dress sleeve, which ended in a point over my hand. I showed Sunshine how to put the little elastics over her finger to hold the sleeves in place.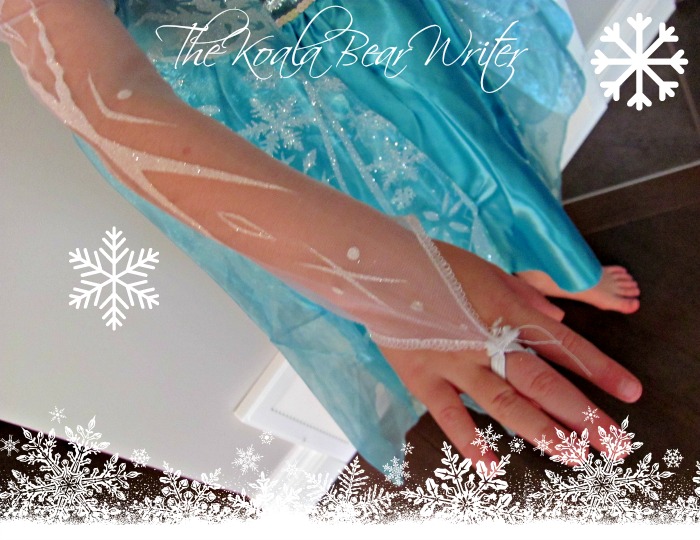 Both Elsa and Anna costumes also had a little "snowflake" pin on the front with a picture of Elsa or Anna in it. The girls were delighted by this and spent several minutes comparing their snowflakes and pictures.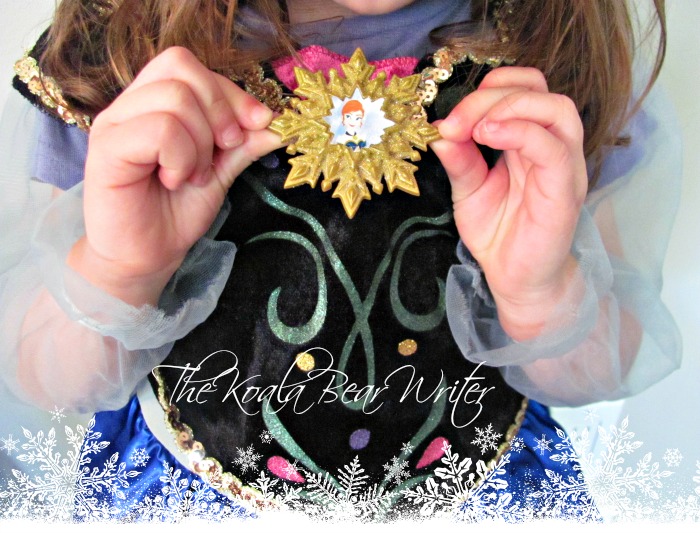 Then they spent quite a bit of time dancing around the living room singing various lines from the songs in the movie, making it very hard to take good pictures. Jade thought this was all good fun and joined in the dancing too.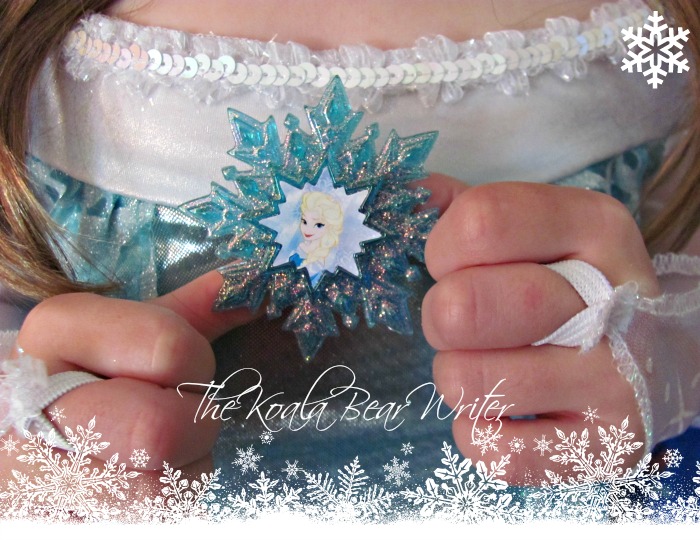 Sunshine suggested they should have high heels to go with their Frozen costumes, the way Elsa does in the movie. I pointed out that her dress had come with a crown (attached to a headband). She had me braid her hair like Elsa's in a sideways braid and then carefully smoothed her hair over the headband so only the crown was visible. (Clearly she's already a detail-oriented person!) She was also willing to share the headband with Jade when Jade wanted it, saying Elsa only wore it for the first half of the movie and then threw it away.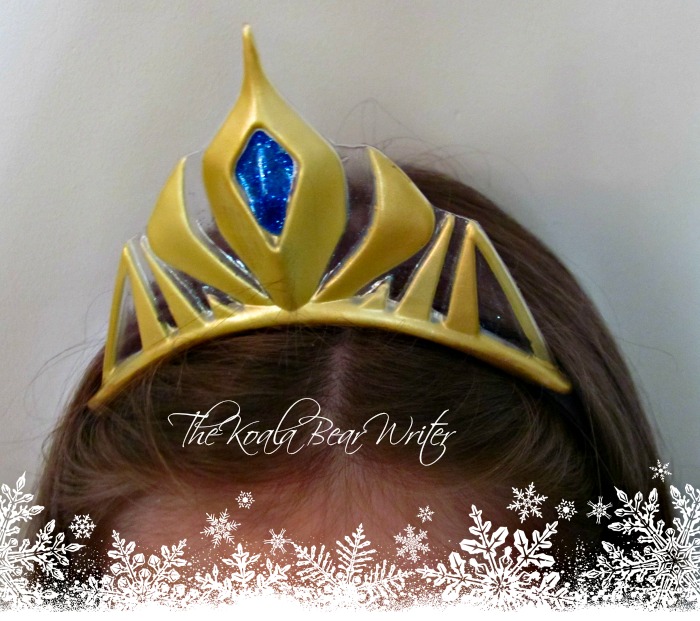 Sunshine and Lily wore their Elsa and Anna costumes for the next several days—around the house and to the park and even on the drive home to BC from Alberta. We stopped to visit the Enchanted Forest near Revelstoke. Sunshine happened to be wearing her Elsa costume that day, which was ironically fitting. So Elsa visited the Little Mermaid and other fairy tale friends. Sunshine was happy to tell anyone whose asked all about her Frozen costume and which princess she was.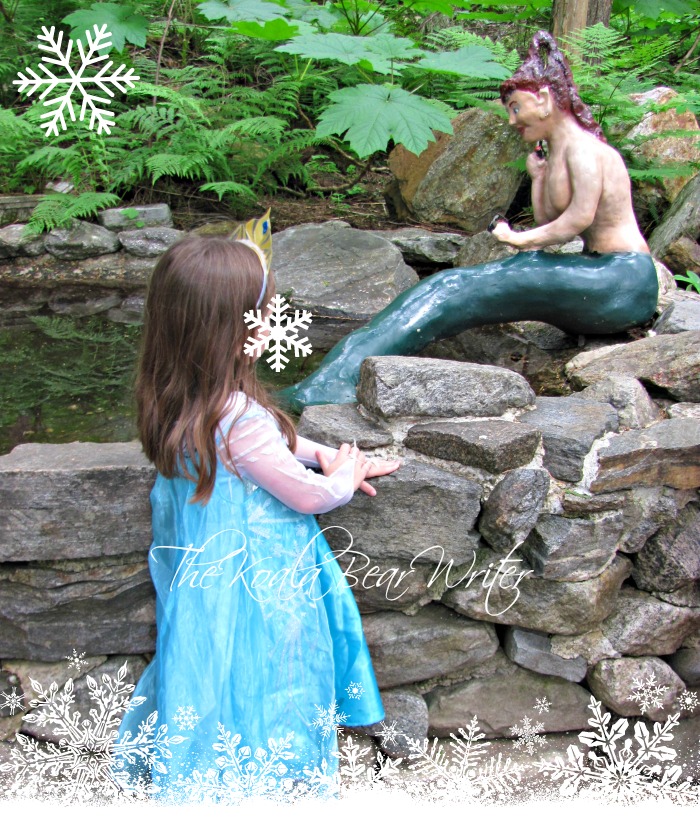 Both Elsa and Anna costumes are officially licensed Disney products. The Elsa dress is available in sizes toddler up to 12 and the Anna dress comes in sizes toddler up to 8. That fit is fairly exact; I ordered both Sunshine and Lily the 4T size, as they are very close in size. Lily's dress fits perfectly (she's a four-year-old toddler) while Sunshine's is just a bit tight and short. There is a handy size chart on the website so that you can double-check measurements before ordering. If the costume doesn't fit when you order it, you can exchange it for free.
Whether your daughter is a fan of Frozen or another Disney princess, check out BuyCostumes.com for all her dress-up needs!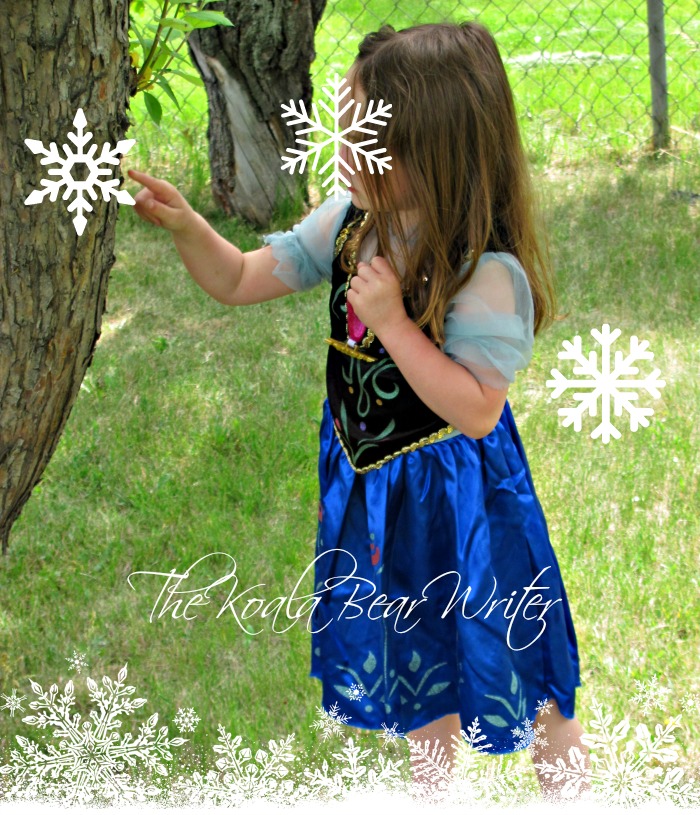 I received these costumes in exchange for my honest review; all opinions expressed are my own.