When I was in high school, my best friend's older sister got engaged and Mom offered to sew her wedding dress. I went along for most of the shopping trips, watching as the bride chose her dress and then found the satin and lace for it. On one trip, Mom had a long list of things to buy. I followed her around Fanny's Fabrics until I got tired and plopped down on a chair beside the pattern books. While Mom kept shopping, I started randomly flipping through a book.
I wasn't looking for any patterns, just browsing and keeping an eye on Mom to see how soon we could go. Then I turned a page and found my wedding dress.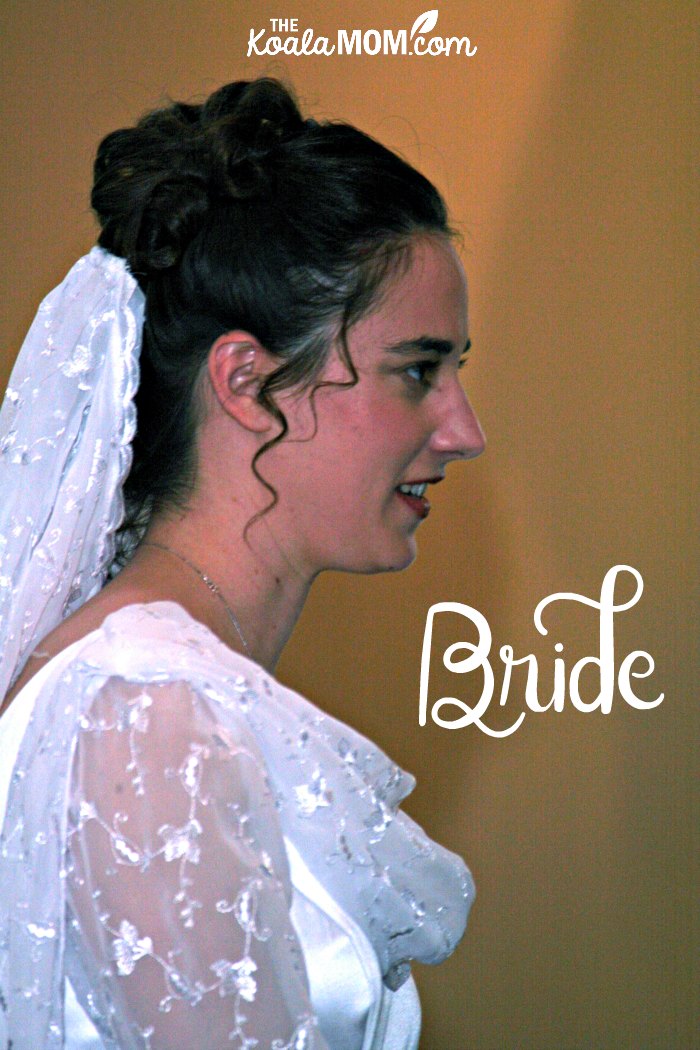 Finding My Wedding Dress
I stared at it, studying every inch of the half-page colour picture. The model was tall and dark-haired, like me, casually posed. I pictured the dress on myself as I walked down the aisle to my groom. It was the most gorgeous dress I had ever seen and exactly what I wanted. The only problem was that I didn't even have a boyfriend. I wouldn't be getting married for years – maybe ten or twenty. But that was the dress I wanted.
Mom wandered back to say she'd be just a minute longer. "That's a pretty dress," she commented, glancing over my shoulder.
My tongue wouldn't move, but I wanted to say, "It's the dress I want for my wedding." She would laugh at me and tell me I was getting a bit ahead of myself. But what if, when I finally met the right guy, I couldn't find the right dress? What if the pattern was no longer being produced? Mom would be sewing my wedding dress too, and this was the dress I wanted her to sew.
I was still sitting there when she came back again. The pattern book was still open to the same page. She looked at it and asked, "Do you want to get that pattern?"
"Could we?" I begged, my face lighting up. In a minute I had found the drawer and the pattern and pulled out my size. In the van on the way home, I couldn't stop grinning. Mom laughed with me that I'd found my wedding dress so easily. My best friend's sister had been to a dozen stores before finally deciding on the dress she wanted.
Over the next few years, Mom used the pattern for a couple other dresses, including my high school grad dress. We found soft, shimmery green fabric at an East Indian store for my grad dress. I felt like a princess on my graduation day, in a dress that fit me like a glove.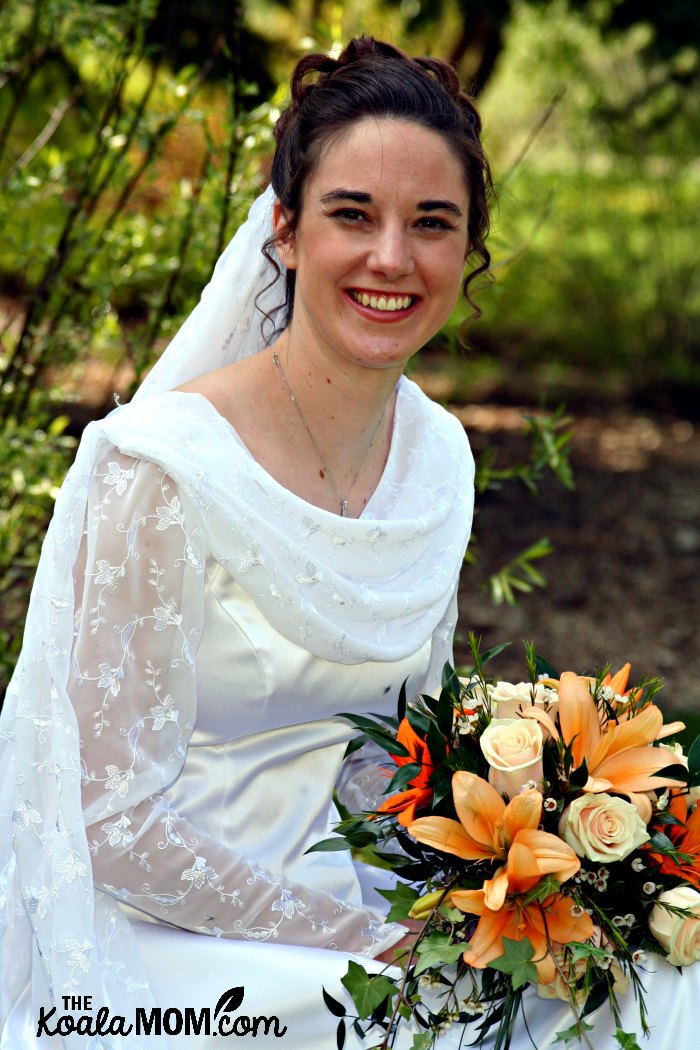 Finding Mr. Right
I started university, but remained single. Once in a while, when I was sewing other projects, I'd dig that pattern out to glance at it. I still loved it, and knew that someday the right man would come along.
In my final year of university, a friend I'd known since my first year revealed to me that he'd liked me since then. We started dating. A few months later, he invited me to a formal party organized by his university fraternity. I decided to wear my grad dress. When I walked in the door to the frat house and saw the expression on his face as he saw me, I knew I'd picked the right dress—and the right man.
The next summer he proposed. Soon after that, Mom and I pulled my pattern out and went shopping for white satin and lace for my wedding.
What I Wore to My Wedding
My wedding dress has lacy sleeves with a V point over my hand and a row of buttons under my wrist. The lacy cowl neckline drapes into two trains down my back. The princess seams show off my curves and then flare out to a full skirt with a short train at the back. Mom included clips so we could pin up the train for the dancing. A long row of tiny buttons down the back hides a zipper (but I had fun teasing my husband-to-be about the buttons).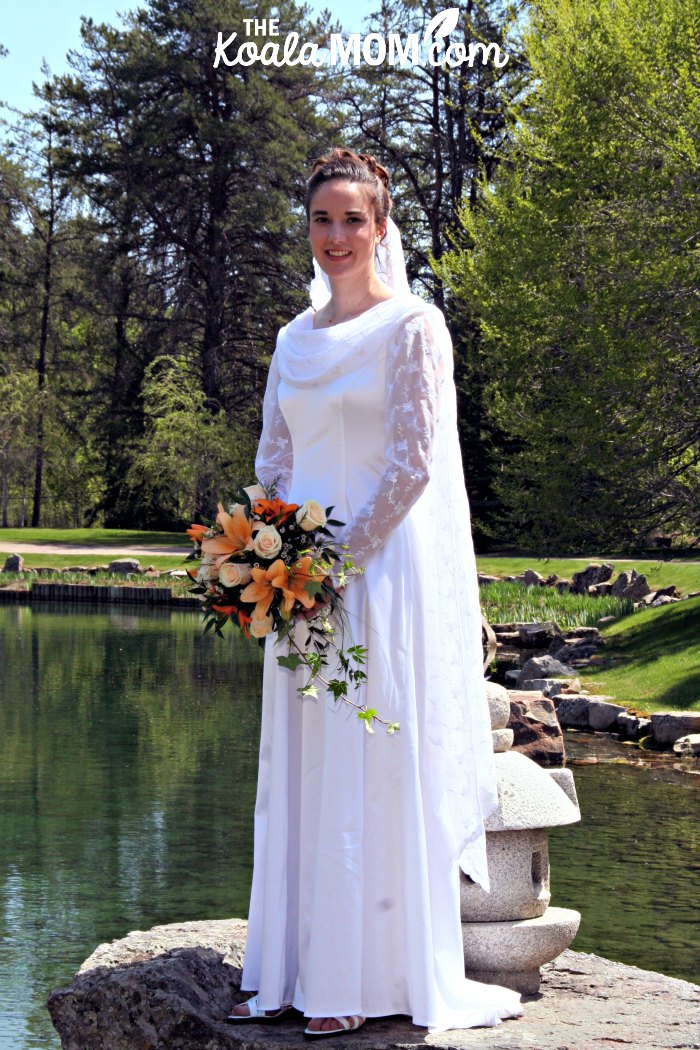 My husband's wedding outfit cost four times as much as my dress. My mom and I found my fabric on sale. She didn't want to sew my husband's kilt, so we had to buy that. She did sew his jacket. And no, we're not Scottish (though both my grandfathers have Scottish blood and one of my husband's distant relatives came from Scotland); we just thought a kilt would be cool.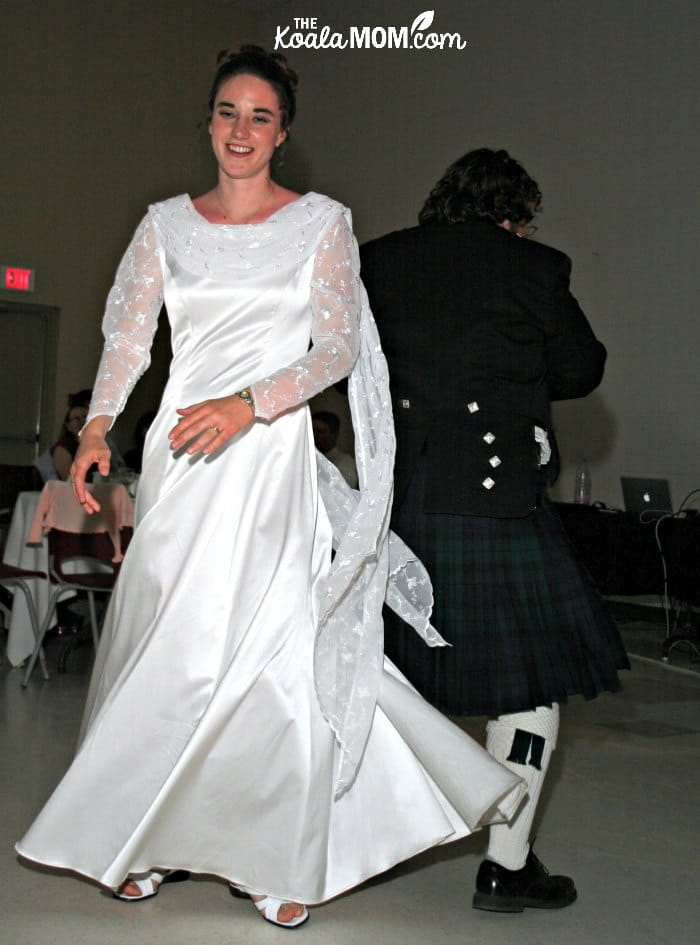 I spent an entire afternoon with my best friend at West Edmonton Mall, trying to find flat white shoes. I'm an inch shorter than my husband and I was going to be wearing those shoes all day, so I wanted them to be comfortable.  Do you know how hard it is to find flat white shoes?  I hit EVERY store in WEM. I finally ended up paying about double for the shoes that I wanted to, but by the time I found them, I knew they were the ONLY shoes that fit and were flat.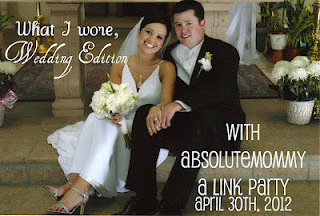 What did you wear to your wedding? How did you find your dress and accessories?