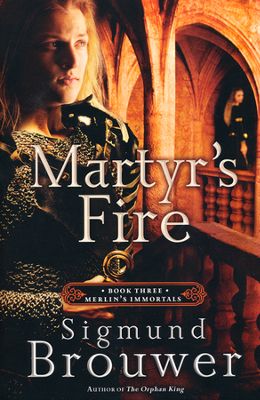 Martyr's Fire continues the Merlin's Immortals series by Sigmund Brouwer.  This is a series that I read as a teenager, and I'm having a lot of fun returning to the books with Brouwer.  Something about Medieval England has always captured my imagination: castles, nights, superstitions, chivalry, and all the rest.  Brouwer brings these to life with impeccable research, page-turning plot, and fascinating characters.
The story opens as Thomas surveys his town from the top of his fortress.  He is lord of Magnus, but life isn't perfect yet.  He lives in fear of the Druids and those who could usurp his position.  So when some strange monks come into Magnus promising miracles, Thomas goes undercover to find out more.  He's hiding in a stable when he finds out that the monks have taken over Magnus, just as he feared.  Thomas must then find a way out of the impregnable fortress, choosing whom to trust, and find a way to regain what belongs to him.
In Marty's Fire, we meet Katherine and Hawkwood once again, as well as Robin Hood and a few other characters from the first novel.  Thomas also wrestles with his faith and the fact of corruption in the Church because of the many men who chose a religious life for its ease rather than conviction.  Finally, we learn more about the Druids and the Immortals and the battle between them which Thomas was born into.  This third book in the series does a great job of wrapping up some threads while leaving me still wanting to know more.
My only complaint about this book: I don't like the cover.  That blonde dude just doesn't match my picture of Thomas, Lord of Magnus.  He unfortunately appears on the cover of Blades of Valor (Book 4) too.  I liked the covers of the first two books much better and yes, I know, you're not supposed to judge a book by its cover, so it's a good thing I had these books on my Kobo and didn't have to look at the cover much.  🙂
Read my reviews of the first two books in the Merlin's Immortals series:
Sigmund Brouwer is the best-selling author of more books than I can count, including The Canary List, Flight of Shadows, and The Last Temple (written with Hank Hanegraaff).  He is married to recording artist Cindy Morgan and has two daughters; they divide their time between Red Deer, Alberta, and Nashville, Tennessee.  Brouwer is passionate about getting kids reading and writing; check out Rock and Roll Literacy to find out more.  You can also find him on Facebook.