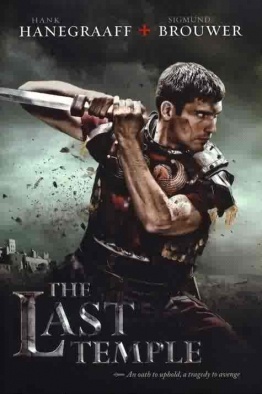 The year is AD 67. Judea is at war with Rome. Nero's excesses are pushing Rome toward civil war. And Vitas—once a Roman general who influenced both Nero and the Senate—is now a slave on the run, bent on revenge for the death of his wife.Yet he is also the key figure in a several important plots, and as events unfold around him, he struggles to put together the pieces and find out who helped him escape from Nero—and what that person wants from him now.
The Last Temple by Hank Hanegraaff and Sigmund Brouwer is the final book in a trilogy, finishing the story begun in The Last Disciple and The Last Sacrifice. With Sigmund's trademark suspense and close attention to both historical detail and Scriptural accuracy, the book is a fast, interesting read. The authors wrap up the stories of several minor characters from the previous books and finally reunite Vitas with Sophia—and have Vitas face his final doubts about the veracity of the new Christian religion.
This trilogy is Hanegraaff's and Brouwer's response to the Left Behind series. In an afterword in each of the books, Hanegraaf and Brouwer present the reasons behind a different interpretation for Revelation—one that sets the tribulation during Nero's reign in Rome and culminates with the destruction of the temple in AD 70. At times, I found myself smiling as I read, for only Brouwer could include hermeneutics and Scriptural debate in a novel and still have it be an intense, suspenseful read. These books are a fun way to learn more about Revelations and the early Christians.
While there is some backstory explained in this book, I'd recommend reading the whole trilogy from first to last rather than trying to just read this book. There are a lot of characters introduced in the three books—perhaps too many—and some characters who had large parts in the first two books only have very minor roles in this final book (in fact, I was a bit disappointed not to see more of one character, who doesn't even speak in this book).
This book reminded me of Francine Rivers' Mark of the Lion trilogy, which is set immediately after the temple's destruction. If you've read that book and liked it, you'll probably like these books—or if you've read these books and like them, you'll probably enjoy Rivers' trilogy too.
The Last Temple includes historical notes (which I found fascinating), book discussion questions, and resources for further study. For more about the authors, find Brouwer on Facebook or visit Hanegraaff's website. Hanegraaff is the author of numerous nonfiction books, including The Apocalypse Code: Find Out What the Bible Really Says About the End Times and Why It Matters Today. Brouwer's recent novels include Flight of Shadows and The Canary List.