Every July, Moore's hosts their annual Canadian Suit Drive. This donation program strikes a chord with me because my husband  has been through many job interviews in the dozen years of our marriage. Just before his last big interview, I noticed his suit pants had a hole. I tried to fix them, but the fabric was so thin it was almost impossible to sew it. His plain black suit is over a decade old and has been through a lot of weddings, interviews, work days, and more.
We debated what to do. If all went well, the interview would be his last and he'd start a new job and we'd have the money to buy him a new suit if he needed it for work. I didn't want to see him go to an interview in a patched suit, but buying a new suit for just one interview seemed like a big expense.
In the end, we compromised by buying a black sports coat to go with a pair of pants he already had. He got a haircut and beard trim, as he usually does before an interview, and chose his tie and shirt the night before the interview. I checked his attire and gave him a thumbs-up for looking good for another interview.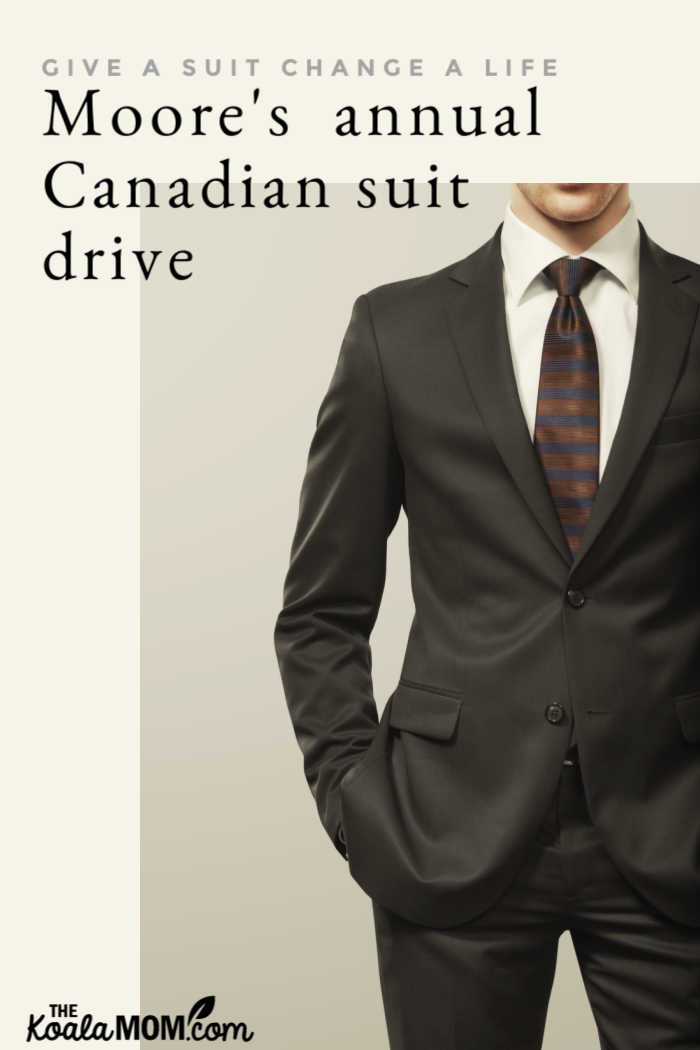 UPDATED in 2020. Compensation was received for this post; all opinions expressed are my own.
The Canadian Suit Drive
Having a suit can make the different between a job and no job for many other men and women as well. That's why Moore's hosts their annual Canadian Suit Drive. From July 1st to 31st, you can donate your gently-used professional attire at any Moore's store and give a man the chance to transform his life.
Donations to the Suit Drive can include men's and women's suits, shirts, jackets, pants, ties, belts and shoes. Collected items will go directly to local organizations providing job readiness programs for those seeking employment. As a token of appreciation, donors will receive 50% off their next purchase from Moore's (some restrictions apply).
If your suit no longer fits, here's the perfect opportunity to get a new one! Go through your closet to see what you're no longer wearing. Maybe there's some old ties you don't like, a belt you never wear, shoes that weren't comfortable… someone else can use them!
We've shopped at Moore's quite a bit, as my husband likes checking out their sales and, of course, needs professional attire as a soon-to-be-lawyer.  I've always found the sales staff friendly, helpful, and gracious, especially as we are usually in there with two little girls who aren't very interested in watching Daddy try on suits.  I think it's cool that a store we really like is giving back in the community.
A job interview is a time when we need to look and feel our best, and the Moore's Suit Drive has helped so many men and women put their best selves forward during the interview process. ~ Roger Assouad, Regional Manager, Quebec, Moore's Clothing for Men
You're in Good Company!
Canadian actor and director Jason Priestley, star of the TV series Private Eyes (one of our favourite shows to watch together!), launched the 2019 Canadian Suit Drive by making the first donation to the cause at the Vancouver location before heading to the Toronto store to do the same. Other Canadian celebrities and athletes have also donated their gently used attire to the Suit Drive.
For more information about this year's Canadian Suit Drive, drop by your local Moore's store.
Have you heard of Moore's Suit Drive in the past? Do you have gently-used menswear in your closet that could be donated to this year's Canadian Suit Drive?