This is a story from when my husband and I were just engaged. We went to six weddings that summer and my husband was a groomsman in two. During the hustle and bustle of Christmas shopping, it can be easy to lose sight of the reason for the season. I hope this story of shopping for a plain black suit inspires you to remember who and what is really important.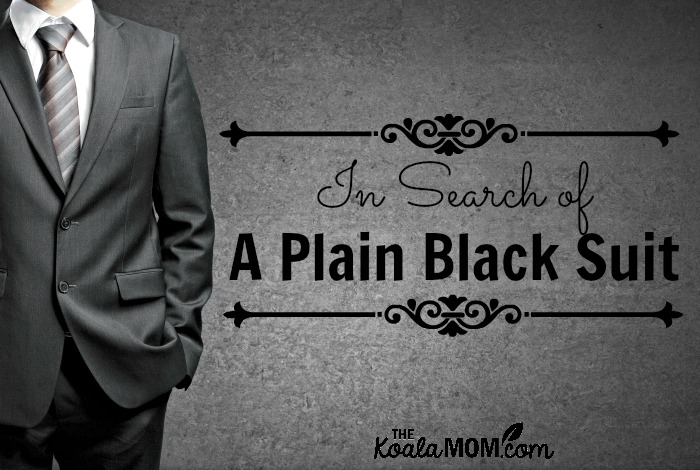 "A plain black suit, no pinstriping, size 46," my fiance said to the salesclerk.
The man's face went blank, but he turned and led us through rows of blue, green, brown, khaki, grey, chequered and pinstriped suits.  After rifling through a rack of black striped suits, he pulled out one, and then another, plain black suit.
My fiancé tried on the first one, and I shook my head.
He tried on the second one, and I shook my head again.
"What's wrong it?" he asked, rolling his shoulders and peering in the mirror.
"It bunches funny here," I said, touching the back of the jacket.  "It just doesn't suit you."
He twisted around in front of the mirror a few times, but that didn't change the way the suit fit.  We thanked the salesclerk and walked out to try the next store.
My fiance was one of the groomsmen in Dave's wedding party. He'd had been told to wear a plain black suit for the wedding. However, the only suit he owned (from his sister's wedding) was navy blue with pinstripes.  Dave told him it didn't matter, but my fiance worried that his blue suit would wreck the pictures because it wasn't the same as the other groomsmen.
So we were on a mission to find a plain black suit—which so far was going as well as finding a swim suit in January.
We had hit most of the stores in the mall, from the expensive designer menswear store to the cheap off-the-rack store. So far nothing had fit.  My fiancé was built solid, and most stores expected a man with his chest size to be half a foot taller.  As finding a plain black suit proved so elusive, we began to wonder if it was necessary.  Maybe Dave was right and the navy blue suit would work just fine.
My fiance disappeared into a changing room with yet another suit. I thought back on stories I'd heard about other things he'd done for his friends.
The year before I met him, he'd been the usher at a wedding.  Just a few minutes before he was supposed to walk the mother of the groom down the aisle, he found out that somebody had forgotten to bring the blue roses.  They were ready to proceed in the wedding Mass without the roses, but he knew those roses had been part of the proposal and meant a lot to the bride and groom.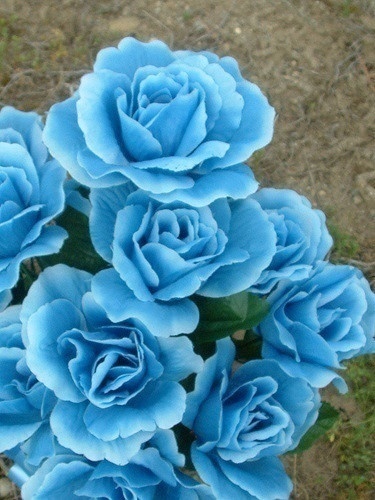 In a few seconds, he found someone else to walk the mother down the aisle and was off in search of a flower store.  In a small town, there was only one flower shop. In the flower shop, the only blue roses available were fake.  It was better than nothing, so my fiancé bought two.  As the Mass started, he sneaked up to the front of the church to place the blue roses near the Mary alcove.
I heard the story several times from my fiancé before I heard it from the bride and groom themselves. Wwhen they told me, I saw how much that little deed had touched them.  He helped make their wedding day as perfect as they had dreamed it would be.
Back in high school, my fiance hung out with the city street kids.  Alison was the only girl in the group to graduate from high school.  The grad ceremony was an invitation-only affair at a huge high school downtown.  Neither my fiance nor any of the other street kids could make the party, but his brother just happened to be dating a girl who was graduating at the same high school.
My fiance gave his brother a card and a description.  In the middle of a long ceremony, surrounded by thousands of people she didn't know, a complete stranger walked up to Alison, asked who she was, and handed her a card from a good friend.
One day in my second year of university, I was waiting in the cafeteria for some girlfriends to come celebrate my birthday with me when my fiance dropped by.  At the time, we were "just friends," trying to ignore the obvious attraction between us.  I had grown up in a home where birthdays were often ignored or forgotten, so I was hesitant about admitting why I was still hanging around after classes.  When he found out, he bought me a hamburger and then stood up and looked around the cafeteria.
"Excuse me, everyone," he said in a rolling baritone voice that caught the attention of every student there. "Would you mind joining me in singing 'Happy Birthday'?"
He proceeded to burst into song.  As my face turned red, I thought about crawling under the table—but that would be even more embarrassing. So I sat waiting while a hundred university students sang to me.  As they smiled at me, I smiled up at Darryl, knowing this would be one of my most special birthday memories.
He reappeared from the change room, and I gave the suit a quick glance and then my nod of approval.  He turned around in front of the mirrors, assessing it, as I assured him that it looked great.  It was the first suit in about a dozen stores that actually fit him.  By then, he was tired of the shopping and questioning whether he needed a new suit.
"Do you really think the navy blue would look bad in the pictures?" he questioned, turning this way and that.  After all, if the groom wasn't being picky, why should we?  We had the store put the suit aside while we thought about it.
We walked down the mall talking about the stores, salesclerks, and suits.  The wedding was that weekend, but there was still enough time to consider it for a day and then get the pants hemmed if he decided to buy the suit.  We could look at his navy suit again to see if maybe it was dark enough to look fine in the photographs that our friends would have for the rest of their lives.
Then he stopped abruptly.  I glanced at him.  He stared ahead for a moment before making an about-face.
"I'll get the suit," he declared as I scurried to catch up with him.  "It's for Dave."
---
Do you have a suit in your closet that doesn't fit anymore, or other professional attire that you no longer wear? Consider donating them at any Moore's store during their annual Canadian Suit Drive every July.