My girls would live on sandwiches if I let them. You could almost say their motto is Fred Penner's song about how "sandwiches are beautiful, sandwiches are fine, I like sandwiches, I eat them all the time." It can be a struggle to convince children that they can't just eat sandwiches (no matter what Fred Penner says), but must also have some fruit and even some vegetables. Here's a few ways that I get my kids to eat their vegetables.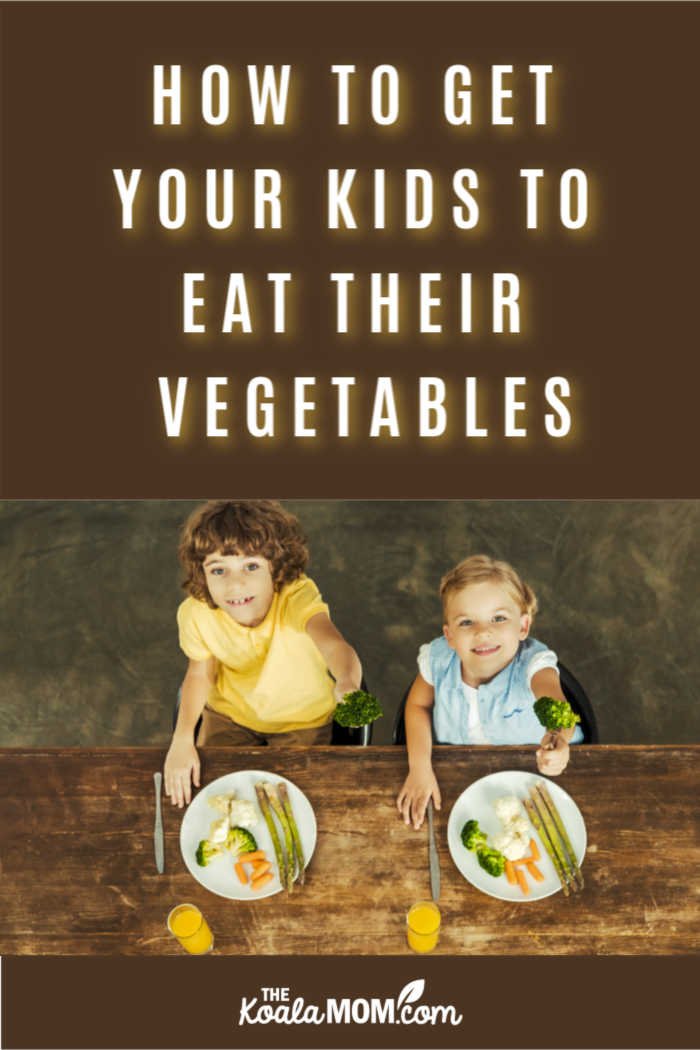 This post contains affiliate links; as an Amazon associate, I earn from qualifying purchases.
1. Use Peer Pressure
When we lived at the university, our neighbours were vegans. One morning, as our kids were playing on the playground together, my neighbour brought out some snacks for her son.  I watched, amazed, as the girls sampled his steamed asparagus and then begged for more. I buy steamed asparagus only for my husband on special occasions, because it's not a vegetable that I like! I joked with my neighbour that we'd have to have more "snack dates" to encourage my kids to eat better.
Seeing what friends or neighbours eat can be a great way to get kids to eat vegetables. If it comes from Mom, they might turn up their noses at it, but if they see their best friend chomping away at it, then they might be willing to try it.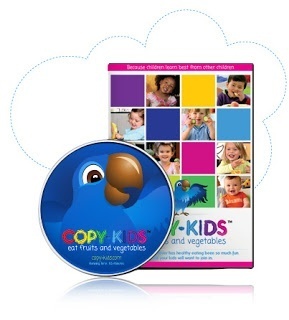 That is the idea behind CopyKids Eat Fruits and Vegetables. Founder Cai Dixon noticed her daughter also copied what other kids ate and was more willing to try new foods if she saw other kids eating them. Children learn from other children. With CopyKids, children watch other children eating twelve fruits and vegetables—and enjoying what they eat.
My daughters watched several segments of the video before I offered them a carrot while they were watching. Because the girl in CopyKids had a large carrot (as well as several smaller carrot sticks), Sunshine wanted a "big" carrot. I complied. Up until now, neither of them has been interested in carrots and I haven't pushed it, because carrots are crunchy with few teeth. Sunshine has since asked for carrots again, though Lily still prefers broccoli.
The children's performances are "unscripted and quirky, with children behaving authentically." I could see this DVD working well for a teaching situation (e.g., "Let's watch a video about cucumbers and then colour a picture of cucumbers and then have a snack of cucumbers").
2. Get Sneaky with Vegetables
Yes, I'm guilty of sneaking vegetables into my kids foods in ways that they won't notice. I learned it from my mom. She once made a beet cake that everyone raved about it. We also frequently had zucchini chocolate chip muffins. Banana bread, pumpkin bread and carrot cake are other ways that vegetables can show up in baking. To make these healthier, you can reduce sugar in most recipes. If you have a mini muffin tin, these can be quick and easy snacks.
Chickpeas, chia seeds and sweet potatoes are also easy foods to use for healthy but delicious swaps.
Deceptively Delicious: Simple Secrets to Get Your Kids Eating Good Food is an awesome cookbook for sneaking vegetables into your kids meals. Jessica Seinfeld is a mom of three who knows how hard it is to get kids to eat vegetables. This cookbook includes a month's worth of meals that your kids will love—traditional meals with a "veggie upgrade," like mac and cheese with pureed cauliflower or spaghetti and meatballs with kale.
I keep frozen zucchini, kale and spinach on hand as these are easy vegetables to toss into soups, stews and casseroles. Most of the time, the kids don't notice because it's a meal they like. If they do ask questions about the green stuff in their food, I point out that they can't taste it anyway.
Another easy way to hide vegetables in a snack is to make a smoothie. My kids love berries and yogurt smoothies and the best part is that dark purple blackberries and blueberries hide a lot of other healthy things—like kale, spinach, celery, hemp seeds, chia seeds, and more. The trick is finding the right balance, as too much kale will tip off your kids or create a bitter taste they won't like. I love my Ninja smoothie cup as it's easy to whip up a green smoothie for my own breakfast or a berry smoothie for the girls to share.
For more ideas, check out 100 Ways Your Kids Will Actually Eat Vegetables.
3. Dip It and Sauce It
Another trick that I use to get my kids to eat their vegetables is to use dips and sauces. My kids will eat almost anything if it has ketchup on it, including peas and sweet potatoes. I serve steamed broccoli with cheese sauce and celery sticks with peanut butter on them. Their favourite salad dressing is Caesar salad, so we keep a big bottle on hand, both for salads and for vegetable dips. Hummus is another healthy, easy-to-make dip that my kids love.
4. Give Them Options
Kids like to have choices and to be in control (even if they aren't). I've found that if I offer my children options between several vegetables, they are more likely to eat a vegetable than if I'd just served one. For example, I might serve Caesar salad and frozen peas, or a veggie tray with three or four types of vegetables on it. If you have multiple kids, this strategy also works well because chances are your kids don't like the same vegetables. Two of mine love peas, two prefer carrots.
Another way to give them options is to change how you serve the vegetables. For example, I usually slice cucumbers in circles. One night, as I julienned the cucumbers for sushi, my little guy ate stick after stick of cucumber. I realized the sticks were a bit easier for him to eat than the cucumber coins. Sometimes, slicing a vegetable in a different way is all it takes to get your kids eating it. (Sushi, on a side note, is another way to get kids to eat vegetables—and seaweed!—because it's wrapped in rice!)
Another way to give kids options with vegetables is to vary whether you serve cooked vegetables or raw vegetables. I personally prefer most of my veggies raw, but Sunshine likes her carrots cooked. Ask your kids what types of veggies they want for supper—they may surprise you with their answers! And if you always serve a vegetable one way, look up some ideas for serving it another way.
5. Make It Easy
Another way to get kids to eat vegetables is to make it easy. It's a sad fact that often the unhealthiest foods are the easiest to grab for snacks.
I try to wash apples, grapes, and other fruits before putting them in the fridge so that the kids can just grab them for snacks. Fruits and vegetables go in the drawer at the bottom of our fridge, so that even my 2-year-old can help himself to a snack when he's hungry.
Many years ago, a friend mentioned to me that she always bought baby carrots because they were already peeled and chopped. It was like a revelation to me, and I've bought baby carrots myself ever since. If I'm too tired to come up with a vegetable side dish for a meal, then I'll just throw the baby carrots in a bowl on the table.
I also try to keep a veggie tray in the fridge. I have a Tupperware with three sections in it that's easy to use for DIY vegetable trays. I'll add vegetables like baby carrots, sliced cucumbers, and broccoli. It's easy to pull it out at meals.
6. Get the Kids Involved
Kids enjoy helping in the kitchen and have some pride about tasks they've contributed to. For example, my 6-year-old loves peeling cucumbers (and prefers eating them peeled) and she could probably slice them too. She can help me make the veggie tray for supper and then enjoys eating the fruits of her labour. My 9-year-old (whose favourite vegetable is peas) will make the peas for me if I ask her to help with supper.
Another way to get the kids involved with their food is to have them grow, pick, or select it at the grocery store. An edible garden is a great way to introduce kids to new vegetables or to have them take some pride in what they've grown (and want to eat it). My kids love picking (and eating!) blueberries in the summer. They also enjoy helping me choose our fruits and vegetables at the grocery store.
How do you encourage your children to eat healthy snacks and try new foods?  What is your child's favourite fruit or vegetable?