Sunshine would live on peanut butter and honey sandwiches and crackers with cheese if I let her.  Most of her other favourite snacks are grain-based.  Lately, I've been cutting back on those snacks and encouraging her to eat more fruits.  But vegetables?  Neither of my daughters is a huge fan of vegetables (although Lily will happily munch on broccoli with me).
A few weeks ago, both girls were having a picnic outside with a friend.  He's vegan, so he eats different foods than we do.  I watched, amazed, as the girls sampled his vegetable snacks and then begged for more.  I joked with his mom that we'd have to have more picnic playdates so I could get my daughters eating better.
That is the idea behind CopyKids Eat Fruits and Vegetables. Founder Cai Dixon noticed her daughter also copied what other kids ate and was more willing to try new foods if she saw other kids eating them.  Children learn from other children.  With CopyKids, children watch other children eating twelve fruits and vegetables—and enjoying what they eat.
My daughters watched several segments of the video before I offered them a carrot while they were watching.  Because the girl on the DVD had a large carrot (as well as several smaller carrot sticks), Sunshine wanted a "big" carrot.  I complied.  Up until now, neither of them has been interested in carrots and I haven't pushed it, because carrots are crunchy with few teeth.  Sunshine has since asked for carrots again, though Lily still prefers broccoli.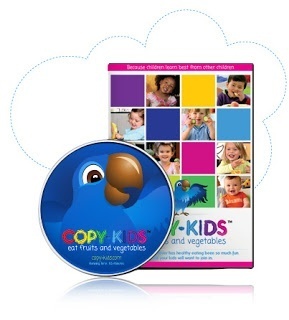 The children's performances are "unscripted and quirky, with children behaving authentically."  While my daughters (ages 4 and 2) enjoyed watching the children eat, I soon got bored.  However, the DVD has no "play all" button; each vegetable clip is seven minutes long and a parent (or older child) must start the clips.
I could see this working well for a teaching situation (e.g., "Let's watch a video about cucumbers and then colour a picture of cucumbers and then have a snack of cucumbers").  Sunshine liked the introduction to each children; she'd say, "That's Bella" or "That's Mani" and comment on what each child was eating.
The video is targeted at children 6 months to 6 years—the ages at which they are learning to eat and trying new foods, and often particular about what they eat.  The DVD also includes an interview with Dr. Jay Gordon on the benefits of eating fruits and vegetables.  CopyKids has won the Dr. Toy award and the MACT Award.  You can also find CopyKids on Facebook and Twitter.
How do you encourage your children to eat healthy snacks and try new foods?  What is your child's favourite fruit or vegetable?  Leave a comment here for your chance to WIN a copy of the CopyKids DVD!