At least once a week (if not twice), Sunshine asks if we can have sushi for supper. This is, hands down, her favourite meal, whether we are eating at home or eating out. We've mastered making California and vegetable rolls at home, but I wanted to try some new ideas for making sushi. I was very excited to pick up Sushi: Taste and Technique
by Kimiko Barber and Hiroki Takemura from DK Books.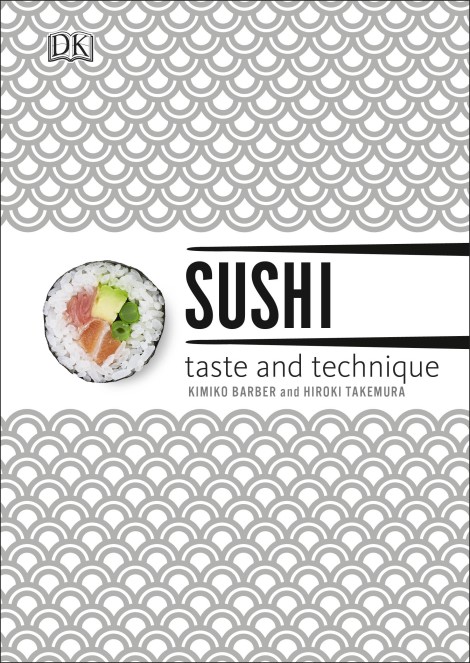 This hardcover cookbook features glossy pages with beautiful pictures that will have you drooling over your meal plans. It's smaller than I expected (about the size of a novel) but that means it takes up less space on the kitchen counter when we are actually rolling. It covers everything you need to know about making sushi, from "what is sushi" and sushi etiquette to the rice, the fish, and sushi recipes.
I'll admit that even though we've made sushi quite a bit, I found this cookbook a little overwhelming. There's an entire section (forty-some pages) on the different types of fish, shellfish and roe you can use to make sushi, including how to fillet a whole fish. The authors talk about the availability and sustainability of each type of seafood, as well as how to prepare it for your sushi. We're not quite at that stage of making sushi yet; I usually stick to crab and shrimp, but Sunshine has asked me to get tuna and salmon, so maybe someday we'll have to be adventuresome.
"Making Sushi" was the section I had fun flipping through. Sushi: Taste and Technique
offers ideas for more than just your standard sushi roll. The authors explain how to make scattered sushi, stuffed sushi, pressed sushi, rolled sushi, hand-formed sushi, and sashimi. We usually make rolls, as the girls are huge fans of these and they are pretty easy to make. "Scattered sushi" around our house is what happens with the leftovers, when we're out of seaweed (or tired of rolling).
If you have some skeptical sushi eaters in your home, this cookbook includes some non-fish recipes. For example, when my in-laws last visited and Sunshine wanted to make sushi for them, we made some chicken teriyaki rolls for my father-in-law (an Alberta beef farmer). He might also like the Seared Beef Fillet and Red Onion Sushi, or the Seared Duck Breast in Rice Paper Parcels. It's kinda fun to see cultures combine on your plate—east meets west in a simple sushi roll!
While Sunshine likes being creative when making sushi rolls, I appreciated having a recipe to follow. I decided to try the Thick Roll Sushi and the Spicy Crayfish, Avocado, and Mango Inside-out Rolls. As I mentioned, these are both rolls, because they are popular with my kids, and use easy-to-get ingredients. My younger girls aren't huge fans of very fishy sushi, so I try to make a mix of veggie and non-veggie sushi rolls to keep everyone happy.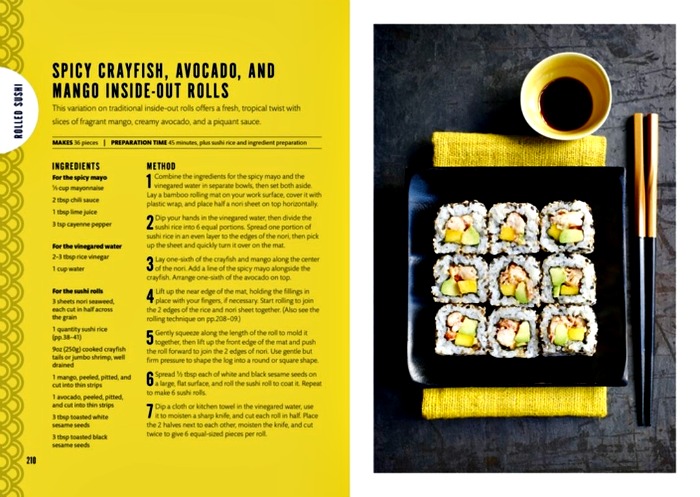 On sushi night, I cook the rice according to package directions. While it cooks, I go over the recipe and begin chopping the ingredients. Sushi may look daunting to make, but if you can cook rice and chop veggies, it's actually pretty easy. For the Thick Roll Sushi, we also steamed the beans and carrots and made the omelette. I have yet to master making sushi omelette—mine never turns out quite as neat as in the pictures. I also made the spicy may for the Spicy Crayfish, Avocado & Mango Rolls, so the flavours would have time to meld.
Once we have all the ingredients prepped (again, this takes about as long as it takes the rice to cook), we're ready to start rolling. This is the part the girls all like. I actually had to buy a second bamboo mat, so that two of us could roll at the same time. I help the younger girls spread rice on their seaweed, and then they arrange the ingredients and I roll and cut their sushi for them. Sunshine can do everything, although sometimes I help her roll because she has troubles getting the roll tight enough (which makes it hard to cut).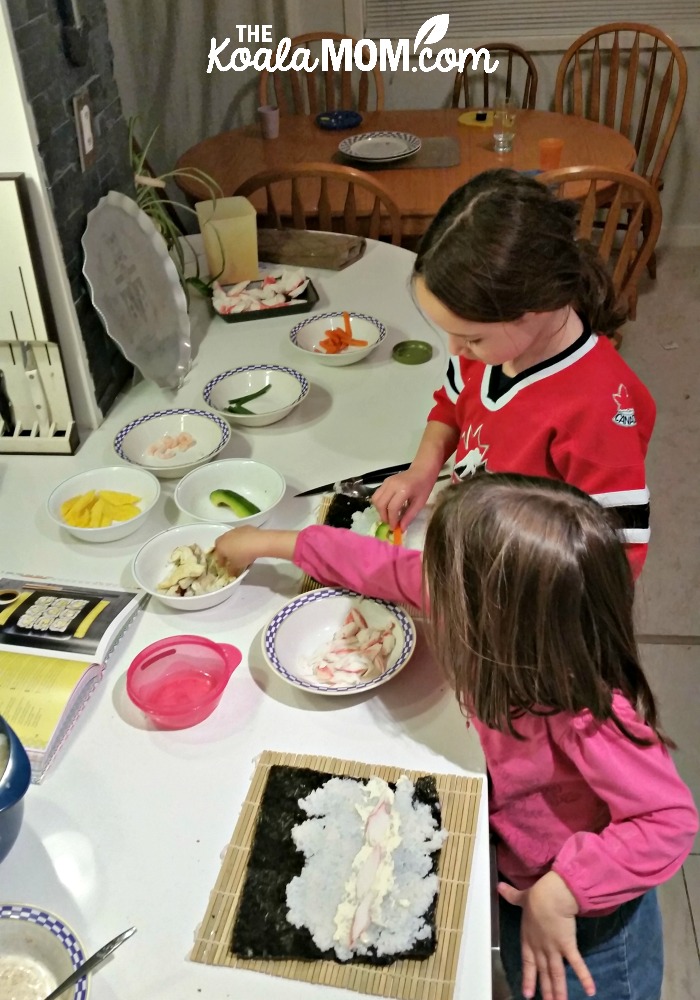 The pictures in Sushi: Taste and Technique
really helped here. The Thick Roll Sushi recipe had step-by-step pictures, which made it easy for both me and the girls to see what to do. The cookbook also includes little tips, like repairing tears by rerolling an extra nori sheet.
Sushi is a fun way to get everyone into the kitchen. It's easy for kids to make, once the prep is done, and they're much more likely to eat something that they've made themselves. Lily (age 7) has been our most reluctant sushi eater; for a while, I made her chicken or veggie rolls. This time, she was a bit more adventuresome and tried some of the shrimp and crab in her rolls too. Sunshine likes "everything rolls," so after following the recipe for a couple rolls, she began just adding every ingredient to her rolls.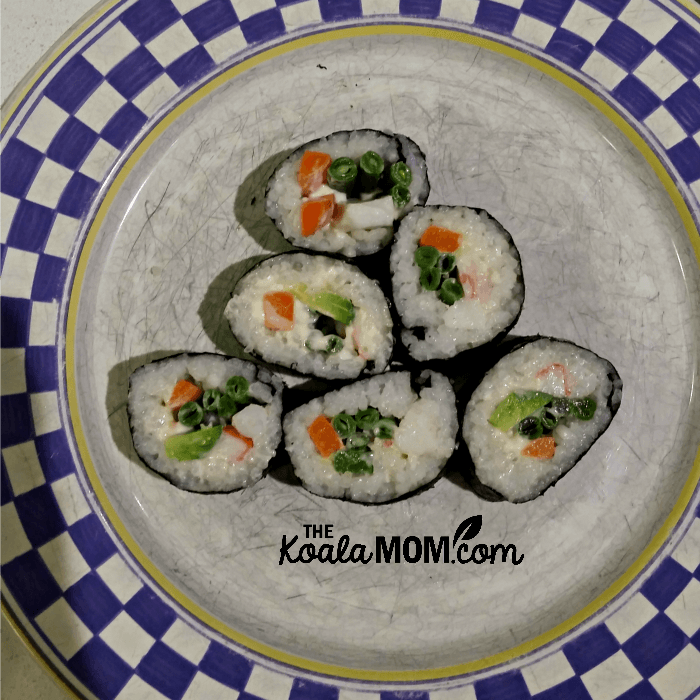 My husband and I really liked the Spicy Crayfish, Avocado & Mango Rolls. I also liked the idea of steaming the crunchy veggies in the Thick Rolls, as this makes them easier to eat. I'm looking forward to trying some of the other ideas in the cookbook, such as the rice paper parcels and (if we can master omelette-making!) some of the omelette rolls.
Have you tried making sushi at home? Do your kids enjoy sushi?
I received Sushi: Taste and Technique
courtesy of DK Books; all opinions expressed are my own. This post contains affiliate links; as an Amazon Associate, I earn from qualifying purchases.