As a homeschool mom, I find myself running most errands with four children in tow. Sometimes, as I navigate a grocery store with the girls orbiting around me, I envy moms who can wander the aisles while their are in school. While I've tried both online shopping and getting groceries on the weekends so my husband can watch the kids, most of the time I find it's easier just to get groceries during the week when the girls are with me. Here's my tips for grocery shopping with children in tow.
1 – Pick Your Time and Place
Try to plan your grocery shopping with children at the best time during the day. I don't like doing the grocery shopping before appointments or lessons, because I know I'll be stressed out over getting through the grocery store on time to get to our next destination.
If you can, shop when the store isn't busy; for example, mid-morning when most parents are at work or early afternoon. It's so much easier to push a cart full of kids and groceries through a mostly empty store.

If you have a child who naps, plan the shopping trip around their nap—either before they go down, so you can get home for the nap, or after they get up.

Some grocery stores are also more kid-friendly than others. For example, my girls love the grocery stores that have kid-sized buggies or "car buggies" that they can ride in. I've trailed through IGA with three little buggies and shoppers behind me (see Tip #3 as this can lead to bumper buggies). More often, we go to the Safeway where there's a car buggy, as I can put the younger two girls in the buggy and then get the older two girls to help out.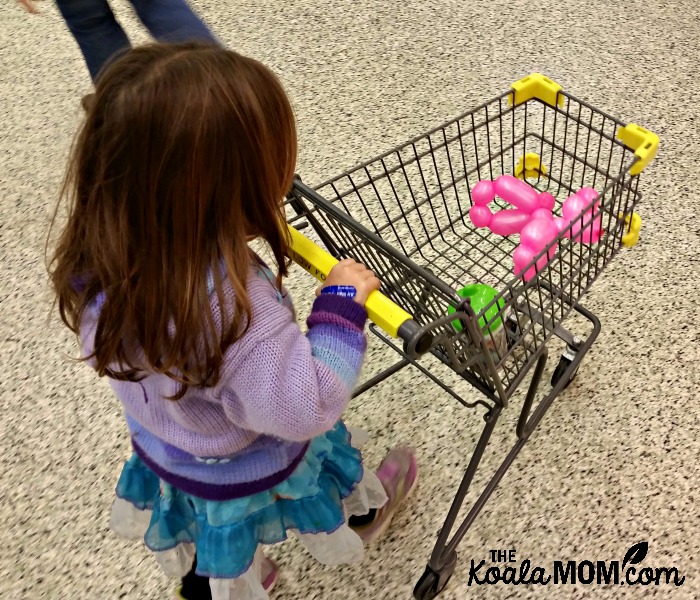 2 – Don't Shop Hungry
I know I'm grumpy when shopping hungry, and more often to buy foods that we don't need just because my stomach is growling. It's even worse for the kids. Feed them a snack before you go to help prevent constant cries of "Can I have _____" at the grocery store. I keep a few granola bars in my diaper bag, so I can pull them out on the way to the store if someone says, "I'm hungry!" (It's a constant cry in my house.)
Bringing a water bottle can also help quench thirst and hunger pangs while shopping.

3 – Review the Rules
Before arriving at the grocery store, give your child a few rules and expectations. Children usually do better if they know what to expect and what the boundaries are. Keep it light, not stern or grouchy.
I say something like, "Hey, we're going to get some groceries now and Mommy needs your help. If we can all work together, we'll have more fun and get it done quicker, okay? We're going to use inside voices in the grocery store and stay close to Mommy, right? What else should we do in the grocery store?" They can help suggest rules.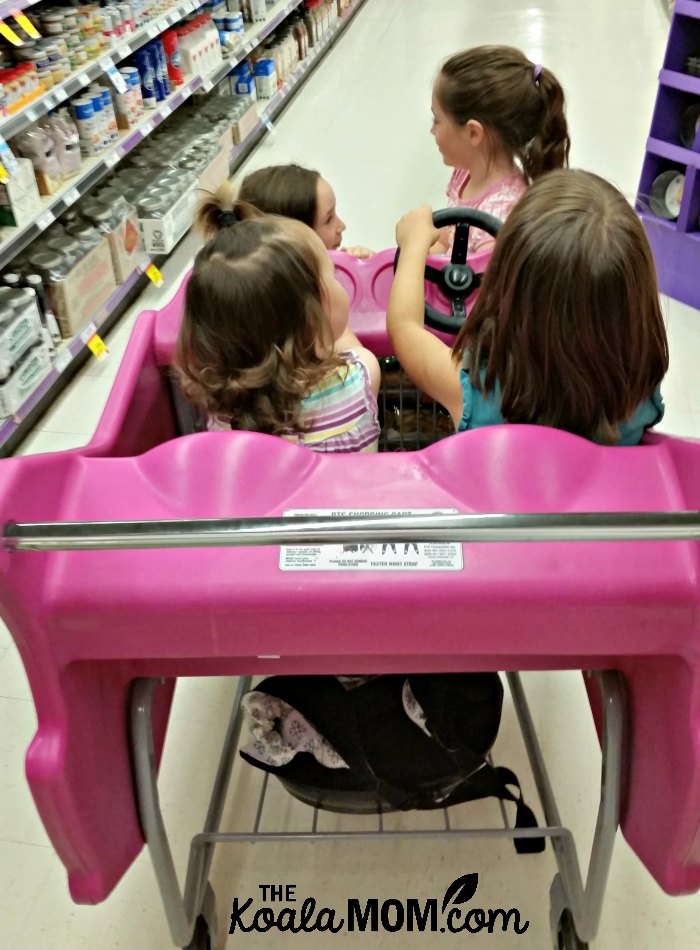 The grocery stores we usually shop at offer kids free cookies in the bakery. If your grocery store does this too, plan your visit to the bakery strategically. For my younger girls, I stop at the bakery first because having a cookie to chew on keeps them quiet and busy for nearly half the trip through the store. When I'm shopping with my older girls, I usually leave the bakery stop to the end of our shopping, and make it dependent upon their behaviour in the grocery store. And yes, I've stopped at the bakery to get cookies for only two or three of my four girls, because one or two of them wasn't behaving well. If having a cookie at the bakery is dependent upon good behaviour, then let your kids know before you enter the store.
Use a buddy system for more than one child and have them hold hands while walking. You could assign buddies when entering the store, or let them buddy themselves up. I also tell them to hold the buggy, but if the store is busy this doesn't work because we become a wide load.

4 – Start at the Washroom
There's nothing like getting halfway through the store and then having one child say, "I need to go potty!" Just start at the washroom. Everyone goes pee, whether they need to or not, and then you can start on the grocery list.
5 – Give Your Child a Job at the Grocery Store
Sitting in a buggy, or following Mommy through a store, can get boring and lead to misbehavior. Avoid that by giving your child a job. Younger children (such as my 4-year-old) can hold the list for you. A child who can read could read the list to you and cross off items as you find them. You could also give your child a calculator to keep track of your budget.
For my older girls, I turn grocery shopping into a scavenger hunt. This works particularly well in the produce section, where most of the items are fairly low and easy to see, and I can also see them. I'll give each girl specific instructions, like, "Find the cheapest apples and choose 6 nice ones" or "Go get one bunch of green onions."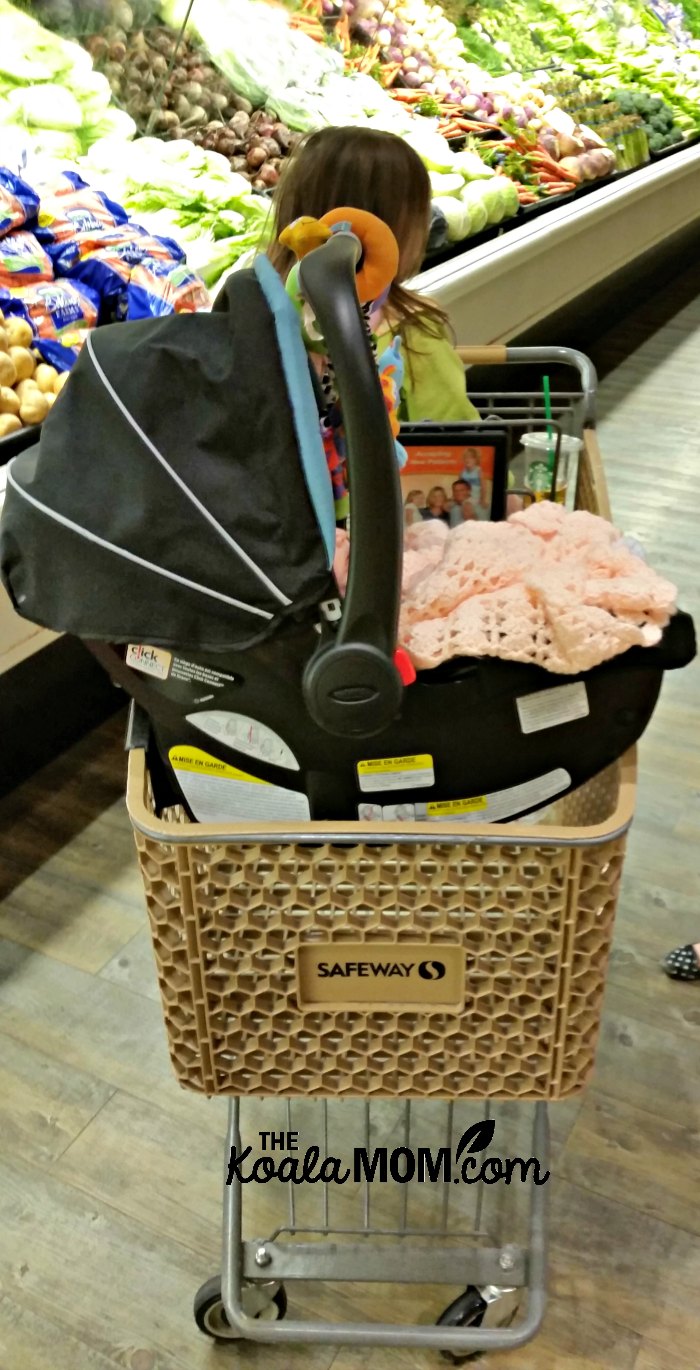 Your child could also help make the list before you go to the store. For example, when I've gone shopping for our camping trips or for a certain child's birthday party, they really want to be involved. A pre-reading child could go through a flyer with you and cut pictures (and coupons) to glue onto a list, which they can refer to while you're in the store.

6 – Grocery Shopping with Baby
For babies under a year, I've found it easiest to take a baby carrier with me. It's hard to balance a car seat on most buggies, so I transfer the baby to the baby carrier when going into the store. Baby is more likely to nap and to be happy while I'm getting the groceries. For a nursing baby, take a few minutes to feed the baby before driving to the store or in the vehicle before going into the store (Tip #2 applies to baby too!).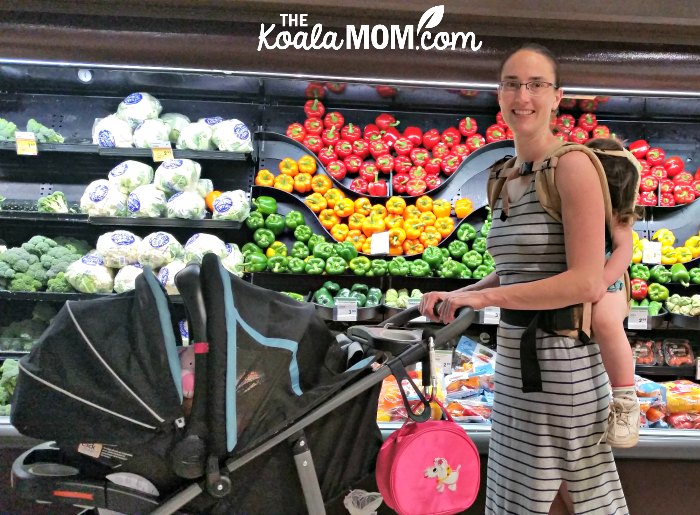 Finally, don't ever be afraid to leave groceries behind if your child gets overwhelmed and can no longer behave appropriately. You can always try again later.
Do you go grocery shopping with children in tow? What tips would you share for surviving it?
Thanks to Kimberley, Sarah, Jen and Michelle for sharing their tips with me!