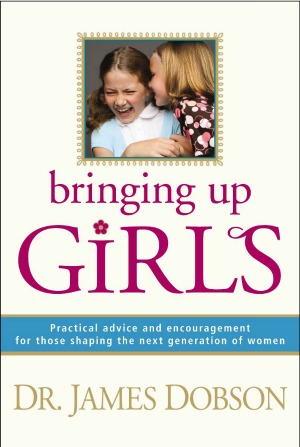 Bringing Up Girls: Practical Advice and Encouragement for Those Shaping the Next Generation of Women
is Dr. James Dobson's long-awaited companion book to Bringing Up Boys
.
As the mother of two girls, I jumped on the opportunity to review this book.  Though I haven't actually read many of Dr. Dobson's books, I grew up listening to Adventures in Odyssey and reading most of the magazines published by Focus on the Family.  As an adult, I've come to appreciate the advice provided through Focus on the Family's website and e-newsletters.
In the first chapter, Dr. Dobson shares that the title of Bringing Up Girls "assumes that parents have the responsibility of not simply overseeing the growth and development of their girls (and boys) but of raising them purposely—building into them certain qualities and traits of character."  From his own experience as a dad, his in-depth research, and stories shared by other dads and daughters, Dr. Dobson provides parents with helpful advice for bringing up girls in today's culture.
Dr. Dobson talks about how today's girls are in peril.  He shares statistics about eating disorders, suicide, cutting, sexual promiscuity, alcohol, drugs, bullying and other harmful activities.  He talks about the message that our girls are receiving from the media, from pop stars and movie stars.  He exposes the dark side of the sexual and social revolution that swept the Western world in the 60s and 70s.  He paints a dark picture of today's culture, yet also gives parents hope for leading their girls through these times.
Dr. Dobson devotes several chapters to fathers and the important influence they have on their daughters—for good or bad.  He talks about the princess movement (and believes the good outweighs the bad there), chastity bracelets and Purity Balls.  He answers parents' questions about single parents, childcare, co-ed sports and more.  He includes information from other parenting experts, including Meg Meeker and Wendy Shalit, as well as interviews with college-age girls about their lives and parents.
While Dr. Dobson approaches the topic from a Christian worldview, I believe his book is applicable to any parents of young girls.  Most of the research and data he discusseshas been done by national or government organizations.  He raises issues that should concern our entire society.  I found myself shaking my head at how clearly all the modern-day research supports principles God put in place when He created this world.
Dr. Dobson packs a lot into this book.  I didn't even tackle the section on adolescence, because we've got a few years before that hits us.  🙂  If you have daughters of any age, I highly recommend you read this book.
I received this book for review courtesy of the publisher; all opinions expressed are my own. This post contains affiliate links; as an Amazon Associate, I earn from qualifying purchases.