When I see a novel by two authors, I always wonder how they wrote it.  Did they sit down together and start brainstorming and writing, as my best friend and I tried doing when we were in our teens?  Did they take turns writing chapters?  Did they each write one character's scenes and dialogue?  How ever Rebecca St. James and Nancy Rue collaborated to write The Merciful Scar, it worked.  I laughed, I cried, I couldn't stop reading.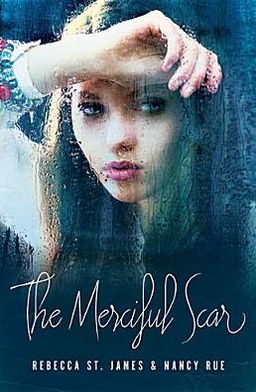 Kirsten is planning a special supper for Wes on the night she expects him to propose when she sees something that sends her running to the one thing that helps her pain: cutting.  When Wes breaks in on her, a simple cut turns into a trip to the hospital that lands her in the psychiatric ward, labeled suicidal.  Wes and her mother refuse to listen to her, making her want to keep cutting until her pastor offers her another option.  Sister Frankie runs a ranch in the Montana foothills and helps girls like Kirsten.
When Kirsten arrives at the Bellwether, she wonders how she's going to last a month there.  Her roommate, Emma, is grumpy at best.  The dogs, sheep, and cows are completely foreign to her, and her first attempt to climb a fence lands her in the dirt.  She can't throw haybales or milk a cow—and what does that have to do with her cutting, anyway?  But Kirsten sticks it out, falling in love with Bathsheba, the border collie who adopts her, and Petey, an orphaned lamb whom Kirsten saves.
Slowly, as Kirsten listens to Frankie's advice, learns to pray, and sees her new "family" deal with their past hurts, Kirsten finds she no longer needs to cut.  But she'll need all her faith—and all the help of her friends—to deal with the next hurdles: her father, a rogue bear, and a loved one's pain.
From the opening pages, I found myself identifying with Kirsten.  We are so completely in her head as readers, and yet she is also so likeable, so hurting, so much like—me.  In this day, the pain of broken families, of losses and regrets and terrible situations, are so common that most of know someone struggling with addictions to dull the pain (or are that person ourselves).  While I've never faced addictions myself, I could understand Kirsten's pain and what drove her to find relief from it.
One of the things I loved about Kirsten was the voice in her head which she calls the Nudnik.  I suspect most of us wouldn't admit to having a voice in our heads, much less to name it, but the Nudnik helped create that feeling that we were in Kirsten's head—and added a sense of humour to some otherwise dark parts of the book.
The other thing I liked about The Merciful Scar was the way that each chapter ended with a brief quote (short enough to tweet out with #TheMercifulScar) capturing what the chapter had been about.
I am not a cutter.  I am a person who hurt myself so the inside pain would make some kind of sense.
There is no shame.  There is only God's love.
Being entrenched in your guild is like standing in cement and letting it set around your feet.
Beyond the story, I loved the setting of this novel.  The ranch up in Montana reminded me both of my time at Leconfield, a ranch in Australia where I learned to herd cows and ride horses, and growing up raising orphan lambs just like Kirsten raises Petey.  She calls the flock of sheep stupid, but I laughed so many times at her descriptions of the sheep, such as when she wonders what they're all talking about while they baaaa along on their way to pasture: "We're waaalking, we're waaalking—ooh, grass—gotta have it—uh-oh, where'd everybody go?"
Rebecca and Nancy include a few discussion questions at the end of the novel for readers to think and journal about or to discuss with a book group.  They also have a page of resources for those dealing with self-injury (or wanting to help a friend who does).  This book is definitely going on my Best Books of 2014 list and I can't wait to read Rebecca and Nancy's next novel, Sarah's Choice, sometime this year.
Rebecca St. James is a Grammy-award-winning Christian singer and songwriter.  She is also the author of nine books and an actress who played the leading role in the film Sarah's Choice and was the voice of Hope in VeggieTales' Easter Carol.  Rebecca is the artist spokesperson for Compassion International and, since her role in Sarah's Choice, has been an outspoken voice in the work of crisis pregnancy.  You can find out more about her books, music, and movies on her website.
Nancy Rue is the best-selling author of more than 100 books.  She has taught English and theatre and currently travels North America speaking and teaching at various events.  She and her husband Jim have one daughter who is married and has her own daughter.  I had the chance to interview Nancy last year before she spoke at the Inscribe Chrstian Writer's Fall Conference in Alberta.  You can find out more about her books and speaking events on her website.