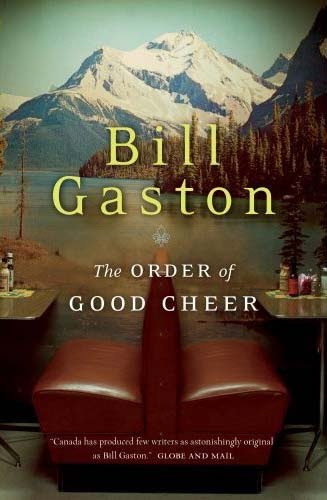 In the middle of last semester, I told my husband what I wanted for Christmas: a Bill Gaston book. Gaston is the head of the writing department here at UVic and also wrote a short story that I read and enjoyed in one of my classes. My husband not-so-subtly smuggled The Order of Good Cheer from Victoria to Alberta in a cracker box (and even tried to get me to wrap it for him).
This post contains affiliate links; as an Amazon associate, I earn from qualifying purchases.
On Christmas morning I unwrapped The Order of Good Cheer. I've been working on reading it ever since, taking a break for other books that appeared on my review list, and finally finished it this week. Part of the problem was that this book was so good I wanted to read it slowly, savoring every sentence.
The Order of Good Cheer plot summary
With a few well-chosen words, Gaston captured the voice of men from New France in the 1600s (or seemed to).  The novel was deeply introspective, full of ideas and information from that era and from the knowledge-loving main character in the other part of the book.
The Order of Good Cheer opens in New France in June 1606. Samuel de Champlain and his fellow Frenchmen have arrived at l'Habitation, their home for the next winter as they attempt to establish a French settlement in this strange land.
Champlain is the veteran of a previous attempt to do this at Port Royal—an attempt that ended in disaster when most of the men died of scurvy.  The men are busy with planting gardens and building a fort, but as winter sets in, fear of the scurvy grows.
Andy Winslow is a resident of present-day Prince Rupert, BC, a town which bears remarkable similarities to l'Habitation. Winter has set in, and along with it, boredom, as people struggle to live in a town whose economy is failing. Andy works at the grain terminal where, between filling ships with grain, he reads books.  He is the expert on every topic, but he's really just waiting for Laura to return. Twenty years ago, she left him to follow her dancing career in Toronto, got married and had a daughter there; now, she's coming back.
The stories come together in Andy's reading about the Order of Good Cheer. In attempt to raise the spirits of his men (and introduce some variety to their menu), Champlain establishes the Order of Good Cheer. Every night is a feast, hosted by a different member of l'Habitation, with the best foods of both France and New France offered along with songs, verses, and other entertainment. Andy hosts a New Year's Party following the traditions of the Order of Good Cheer, complete with pine-needle-smoked mussels and a moose nose.
My thoughts
One thing I found interesting about this book was Gaston's portrayal of religion in l'Habitation. There was both a Huguenot pastor and a Catholic priest at Port Royal, until they succumbed to scurvy on the same day. At l'Habitation there is only a Catholic priest, who wins no respect from Champlain and also dies of scurvy. Gaston paints Champlain as agnostic at best, but my research on the Canadian Martyrs presents Champlain as deeply religious, a man who requested repeatedly that priests come to New France.
The Order of Good Cheer is a compelling, thought-provoking look at two vastly different parts of Canada. Now I'd like to visit both l'Habitation (or what's left of it) and Prince Rupert, though I still have no desire to try eating moose nose. Gaston has great skills with words, painting pictures of places and people that stay in your mind long after you've put the book down. Maybe there will be more Gaston books under my Christmas tree next year.  🙂
The Order of Good Cheer made it onto my Best Books of 2011 list! Check it out for more good reading.