When we lived in northern Alberta, my husband taught religion classes to kids who had little or no background of Christianity, much less Catholicism. One way to bridge the gap between what they knew and what they needed to know to follow the curriculum was to find movies that told the stories.
We watched several different movies about the early Christian church and various Bible stories. So when I saw Diarmaid MacCulloch's A History of Christianity: The First Three Thousand Years, I thought, "What does he have to share about it?"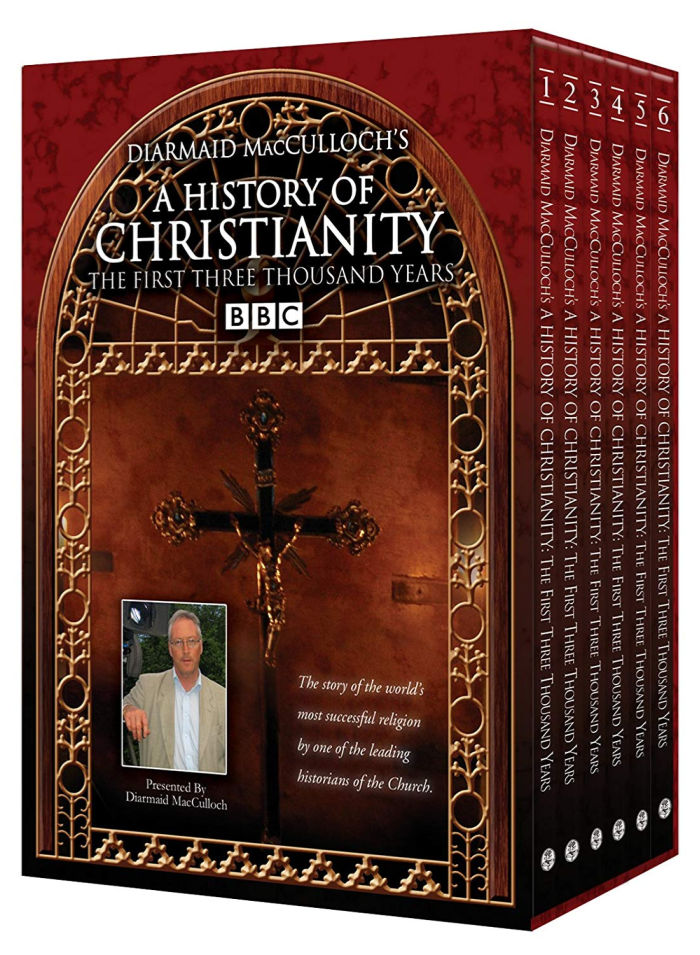 This movie was provided for review courtesy of The B&B Media Group; all opinions expressed are my own. This post contains affiliate links; as an Amazon associate, I earn from qualifying purchases.

A History of Christianity
MacCulloch starts A History of Christianity by telling how he's always been fascinated by beautiful old churches. He explores many old churches, starting in Jerusalem with the early churches, and following the spread of the Church from there into the East. While we usually think of Christianity as a western religion, it actually had better success spreading east at first because of the persecution in the Roman Empire.
While much of the movie felt like watching a tour guide's slide show, as MacCulloch went from place to place, he also delved into the history. Several early church councils were briefly mentioned, along with the controversies and splits they caused among the Church. MacCulloch talked about how politics influenced the spread of Christianity—in the west, Christianity became a state religion, while in the east it never did.
As we watched A History of Christianity, I found myself wondering if MacCulloch was a Christian or not. It may seem a moot point, but to me it changes how he tells the story. Is he merely curious, interested in historical facts and details, or is this personal, a search for a deeper understanding of his own faith?
That question was never answered in the scope of the movie, which was factual but at times a bit cursory—more details would have been nice. It also felt like some details were overlooked; for example, MacCulloch claims to follow the church east, and mentioned India once, but never talks about the church in India.
My mission is to explain [Christianity's] complicated history in ways which inhibit glib statements of the story to back up crude and authoritarian-minded presentations of Christian faith, and I seek to promote sane and wise relationships with other faith communities and with a world of scepticism beyond them. ~ Diarmaid MacCulloch
My Thoughts
Overall, Episode 1: The First Christianity was a quick, one-hour commentary on the early church. It would work just as well as a radio program, since the visuals add little to what MacCulloch was talking about or were even distracting. Some of the facts and information shared were new; others were common knowledge. This is only the first of a six-part series, so perhaps the next parts will build on and add to what was begun in this episode.
For those who are new to Christianity or the Church, like the kids in my husband's classes, A History of Christianity provides a great starting point. It's also available as a book, if you prefer to read the story rather than watching the DVDs.
More about Diarmaid MacCulloch
Diarmaid MacCulloch is a Professor of the History of the Church at Oxford and a prize-winning author. He has written extensively on the sixteenth century and beyond it. His History of Christianity: The First Three Thousand Years (Penguin/Allen Lane) and the BBC TV series based on it first appeared in 2009; the book won the Cundill Prize, the world's largest prize for history, in 2010. He was knighted in the UK New Year's Honours List of 2012.
He says, "I'm a passionate believer in the need for the academic disciplines of the humanities to communicate their value and their discussions to the widest possible public audience. With that aim, I have presented my own work not merely in the lecture-hall and in published work, but on radio, on television and in podcasts."
Note for Catholics: Diarmaid MacCulloch has studied and written extensively on the Reformation. We watched only the first episode of A History of Christianity, but I would watch later episodes with the knowledge that he's likely going to have an anti-Catholic view of the Church.
If you are looking for more resources to explore the history of Christianity, I'd also recommend: