Many homeowners reach a point where they feel their home is ready for a change. If you've reached this point and are considering a remodel, several signs can indicate it's time to take the plunge.  Here are the top six indicators that your home is ready for a remodel.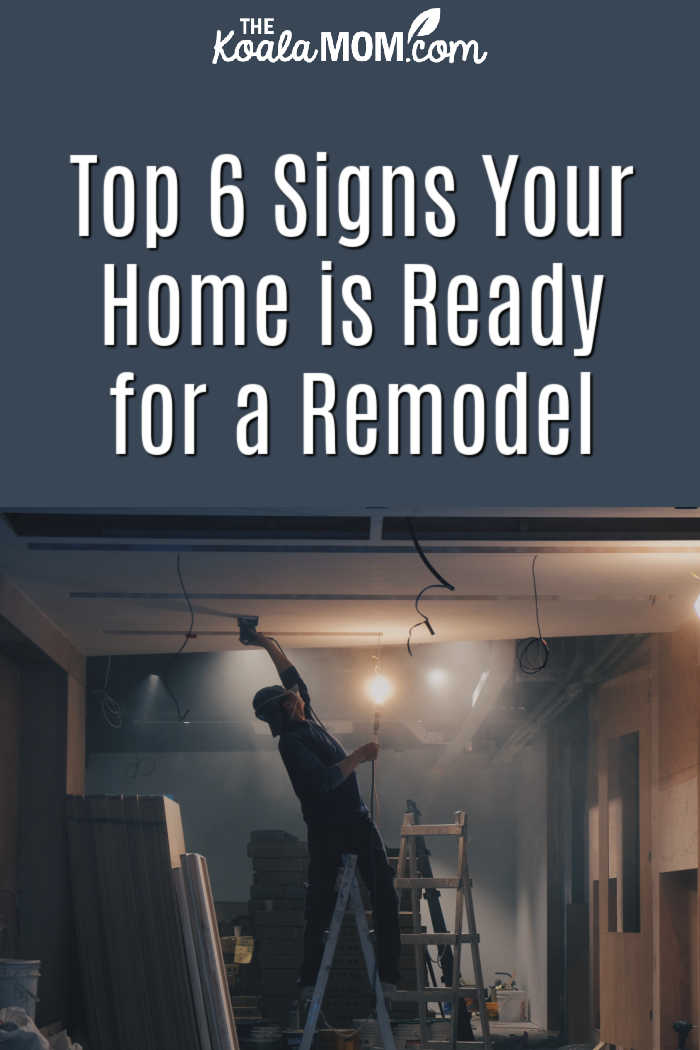 Your Home Doesn't Reflect Your Style
A home is a reflection of its owner, and if your current space doesn't reflect your personality and style, it may be time to consider a remodel. Your home should be an inviting, comfortable environment that is uniquely suited to you.
Upgrading the style of your home can help add touches of modernity or vibrant pops of color that show off who you are—something only you can do. Think creatively about what would give the perfect finishing touch to your space, then talk with a professional remodeler to make those ideas become reality. It might just be the refreshment you need to feel at home!
You Want to Increase the Value of Your Home Before Selling
If you are getting ready to put your home on the market, there are several ways you can increase its value and make it more attractive to potential buyers. Making sure the exterior is looking good with a fresh coat of paint, fixing any broken windows and gutters, trimming overgrown shrubs or trees blocking natural light, and landscaping can help.
Inside, freshening up the look of each room with neutral paint and re-grouting tile where necessary can go a long way in impressing prospective buyers. For example, when we discussed selling our condo, I repainted all the bedrooms a neutral grey (instead of the bright blue, purple and green that I had painted those rooms for ourselves) and replaced the dirty, worn white carpeting with fresh new laminate flooring.
Keep in mind that if you need more complicated renovations, like window and door replacements, it's best to work with an experienced home improvement company. Their knowledgeable staff will help you plan and execute the perfect project. Just make sure to get estimates from several contractors and ask for references before signing any contracts.
You Have Water Damage, Cracks, or Other Structural Issues
If you've identified water damage, cracks in your walls, or other structural issues in your home, you need to take action as soon as possible. Not only is the issue an eyesore, but it could also be a detriment to the safety of your family. It's important to find a reliable repair service that can assess the situation objectively and provide quick and effective repairs.
Additionally, they should be able to offer advice on how best to protect your home from further damage and be cost-efficient with their services. Although dealing with structural issues can seem daunting, taking prompt action is critical—finding the right team of professionals will help ensure that your home and family remain safe.
You Want to Make Your Home More Energy Efficient
Taking proactive steps to become more energy efficient can help you save money in the long run. To start, inspect your home for air leaks such as cracks around windows and doors, as well as any other gaps in siding or walls. Installing weatherstripping is an excellent way to reduce air leakage and control drafts.
Additionally, consider switching to LED bulbs; not only are they more efficient than traditional incandescent bulbs, but they also last longer, so you will save money on replacements and have fewer lightbulb changes to worry about.
Finally, if your home isn't already an energy star-rated appliance, consider investing in some high-efficiency appliances like refrigerators and dishwashers that can help keep your energy costs down. Making a few simple changes to your home can add up over time and make a big difference in both your wallet and the environment!
You Don't Have Enough Storage Space
If you're running out of storage space for your clothes and belongings, then your home might be ready for a remodel. When you realize you no longer have a place to store extra items or can't even fit everything into the space that you do have, it may be time to look around and find ways to increase your storage capacity.
With some simple modifications or additions during remodeling, you can create the extra space needed—whether it's expanding closet storage, adding shelves in your garage, or creating an area specifically designed for extra possessions and clutter.
Remodeling doesn't have to mean embarking on a huge project; it can include simple solutions as well. If you remember this and are proactive about utilizing any available space properly, you can easily upgrade the organization in your home.
Your Home Isn't Accessible for People with Disabilities
If you have a family member or friend who is living with a disability, then it's likely your current home setup isn't serving them as best as it could. Every year, thousands of people need to remodel their homes so they are easily accessible to those with physical limitations.
Installing ramps, widening doorways, and other modifications can ensure everyone has the best access to their home regardless of ability. So if your loved one is finding day-to-day activities in your home difficult because it lacks accessibility, consider investing in modifications to increase safety, accessibility, and comfort for all who visit.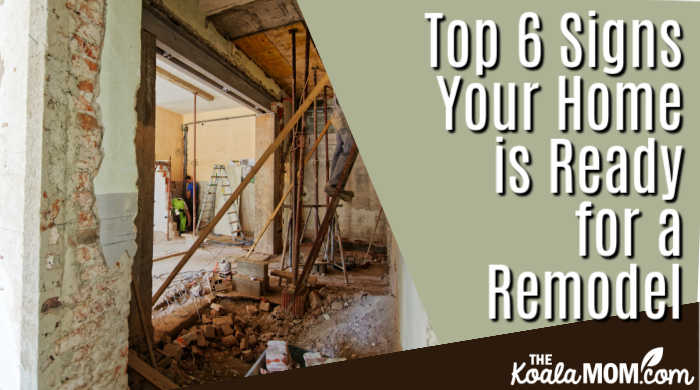 Upgrading your home can be a challenging experience—there are many choices to make and the process can take time and careful consideration. That said, it is also incredibly rewarding when you achieve the perfect results.
Whether you want more space, a style upgrade, to increase the value before selling your home, fix any structural issues, rearrange the layout, or make your home more energy efficient—these improvements often come with great returns. With patience and diligence, you can create a beautiful oasis that will keep up with your ever-changing lifestyle demands for years to come.
Taking on a project like this is one of the best investments you can make in yourself and your family's future.
Is your home ready for a remodel? What renovation project would you like to start?