There are times in life when you may need to sell your home quickly without sacrificing price. While factors such as season, market, and area can play a huge part in a property sale, a seller will always have a few creative ways to use the house viewing to their advantage and get a fast, hassle-free sale in place.
Taking the time to explain your needs to a professional real estate company like Compass can speed up the process of an actual sale, based on their years of experience and industry knowledge. We worked with the same realtor to buy our condo and again a few years later when we considered moving, and he was a huge help to us. He knew things about the market that we hadn't considered, either in buying or selling, and his expertise made us feel confident about being both buyers and sellers.
In the meantime, here are 5 useful tips to prepare for viewings and sell your home quickly.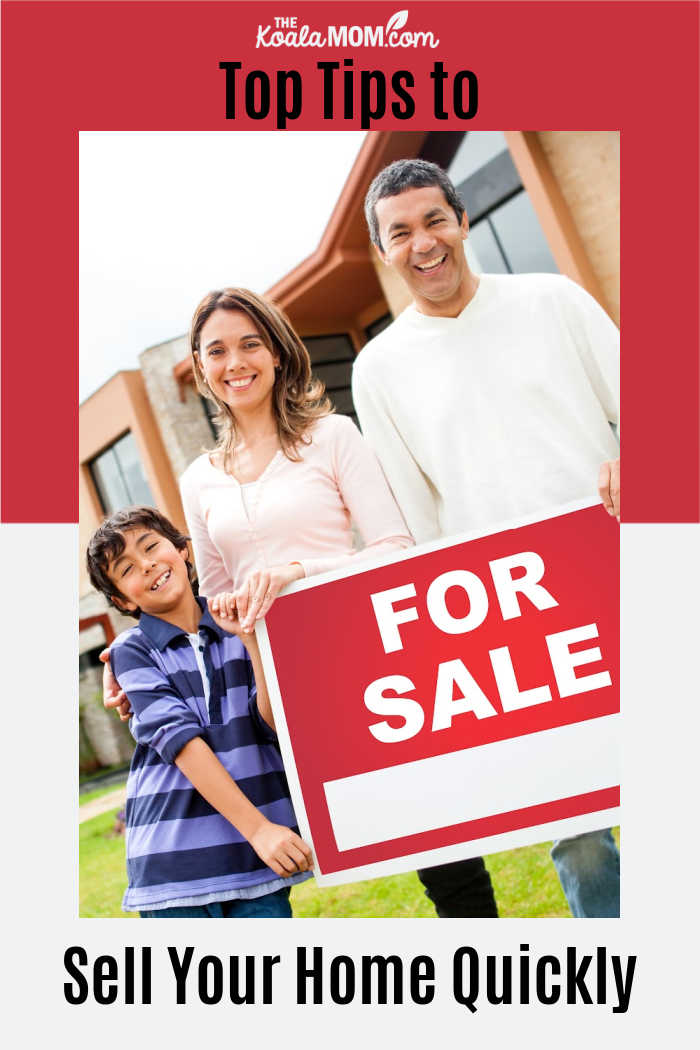 A good first impression goes a long way
A buyer is going to make an extremely fast judgment on your home the second they set their eyes upon it. So if you want to make that first impression a good one that can lead to quick offers to buy, you'll need to consider how to make the perfect first impression on your viewers.
Stand at a distance from your home and look at it as a whole. Does it have good curbside appeal? How does the pathway to your home look? Is it simple and clean? Is it inviting? If you have a fence, is the paint old and chipped? Resolve these issues now and save time when you list your property. A little bit of work on home maintenance projects can go a long way to improving the salability of your home.
For example, when we planned to sell our condo, I tore out the old, no-longer-white carpet and replaced it with new laminate flooring. I also repainted all the walls in a modern, neutral light grey and brightened the trim with a new coat of white paint.
As we lived in a condo, I could do little about the outside of the building. Thankfully, we were in a condo where the strata was very active in maintaining the building and did a good job of keeping the lawn mowed, the trees trimmed, and the building itself maintained. I did put some work into cleaning up our patio and bought a few planters with bright flowers to decorate that space.
Don't be afraid to show off your home
Once they're inside the house, you can build on that great first impression by selling them on what matters most—how their life may look if they choose to buy your home.
How do you accomplish this? Little touches like a neatly set dinner table or a study that has a cozy and welcoming feel will immediately appeal to their imagination. Allow yourself to showcase each room clearly and the buyer will do the rest.
It may be worth hiring a professional stager to help arrange your home to show it off the best. The stager may have tips for placing your furniture in the best way to showcase the design and size of each room. They may also have some attractive home décor items to help your place look more inviting and relaxing.
Appeal to a buyer's senses
The smell of freshly cut grass before entering a clean, well-scented home is a powerful tool that you can utilize to help sell your home quickly. Be careful not to overwhelm the senses, but the looks, smells, and feels of a home can inspire a buyer to truly immerse themselves in a viewing experience.
Deep cleaning and removing clutter
Think you've already given your home a dedicated clean? Think again. A motivated buyer who is willing to make a deal fast is going to be extremely thorough when looking through your house. If there's a single speck of dirt, rest assured that they'll find it.
Incorporate your deep clean with the chance to remove unnecessary clutter from your cupboards, shelves, patios, and garden areas. Show the space available and let it speak for itself.
Our realtor recommended paring our furniture down to the bare minimum. A home with too much furniture would look small and crowded; a home with smaller or less furniture will tend to look more open and less busy. I spent months packing and hauling various items to a storage locker to get it out of our home until we could sell.
If you are selling your home, then you are likely also buying a new home. While you browse home listings, consider what catches your attention and what makes you cringe or pass on to another listing. I've seen many, many house listings where the home was super cluttered, painted bright colours, or in desperate need of repair, and debated whether it was worth dealing with any of those things after buying the home
If you don't want to have to imagine what a place looks like under huge amounts of clutter or in a new paint colour, your prospective buyers likely don't want to imagine it either. Make it easy for them to love your place.
While you're at it, make sure to fix any issues that can turn off a potential buyer. Decide whether to DIY the repair or hire a professional. If you opt for the former, make sure you use the right hand and power tools for the job, from drill bits and central drills to screwdrivers and wrenches. The right tools ensure quality fixes and fewer mistakes, as well as making the repair easier for you.
Get a good photographer
You want a photographer with experience in taking photos of real estate to showcase your home best. Your realtor can likely recommend a photographer whom they've worked with frequently. If not, do your own research and take the time to look at the photographer's photos before hiring them.
Try to book your photographer to come during the day, when the natural in your home is best. Make sure the blinds are open and the lights are on, or follow the photographer's recommendations for maximizing the lighting in your home.
I've seen home listings where the photos were clearly shot with someone's phone after dark, and a poor camera and poor lighting does little to show off a home's good points. Remember, the buyer's first impressions of your home often begin with the listing they see online. Invest in a good photographer to help sell your home quickly.
Work with the right agency for your needs
How can this all be achieved in order to facilitate a fast sale of your home? It all rests on which real estate company you choose to work with.
Be open and honest about what you want to get from this sale, and with the right agency, you'll soon be experiencing just how fast some property sales can be.