For most of my life, I've had long hair, and as my hair is both fine and thick, I've had to take care of it carefully. For years as a child, I struggled with easily tangled hair and usually wore my hair in braids to keep it out of the way. As a teen, I discovered the difference that the right hair products can make when I found a conditioner that made my usually tangled locks easy to brush. Now, I look for natural hair care products to achieve healthy, beautiful hair and recently discovered Vegamour.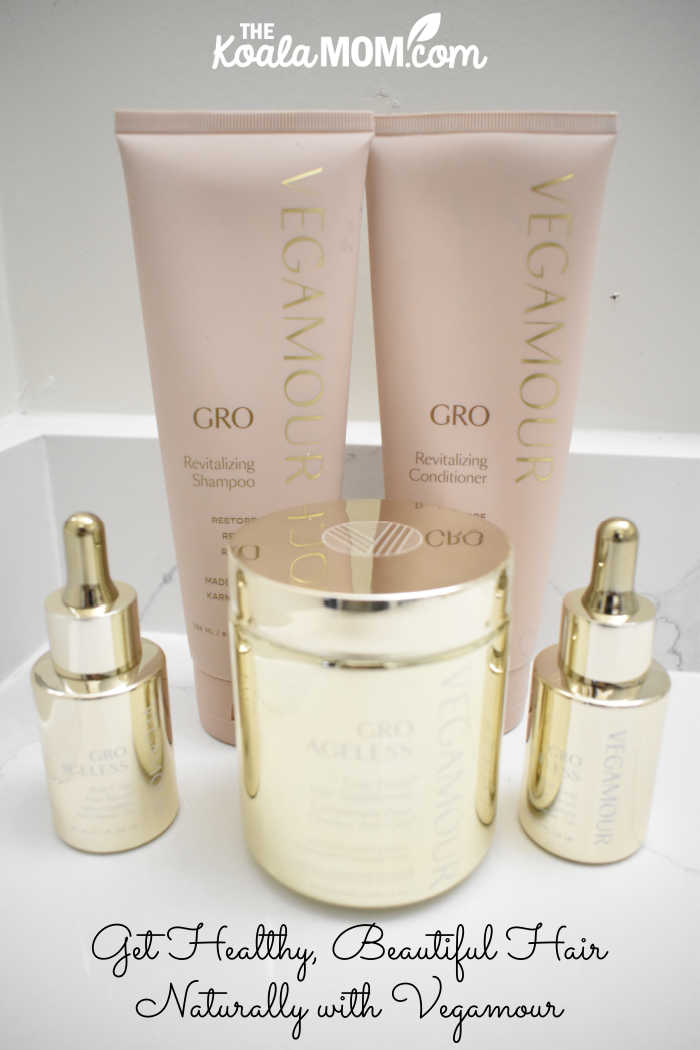 I received these products for review courtesy of Vegamour; all opinions expressed remain my own.
What is Vegamour?
Vegamour offers high-performance hair products without harmful toxins and undesirable side effects. Their products contain sustainably harvested, organic plant ingredients that have been clinically shown to improve hair growth, reduce hair loss and repair follicle damage while protecting your hair from external aggressors. Vegamour formulas are designed to work together to create the optimal ecosystem for healthy, abundant hair.
Vegamour offers products for your hair, eyelashes, and eyebrows. As I already have thick hair (including eyelashes and eyebrows), I wasn't interested in the hair loss or hair growth products. However, the anti-graying products caught my attention. My mom's hair went grey when she was very young; by the time she was my age, her hair was already half grey. In fact, we were so used to Mom's grey hair that when my brothers and I saw pictures of her from the year she met my dad, we asked, "Who's that black-haired kid?"
My hair is still mostly brown, but I've noticed a few grey strands appearing here and there. As I get older, I'm realizing the importance of taking care of my hair and skin and not overlooking or neglecting this aspect of self-care because in the past it's been easy. So I decided to try out Vegamour's shampoo, conditioner and anti-greying products.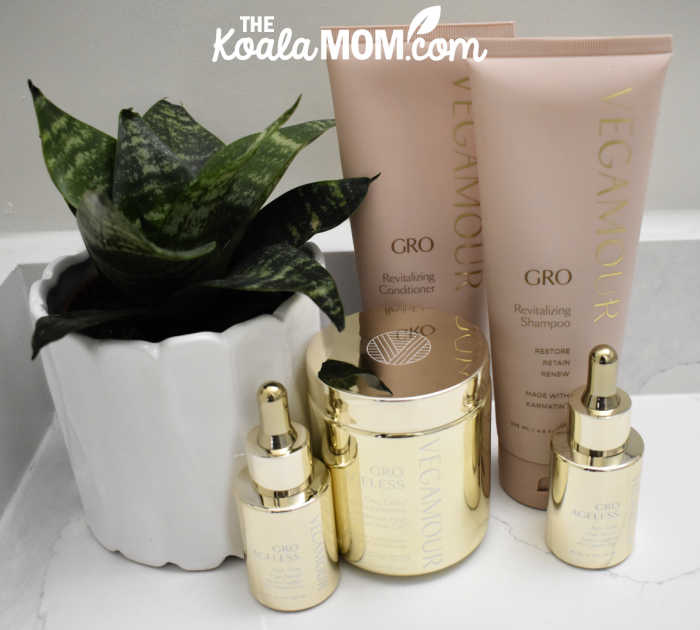 Shampoo & Conditioner
The first products I tried were the shampoo and conditioner. Both are thick, smooth products; the shampoo lathered beautifully into my hair and the conditioner immediately made my hair feel smoother. The shampoo and conditioner both contain Karmatin™, an innovative, encapsulated vegan b-silk™ protein that replaces traditional keratin, a building block that occurs naturally in the hair.
Many hair care products contain keratin, an animal protein that rinses away before it can repair damaged hair. But Karmatin™ bonds to the hair, nourishing it instantly to promote healthy, beautiful hair. A true miracle and the hero ingredient in Vegamour's shampoos, conditioners & masks, Karmatin™ deeply nourishes, repairs and protects hair from external aggressors like chlorine and sun, and keeps color vibrant without hurting animals or the planet.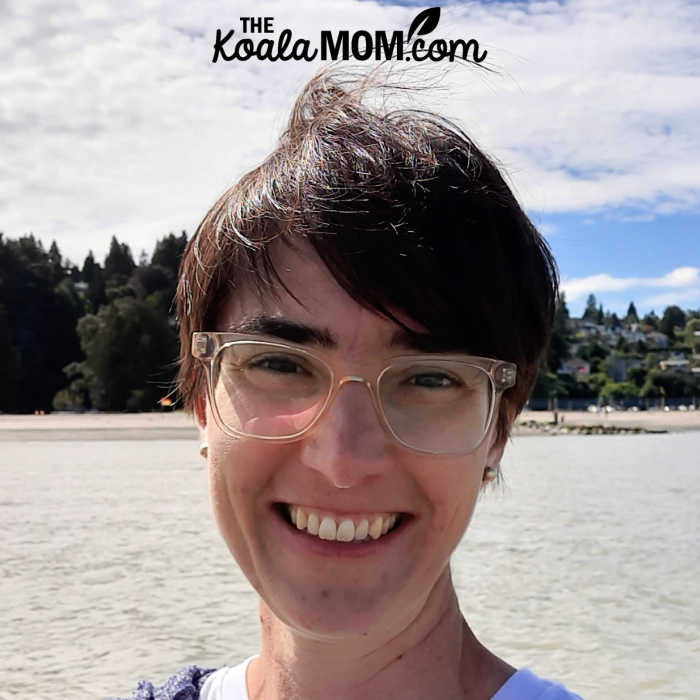 My 14-year-old, who has long, thick hair like I did as a child, really loves these hair care products. Like me, she finds it easy to tell when a product works in her hair or doesn't. She's also doing weekly swim lessons and we've noticed in the past that chlorine really affects her hair, so it's good to know that the Vegamour shampoos are helping counteract the chlorine damage. Both of us found that the Vegamour shampoo and conditioner left our hair (whether long or short!) feeling smoother and thicker and easier to style.
Both of us recently bleached and then dyed our hair. This is the first time I've done something like this to my hair, as I've always been concerned about the damage caused by bleach and dyes. However, she really wanted purple hair we decided to go for it together. And I was right—bleach is really hard on your hair! I noticed my hair didn't feel as smooth or healthy afterwards. The Vegamour shampoo and conditioner have really helped restore the soft, smooth feel to my hair that I had before bleaching and dying.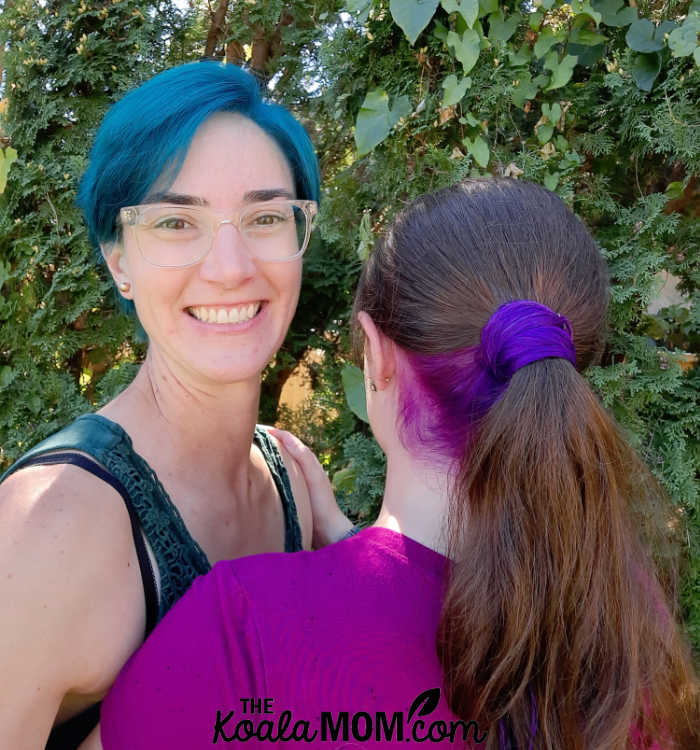 The only thing I didn't like about the shampoo and conditioner is the smell. I know many shampoos have very flowery or fruity scents and that's not something I require in my hair products. The shampoo I used prior to receiving these products didn't have a strong scent, so I'm not a fan of the scent of these products.
GRO Ageless
I've learned over the past few years in improving my gut health that our diet affects nearly every aspect of our health. It didn't surprise me, in browsing the Vegamour website, to learn that one way to get healthy, beautiful hair is by taking natural supplements. Our hair needs adequate nutrients to grow, so thinning, greying hair could be an indication that we aren't getting the nutrients we need.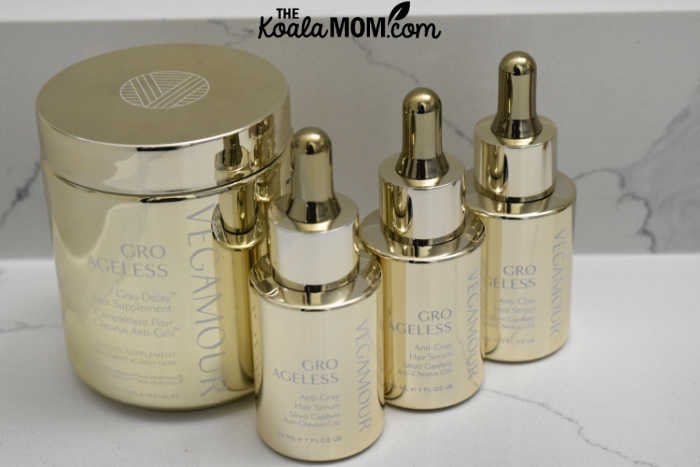 Vegamour's GRO AGELESS Gray Delay™ Hair Supplement is a proprietary blend of bioavailable adaptogens and minerals. It includes vitamins, antioxidants botanicals and minerals to help make your hair as healthy as possible. These supplements come in two small capsules that are easy to swallow, just like any multivitamin.
I paired this supplement with the Anti-Gray Hair Serum. This contains caffeine, peptides, vitamins and glycoproteins to nourish your hair and scalp. The serum comes in a small container with a little eyedropper to make it easy to apply to your scalp. Simply spread a few drops around, massage your hair and style as usual.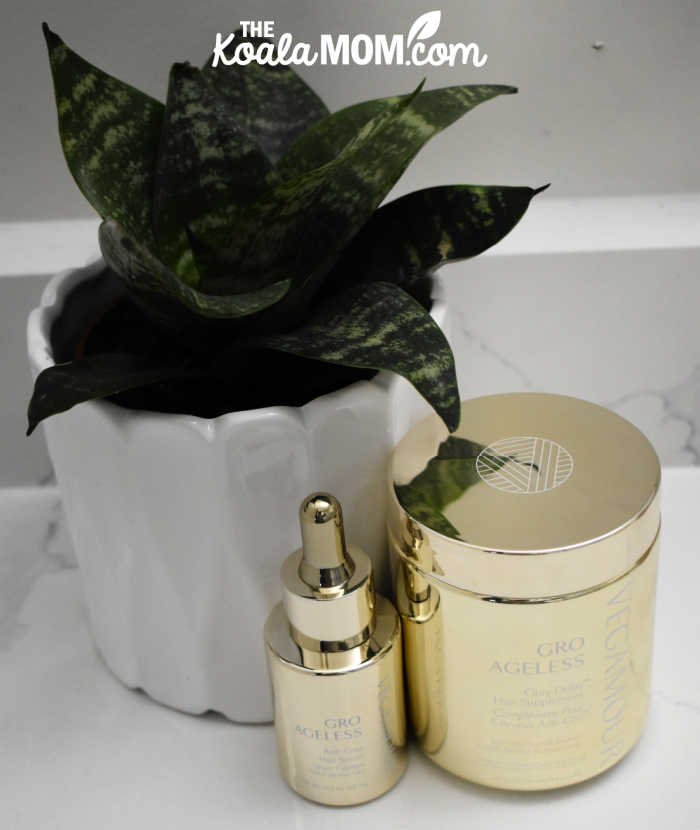 Healthy, Beautiful Hair
Does it work? Well, as I said, I've just noticed a few strands of grey hair over the last year or two. And currently, my hair is dyed blue, so it's hard to notice whether the grey hair is increasing or not. Vegamour notes that results tend to come in 90-180 days, so I'm sure as I keep using these products and my hair dye fades out, my natural, healthy, beautiful brown hair will return. Actually, dying my hair has given me a chance to see how fast my hair really grows as the roots come out!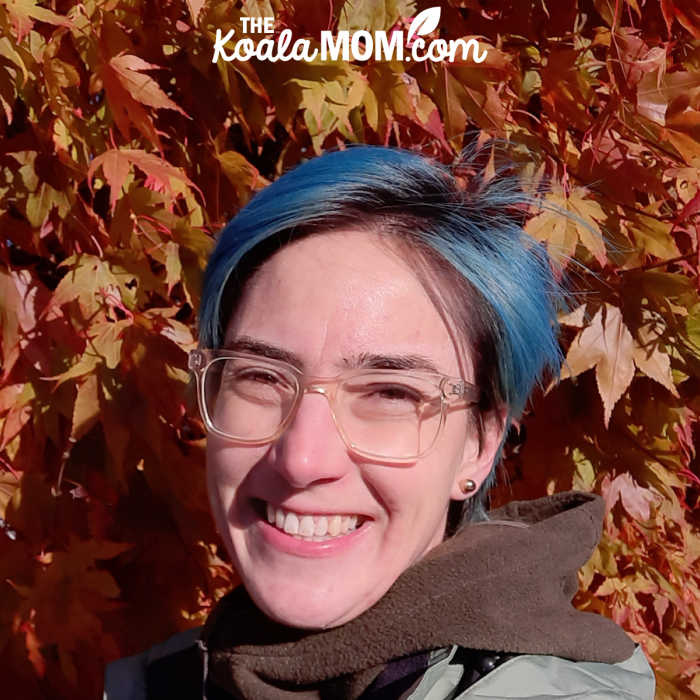 If you're also looking for natural, plant-based hair care products to help your hair look and feel its best, I encourage you to check out the Vegamour website. Whether you're dealing with thinning hair, graying hair, dandruff, chlorine damage or other hair products, Vegamour has something to repair the damage and help your hair become healthy and beautiful again.