You often take trips to stores with your children, whether shopping for groceries or clothes or other needs. But do you know what to do if an accident should happen? While no one wants to think about their kids getting injured, it is always good to be prepared and to know what to do in case of an emergency. Here are five vital steps to follow if your child is injured while in a store.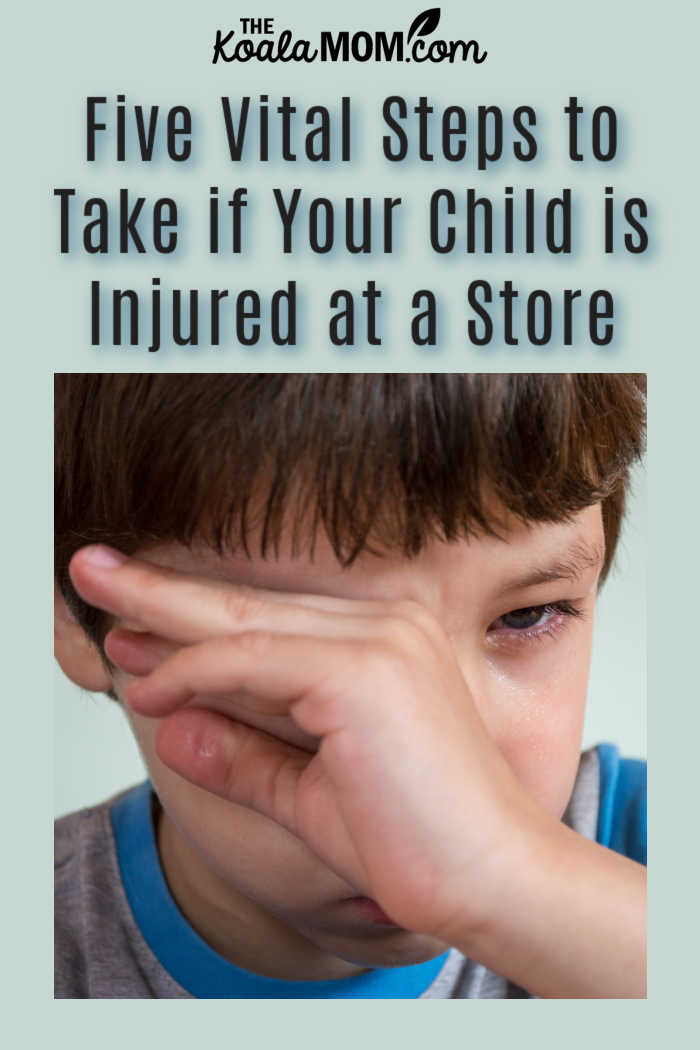 Assess the Severity of the Injury
The very first thing you need to do when your child is injured while at a store is to comfort your child and assess his or her injuries.
Kids often get cuts, grazes, and bruises. If the injury is a minor one like that, ask a member of staff in the store to get a first aid kit. I actually have a small first aid kit in my purse with bandaids, Polysporin and antiseptic wipes, and a larger first aid kit in my vehicle, just in case of accidents when we are out of the house.
Then find somewhere quiet to sit down and attend to your child's minor injuries and provide comfort. If you suspect the injury is anything other than minor, seek medical attention as soon as possible.
Get to the Emergency Room
If your child has a more serious injury, you need to call 911 or take your child to the nearest hospital.
Common examples of accidents and injuries that could require a trip to the Emergency Room include the following:
When your child is under two years old and sustains a fall of over three feet.
When your child is over two years old and sustains a fall of more than five feet.
When your child injures his or her eye and has a black eye, bleeding in the whites of the eyes, sudden vision changes like blurred vision, or difficulty in moving the eyes.
When your child has a fracture, which could cause extreme pain, pallor, a weak pulse, paresthesia, or even paralysis.
If your child injures his or her teeth, you should get your child to a dentist for an emergency appointment within twenty-four hours.
Gather Evidence at the Time of the Accident
Your first concern after the accident will of course be your child and his or her comfort and safety. In the adrenaline and excitement of the moment, it can be hard to pay attention to other details. However, once you have assessed the situation and called 911 if appropriate, you should remember to do three things.
Firstly, you should inform the store manager of the accident and get a written report if possible. Secondly, you should get the contact details of any witnesses. Perhaps another shopper stopped to help or a staff member saw what happened. Thirdly, you should photograph the accident scene. And before your child receives medical attention, you should photograph his or her injuries too.
All of those actions will help you to prove your child was injured due to the store's negligence so you can likely be awarded damages. This will be helpful if your child needs extra medical care, treatment or therapy as a result of the accident.
Contact a Personal Injury Lawyer
Once your child has received medical care, if the injury was due to the store's negligence, your next step should be to contact a personal injury lawyer. For instance, if your child slipped on a wet floor that wasn't sign posted or fell down stairs that had loose carpeting, the store could be legally responsible for the accident.
When you contact an experienced personal injury law firm, PI lawyers will supervise your statement, help you explore your legal options, thoroughly investigate your case, and gather evidence.
Your lawyer can then either reach an out-of-court settlement or represent your case in court to help you receive the compensation you're entitled to. For instance, you could receive compensation to cover the expense of your child's medical treatment.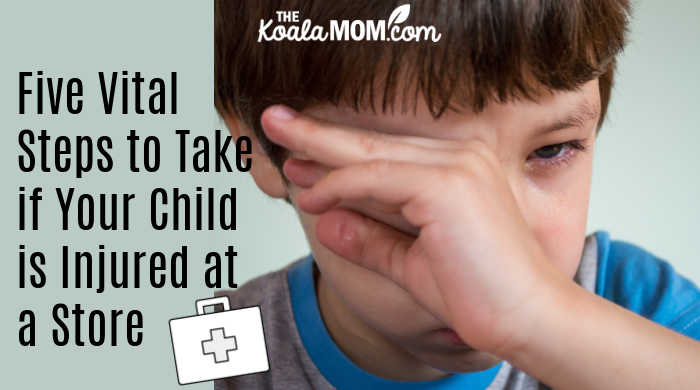 Talk Things Through with Your Child
The last vital step to take is this: debrief with your child. Talk through what happened and ask your child how he or she is feeling. Many children bounce back quickly from accidents and injuries, but some may have some fear or anxiety around it. An injury can be a traumatic experience, so it's important that you comfort your child (and yourself) afterward and allow space to talk about it, process it, and move forward.
My 4-year-old talks happily about the popsicle he got during his first (and so far only) trip the emergency room; for me, that day is filled with a lot more anxiety and trauma. (You may also need to debrief about the event with a trusted friend or therapist, especially if you find yourself having anxiety or other negative reactions to the accident and any associations with it.)