Instagram is a great place for homeschoolers to share their ideas, inspiration, and favourite products. It's also a great place to connect with homeschool companies offering great products. Recently, Darya and I found each other on Instagram. She's the founder / creator of World in a Box, a subscription box service that delivers exciting cultures from around the world with STEAM projects, stories, fun activities and games. I couldn't wait to chat with her more about her business and check out a World in a Box! (Review coming soon!)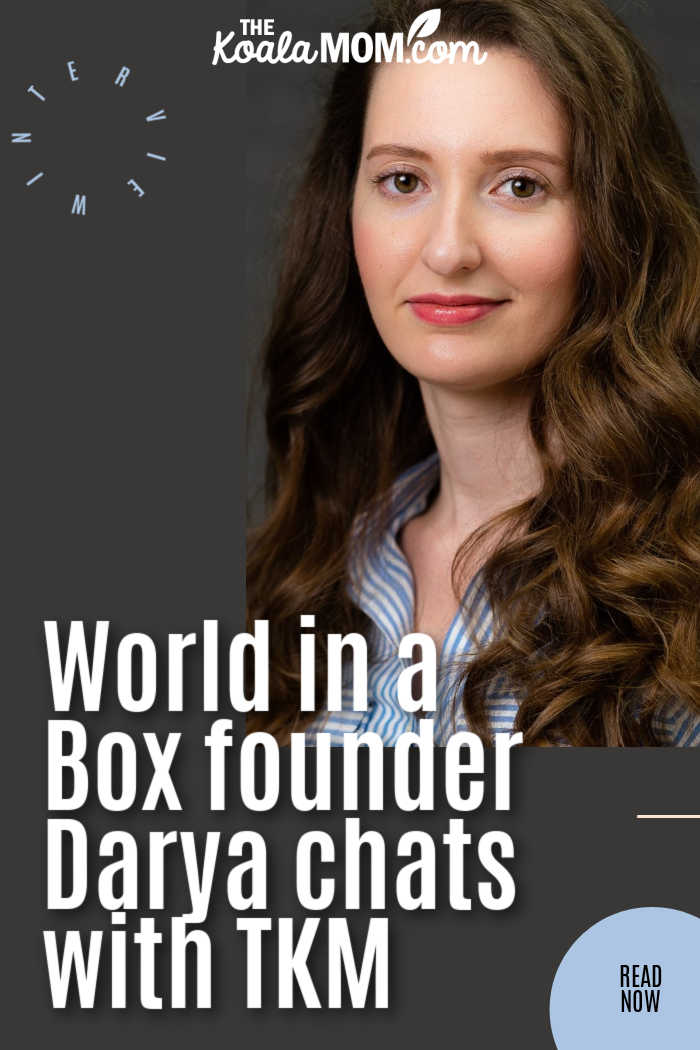 TKM: Tell us a bit about yourself!
Darya Yatskova: Hi, I am Darya! My background is in marketing—I work in digital advertising to be specific. When I am not working, I am with my loved ones. I often bike (I wish summers were longer!), read, attend some events, visit museums and galleries (more culture please!), do embroidery or other crafts (all things handmade are my true love), or study something (taking French now).
TKM: Tell us a bit about your business.
Darya: World in a Box is geography and culture subscription boxes for kids, packed with fun STEAM activities, crafts and games. Every month you get to travel to a new country.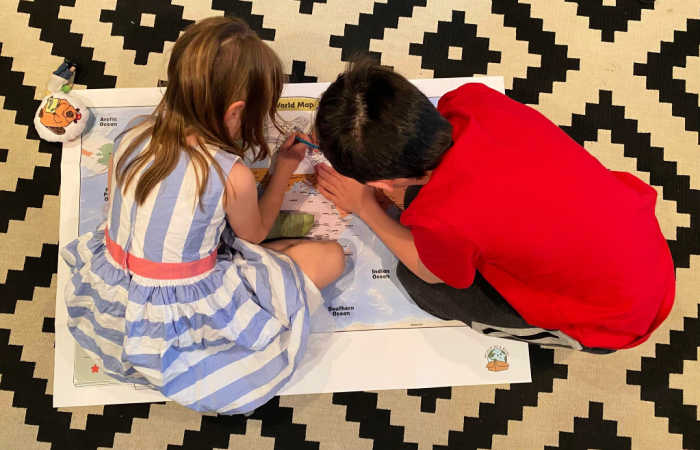 TKM: What inspired you to start World in a Box?
Darya: When the pandemic just began, I decided to take a User experience course, and I started getting lots of different ideas. World in a Box (it actually didn't have any name for quite a bit) seemed like something that could really turn into business, so I started exploring this further.
I also think it is something where my two passions meet. I've always loved travelling and learning about new countries and cultures. But arts and crafts are just as important to me! That's why you'll notice that a large portion of the box is actually handmade.
TKM: How do you choose what products / topic to feature each month?
Darya: I try to choose countries from different continents or those that are very different from each other even if they are located close, so every month it's exciting to learn something completely new. As for topics and products, I always try to find things that are unique to the country and make projects/crafts based on that. For example, in the box about Mexico you could make your own pinata and papel picado banners.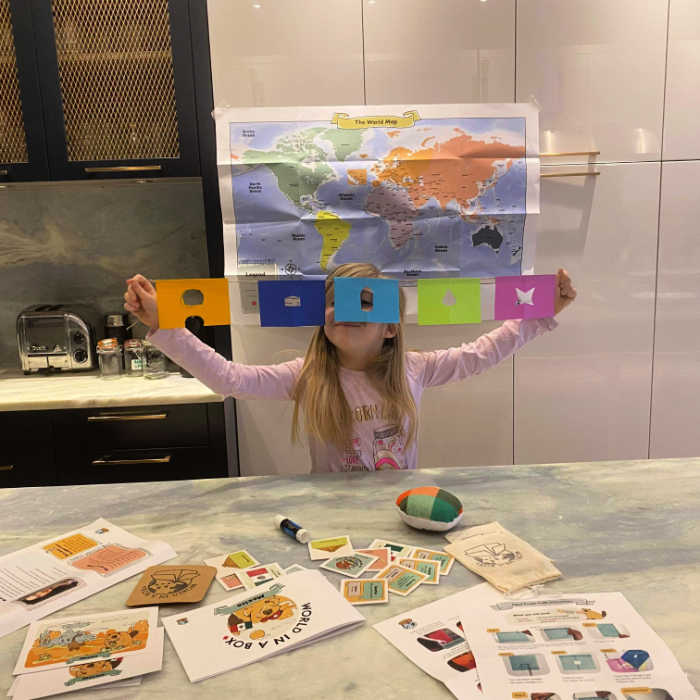 TKM: What has been the most challenging part of your business, and how did you overcome that challenge?
Darya: To be honest, every step seems like a challenge as it's all new. Legal things like registering a business were a bit confusing and scary at the start. Finalizing the product was not easy. I did a test before launching, and then made edits based on the feedback. And I will surely be happy to hear more feedback going forward as having a great product that kids and parents love is really important to me.
Coming up with the content for future boxes and then sourcing materials needed can be challenging. It's really interesting, before you start doing something yourself you don't even think about some processes behind, e.g. when you get a parcel, you just get it, there is a box it came in, but someone had to find that box, then pack the order, etc.
Also regarding overcoming challenges, I think my personality helps. I am not afraid of challenges, I just take some time to learn about something I don't know and I ask people around.
TKM: What was the most fun or most exciting part of your business?
Darya: I'd say that challenges are also quite exciting for me, because I feel so great and proud of myself when I figure something out, it's like a little victory. The most fun and exciting part was perhaps the moment I launched the website and when I had the first sale. That was incredible!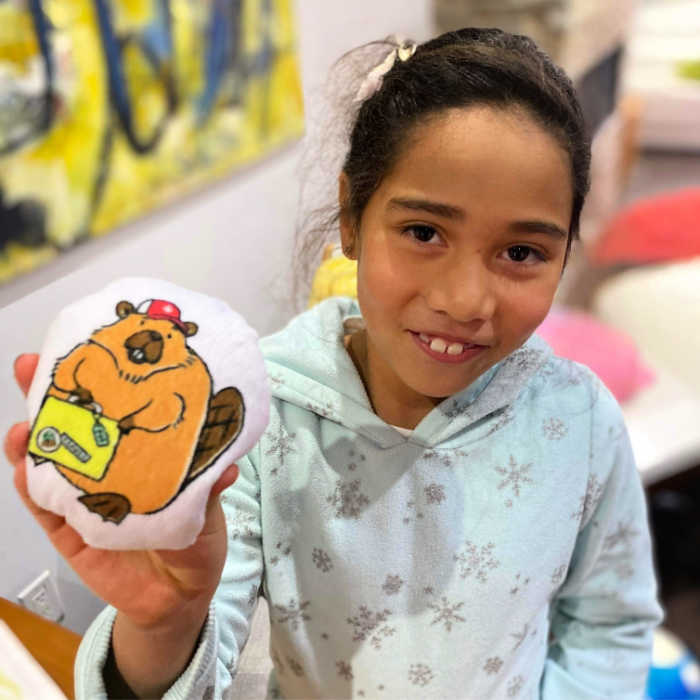 TKM: What advice would you give to a fellow mom who wants to start a business?
Darya: First, don't be afraid. Do you research, study the market. Talk to some other entrepreneurs. Be patient. Don't get discouraged.
TKM: Where is your favourite place to work?
Darya: I do love working from home! I also find it amazing that many of us can now be anywhere in the world and do their jobs remotely. I am typing these answers while being in Spain 🙂
TKM: If you could travel anywhere in the world, where would you go?
Darya: Great question, I think I would go somewhere very different compared to where I've been before, maybe New Zealand!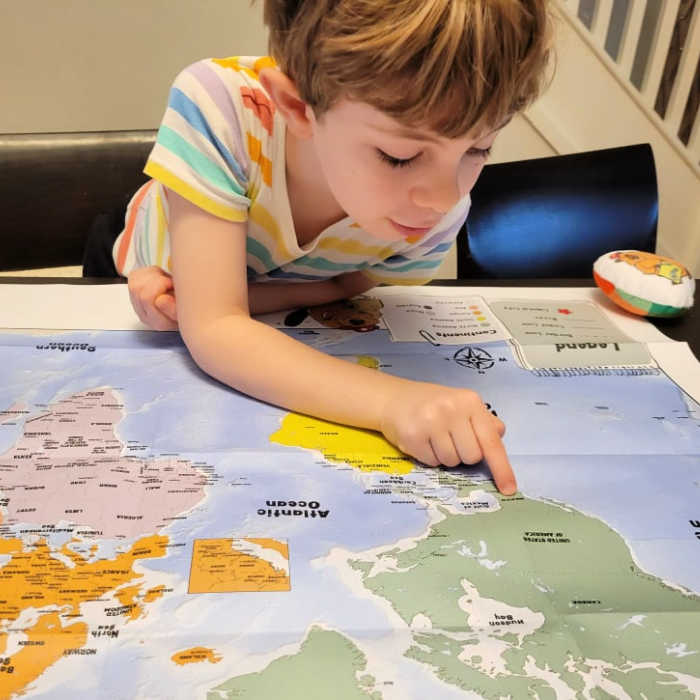 If you want to find out more about Darya and World in a Box, drop by her website. You can also find her on Instagram, Facebook and Pinterest.