Camping with toddlers is one of those treasured moments that can last a lifetime. However, it's not all sunshine and rainbows—it also comes with a lot of stress. While camping is a great time for people to get back to nature, adding toddlers into the mix can make for one really long weekend!
Don't be disheartened by your latest recruits. With a little bit of forward planning and some practical ideas, you can have a great trip with the entire family. Here are some tips on how to go camping with toddlers.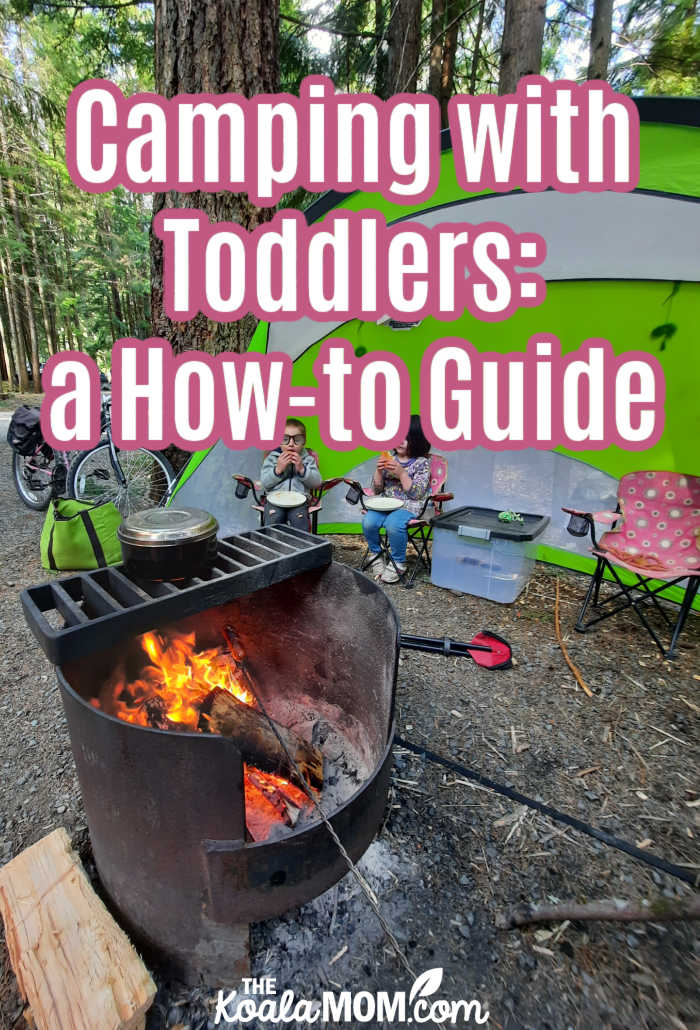 Choose the Ideal Camping Spot
The very first thing you need to do is choose a camping destination. This involves a lot of research and pre-planning. Talking to other parents who've camped with toddlers can give you a starting place for family-friendly campground ideas.
If you have the option to choose, consider going to your local campsite for an easy trip. You don't have to go all out and hike distant mountain ranges if you're just starting out; you want it to be easy, fun, and relatively unchallenging for your little ones.
Consider things like the distance you are going to travel, what amenities are available, how private the place is, and whether the campsite is child-friendly. For example, I like to check campground maps to see where the washrooms are located (closer is better for toddlers) and whether there's a playground in the campsite.
You can plan for bigger adventures later on if you and your toddler have fun in this mini escapade.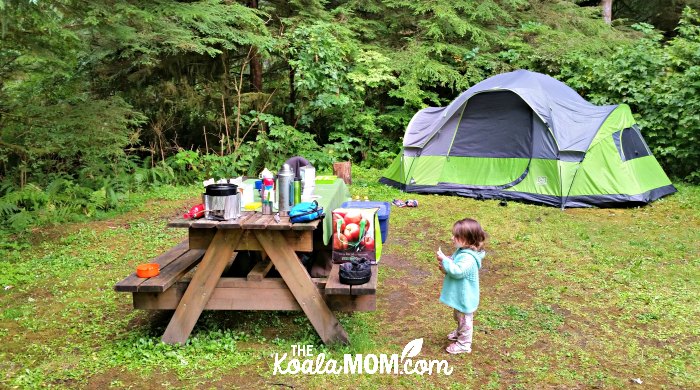 Keep Quality Sleep a Top Priority
Toddlers are known for their frequent bouts of wakefulness. This is especially amplified when they're out in the wilderness, where there's no telling what they might get into. My toddlers often have trouble falling asleep in a new environment, especially one as exciting as a tent.
To make sure everyone gets their much-needed shut-eye, you need to be prepared. Make sure your tents are comfortable and spacious enough for all of you to sleep in. If the weather turns chilly, be sure that you have layers ready that you can put on your child. An extra sleeping bag or blanket is always a good idea, and hats can also help keep kids warm at night.
I find that having a bedtime snack (before getting into the tent) such as a banana (which is high in magnesium) can help my toddler settle down better. I also pack some Boiron Quietude, which can help everyone relax at the end of a busy or exciting day.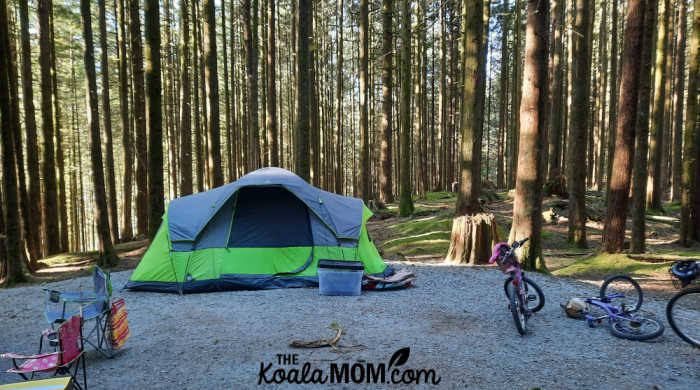 Try to plan some quiet, relaxing activities for the end of the day. Your toddler may enjoy reading stories while snuggled up in the sleeping bag beside you. If you can, duplicate their usual bedtime routine at the campground. I bring along a white noise app, which can also help if we have neighbours who are still awake and making noise while I'm trying to get kids to sleep.
Mosquitos and bugs getting into the tent should also be a consideration when camping with toddlers. You might have to switch from the usual standard nylon tent fabric to something with a higher denier, which is more resistant and durable to outdoor elements. A dedicated mosquito tent may come in handy too.
Get Ready For Grub
We don't mean insects or plants of the wilderness, like what they do in Man vs Wild. We're talking about actual food.
Food is an important part of any camping trip, and the great thing about it is you can make your meal as complex or as simple as you want. You can even teach your child to help out with the prep by gathering wood for a fire with them, as it is also a great way to encourage learning 'on the job'.
Want a hotdog on a skewer? Go ahead! Prefer to eat a hearty dish cooked on a camp stove? That's possible too.
Just remember that the easier you make your meal, the less work you're giving yourself once at camp. The internet has no shortage of kid-friendly camping recipes, so do some searching before your camping trip! Try to stick to foods you know your toddler will eat and pack lots of extra snacks just in case they get picky at the campground.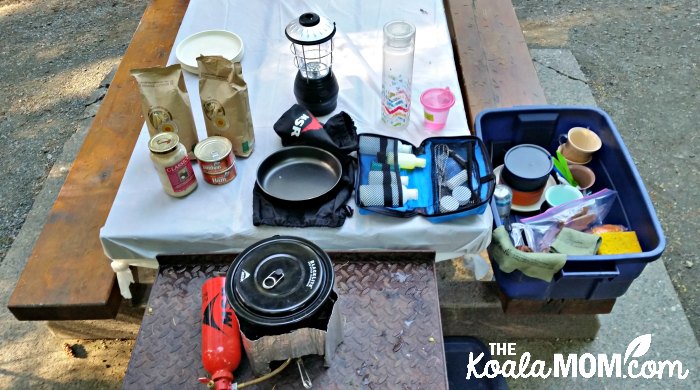 Learn How to Prop (and Dismantle) a Tent
Tents can come in all different shapes and sizes, so it's important to know how to set up the one that you own. Practice setting up your tent at home before camping with your toddler. This can be a good chance to let them check out the tent too.
Most family tents are pretty easy to put up, but they can take a little bit of time. You don't want to be fumbling under pressure and trying to solve a problem when you're in the great outdoors, especially at night.
It is also important that you know how to dismantle your tent. Have your toddler help out with the little things, like pegging down the tent fabric and rolling up your sleeping mats, to make the entire trip a lot easier for everyone.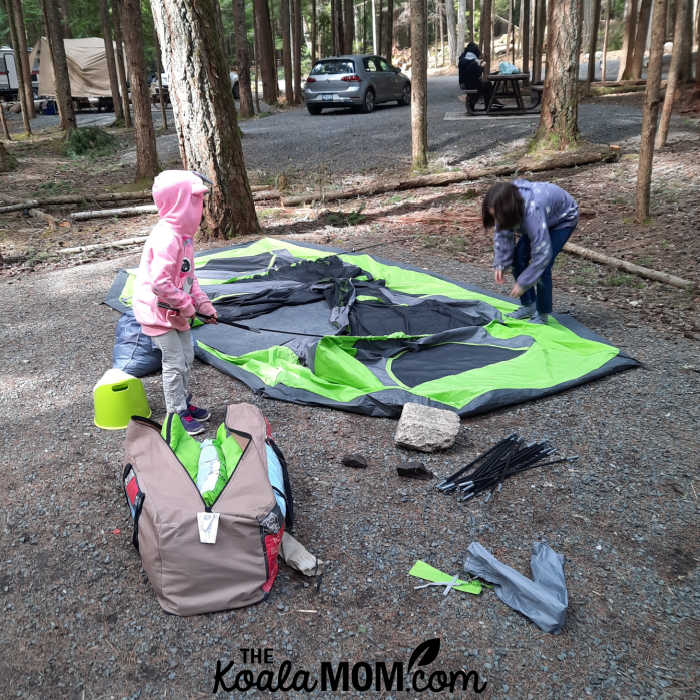 Don't Overpack when Camping with Toddlers
While it's important to bring your emergency items, don't pack too much. You should have a backpack for each adult and one for the child so you can properly share the load of packing right from the get-go.
As much as possible, avoid bringing gadgets, like tablets or laptops, unless they are vital to your camping trip. This way the entire family can bond over simple games and activities instead of spending time glued in front of a screen.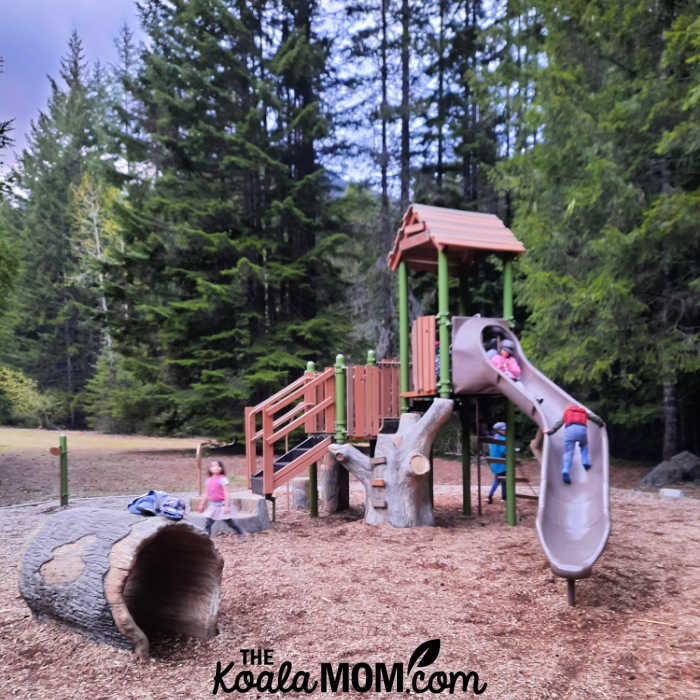 Prepare Some Fun Activities For Your Little Ones
A camping trip is a perfect time to detach you and your loved ones from your phones and tablets. You'll want to plan some simple activities that will allow them to have a wonderful time outside instead of simply lounging.
Some good ones include:
FrugalMomEh notes, "Kids are pretty resourceful at play when given the chance.  Pack a few items you can use to play together such as velcro ball, and one or two other items for quiet play in case of rain.  Otherwise let them explore, under your careful watch of course, you will soon find them entertaining themselves with nature."
But most of all, enjoy the trip! Not only are camping trips fun during the moment, but they also give your child something to reminisce about later in life.
For more ideas, check out my Summer Camping Tips.
What tips would you share for camping with toddlers?