Winter is an excellent time to cozy up with your baby. When it is time to get active and playful, a little inspiration and some warm baby clothes will be all you need to get started. The following winter activity ideas will help to keep you and your infant busy in any type of weather. Try them this season to avoid cabin fever and make precious memories with your little one.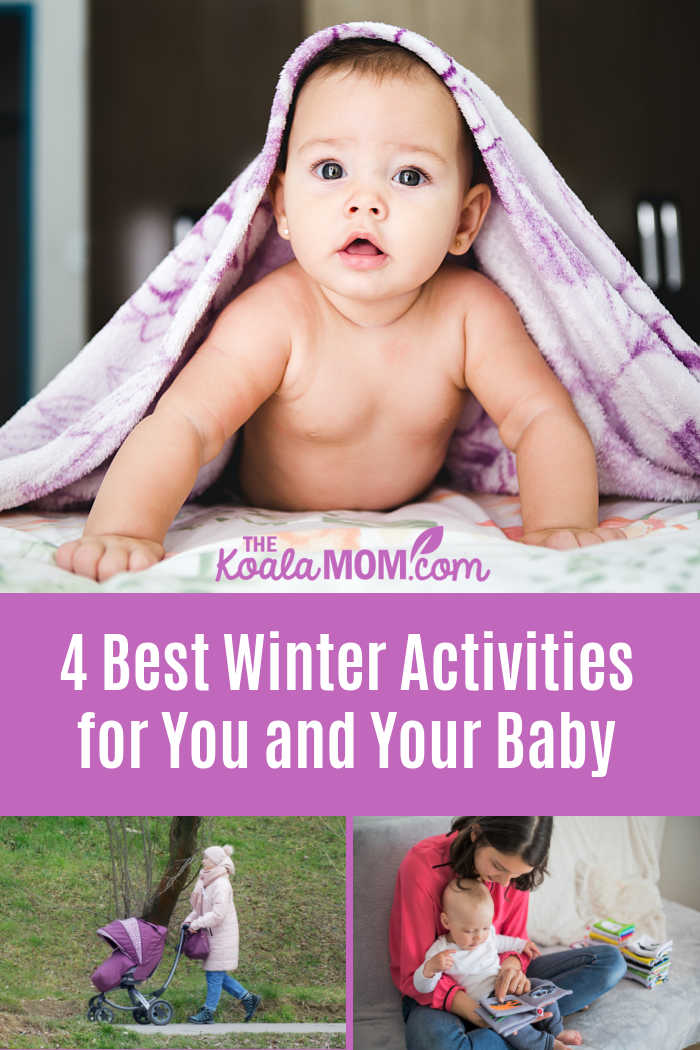 My first baby was born in February in Alberta, so we spent a lot of time indoors as I was unsure how to navigate cold weather with a newborn. My last two babies were born in November and December, in rainy Vancouver. I was much better about getting outside then, as I had older kids who needed the exercise, and I knew that I also needed the fresh air and change of scenery.
Here are a few tips for either getting outside with your baby or having fun with them indoors when the weather is really nasty out.
Explore the Outdoors
Spending time outside in the winter is a great way for you and your baby to get fresh air. The sunshine will also help you both to absorb vitamin D, which can help you to grow and keep strong bones. If you prefer to get out of the house, try exploring the local park or hiking trail. You can also choose to look around your backyard or patio. Take a walk, enjoy a snack or look more closely at your natural surroundings. Each activity will help your little one to bond with you and get to know their world.
While it is important to have fun, it is also essential to protect your baby from the cold. Check the weather and then dress your child in layers that are appropriate for the outside temperature. This may include baby boy and baby girl clothes that make it easy to dress your little one, like a long sleeve bodysuit or a one-piece sleeper. Add pants, leggings or a jacket. Complete their outfit with a winter coat, bunting or a snowsuit.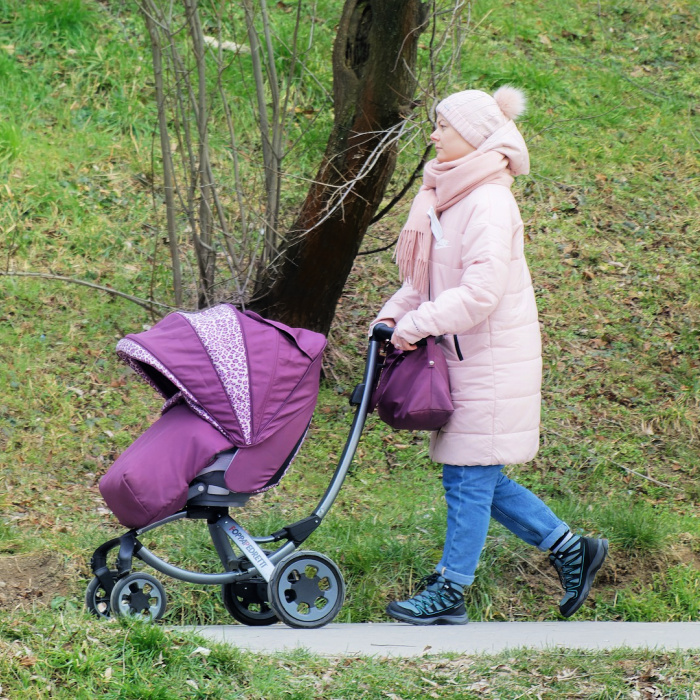 According to What to Expect, babies should spend no more than 20 to 30 minutes at a time in cold weather. When exploring the outdoors, be sure to have a place to get warm afterward. If you can walk to a local coffee shop or mall within that time, you can meet another mom or at least get out of the house for a bit without getting too cold.
Babywearing is a great way to keep baby warm on these walks. He or she will be tucked up close to you, enjoying your body heat. Wear a baggy, bulky coat or find one designed to go over a baby carrier. Using a baby carrier for winter walks can also be an advantage over a stroller if sidewalks aren't shoveled, as walking may be easier than trying to push wheels on winter roads or sidewalks.
Design an Indoor Wonderland
When you would rather stay inside, you can turn your home, nursery or playroom into an indoor wonderland. You probably have everything you need in a spare room or your garage. Find a few cardboard boxes or plastic bins and then write on them or add construction paper to decorate them for your baby. Adorn them with crayon drawings, paper snowflakes or holiday ribbons. If your child is a little older, they can also help you to make the box a work of art. Use them to make a fort, a city or a few little cars.
Another idea is to create an indoor baby obstacle course. Soft pillows and blankets can help to provide your child with a safe place to explore indoors. Let them crawl on top of body cushions and lumbar pillows. Watch your little one (and enjoy a short break!) as they delight in their mini adventure.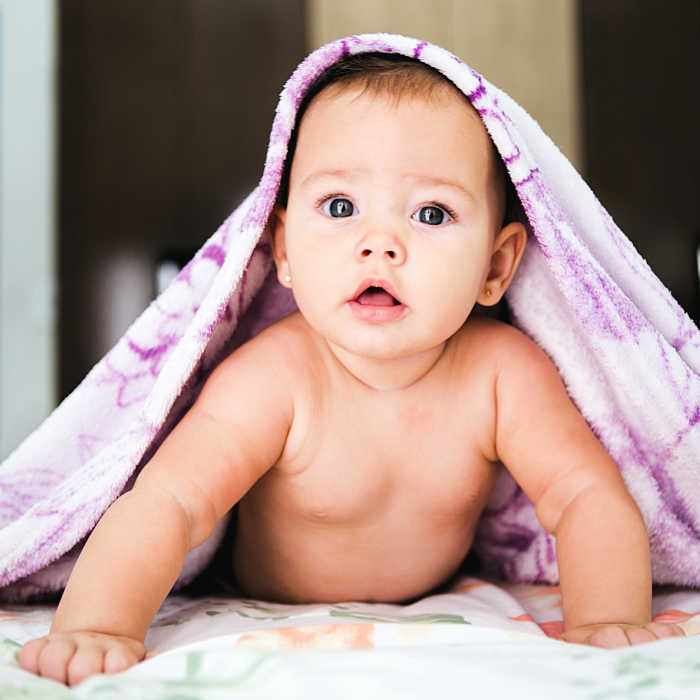 Create a Snowy Sensory Bin
Real snow can be too cold for little hands, but your baby can still enjoy the sensation of those delicate, freezing flakes. Start in the cupboard or pantry. Parents can easily make fake snow at home using a combination of shaving cream foam and cornstarch. Mix equal parts shaving lotion and cornstarch powder together and you are ready to play. If you want the mixture to feel more like fresh snow, add a little more cornstarch until you reach your desired texture.
Add the fake snow to a medium-sized plastic storage bin. Include cute winter-themed toys and objects for your baby's tiny hands. Large jingle bells, plastic reindeer or plastic snowflakes are a few bright ideas. Let your baby feel the texture of the faux snow and then encourage them to move the objects around. When they are finished playing, you can place a top on the bin and save it for later.
Read Winter-Themed Books
Make the most of a chilly day or night with a few fun seasonal books. Cozy up by the fireplace or sit in a comfy corner of the nursery together. Wear your favorite seasonal pajamas and then dress your little one in something warm enough to fall asleep in. If you still need to shop for wintertime sleepwear, some of the best baby girl and baby boy clothes include footed pajamas, as well as long sleeve bodysuit sets with matching pants and socks. Bring a covered cup of hot cocoa and a napkin for you to enjoy while you sit with your baby.
These stories can be holiday-themed or focused on winter. Search the Internet for books that are appropriate for your child's age, as well as your personal preferences. The most beloved winter books for babies include vibrant images, colors and textures that can help your infant explore their new world. They will also enjoy short, simple tales that inspire joy and magic. Tell them about sledding, Santa Claus or snowmen. You are sure to enjoy the experience just as much as they do.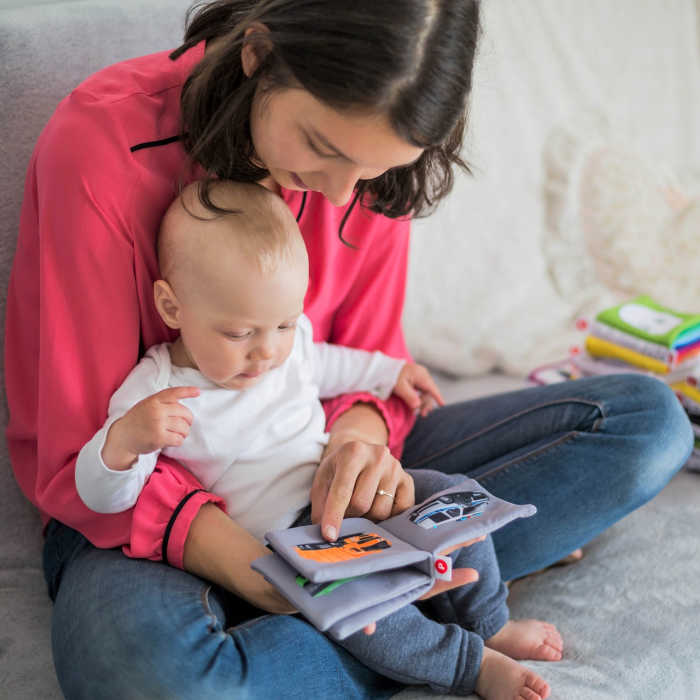 Enjoy Winter Activities with Your Baby
While it is not always easy to keep babies busy during the winter, these activities can help to keep you and your little one engaged. Getting outside in the fresh air will help you both to avoid cabin fever while feeling happier and healthier as you go about your day. Activities like reading books and exploring sensory bins can help to stimulate your child's mind, while crawling and climbing will encourage them to grow big and strong.
In the first year with your little one, you can slow down and keep it simple. Winter is the perfect complement to this style. Take your time and relish the activities that you both enjoy. You are sure to make memories that last a lifetime.