Research done by the Kaiser Family Foundation found that the average child spends 7.5 hours a day sitting in front of a screen, watching TV, playing video games, and spending time on tablets and smartphones. Those 7.5 hours a day add up to 114 days a year—almost a third of a year!
That screen time, however, is part of 21st century life, and valuable for entertaining and educating children… but it's still good to get them outside having as much fun as possible. Offering them an adventure out in nature is just as exciting as a video game, and really sparks your child's imagination.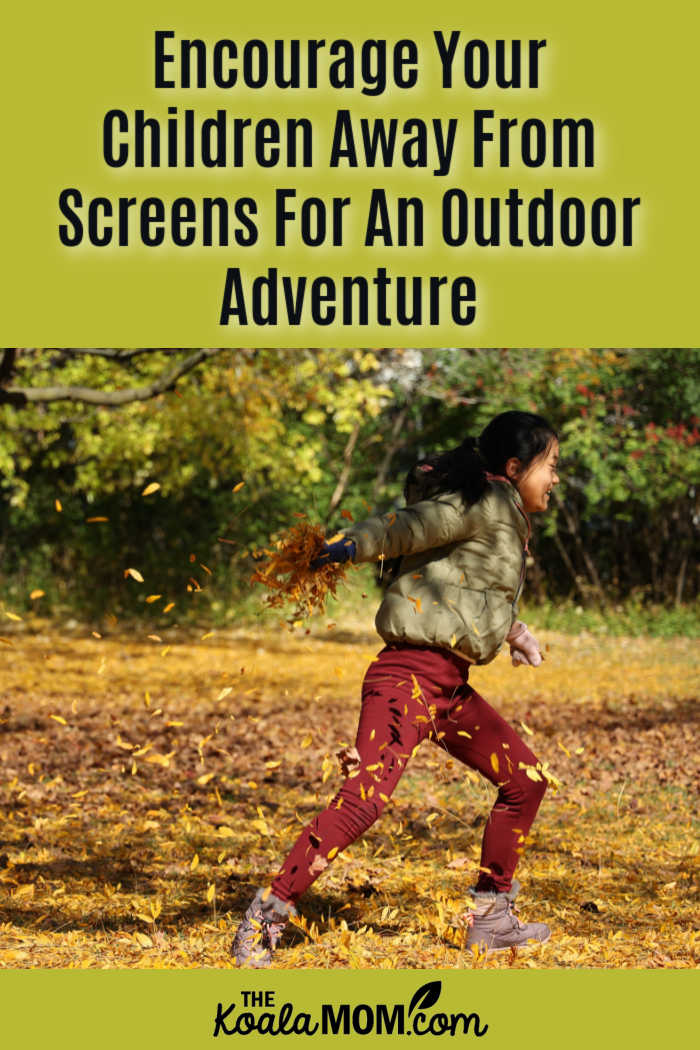 Climb Some Trees
Tree climbing is a rite of passage for children, and excellent for their hand-eye coordination and balance. Yet 30% of children have never climbed a tree. It's not recommended that you send your child out to shimmy 50 foot up the nearest Giant Redwood, however, because climbing a tree safely is important. Instead, select a good sturdy, slow-growing tree, like a sycamore or oak, with low branches.
Research done by the University of North Florida found that spending time climbing trees has some great cognitive benefits, improving spatial reasoning, helping to develop the neural pathways, and even boosting self-confidence. Just make sure that your child is wearing sensible clothing and that it's not raining. They don't have to climb right to the top of the tree, but even conquering a low branch is great fun, and a rewarding challenge.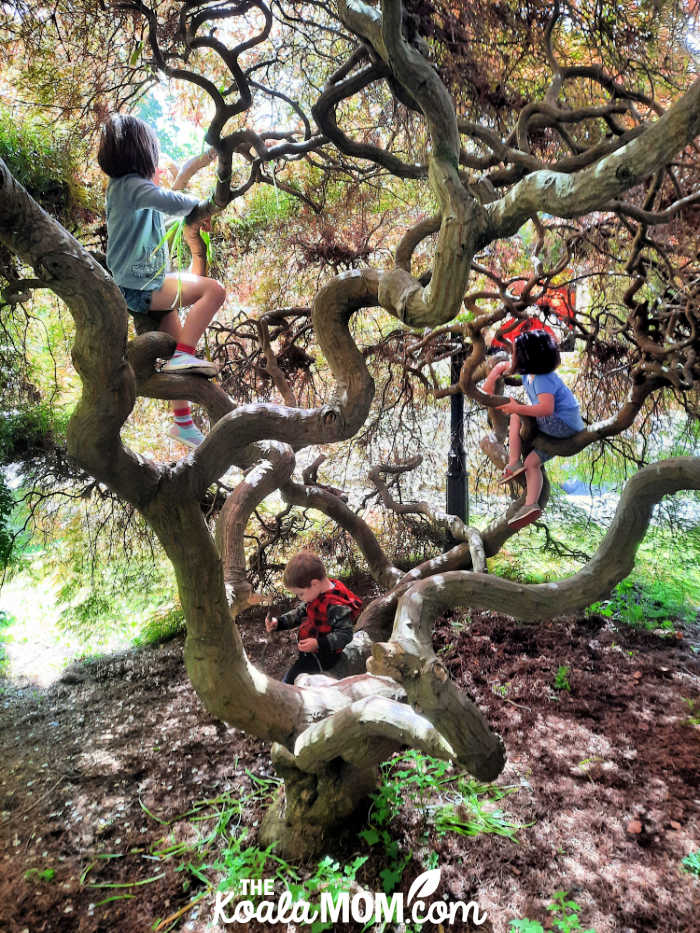 Go Geocaching
Geocaching is the ultimate worldwide treasure hunt, and the perfect excuse for an outdoor adventure. All around the globe, geocaches are hidden—they can be found using GPS coordinates. Some of the geocaches are tiny, micro-containers the size of a film canister. Some are large boxes, containing a log for you to sign, as well as Geo Tokens and travel bugs. Geo Tokens and travel bugs are small coins or items, each with a unique code. A travel bug might have a special mission—for instance, to travel to each province. If you take it out of a geocache, you should leave it in another box, helping the travel bug to achieve its mission.
Try Paddleboarding
Paddleboarding is a great activity for kids of all ages. It's a fun way to get out on the water and explore, and it's also a great workout. If you're thinking about taking your kids paddleboarding, there are a few things you should keep in mind.
First, make sure to choose a calm body of water. Paddleboarding on a lake or slow river is typically much easier than paddling in the ocean.
Secondly, be sure to have the proper safety gear. A life jacket is a must for any child who is not a strong swimmer. There are plenty of other useful accessories available online. For example, having an electric pump for paddle boards will ensure that you can get set up quickly when you arrive at the lake.
Finally, be prepared to offer plenty of encouragement. Paddleboarding can be tough at first, but with a little practice, your kids will be cruising around like pros in no time.
Become an Earth Ranger
Earth Rangers is a free, online program that teaches children about conservation, protecting the environment, animals and extinction. Once you create an account, your child can make an avatar, choosing outfits and accessories. Your child will also be sent a ranger card and a fun care package welcoming him or her to the Earth Rangers program!
After kids login, they can play games and sign up for missions or campaigns. Missions always relate back to protecting animals and include activities you can do at home and in the community, like recycling batteries, organizing shoreline clean-ups and planting pollinator gardens. Campaigns teach children the importance of protecting our wildlife! They also learn about raising and managing money.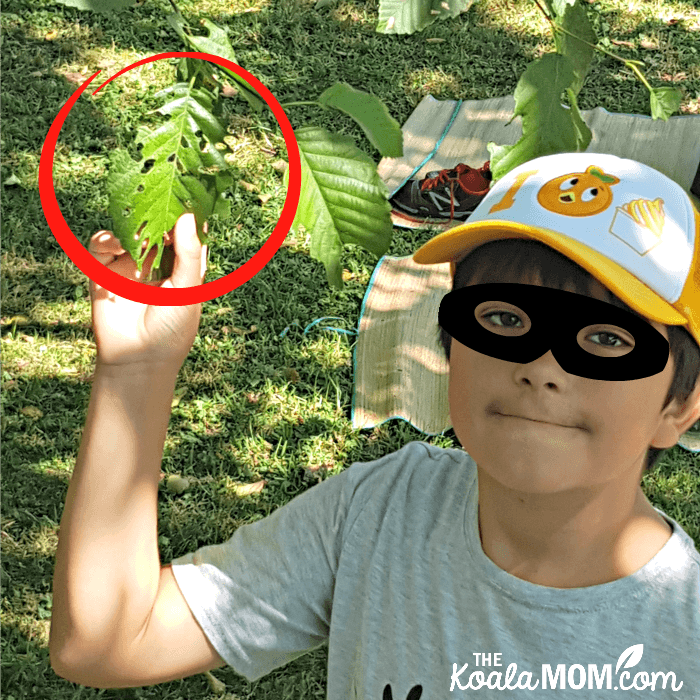 Join a City Scavenger Hunt
There are organized scavenger hunts all over Canada, and they are perfect for giving your child an adventure away from the screen. You can explore local landmarks as well as find hidden gems along the way. You may have to find certain items, solve clues and riddles, and complete photo challenges with your teammates. It's a great way to learn about the history of a city, and you might even learn something new about places that you are already familiar with.
Screen time is part of life for 21st century children, but you should still provide them with plenty of opportunities for real-life activities. Getting them out on an adventure can help their personal growth, and it's great fun for everyone.
Planning Holidays
As holidays approach, you may be even more interested in encouraging your kids away from screens. If kids don't have other activities, they may default to staring at their screens—playing their favourite apps or scrolling through social media. To avoid this, plan ahead for a tech-free Christmas or summer vacation. Use some of the above ideas and involve your kids in coming up with other ideas for how they want to spend their holidays.
Looking for more outdoor ideas for your kids? Check out my list of Fun and Low-Cost Recreational Activities around Greater Vancouver. There are also plenty of Family Christmas Activities in Vancouver that don't involve screens (unless you want to take your phone along to snap pics of how much fun you're having!).
You may also enjoy my Summer Bucket List or want to create your own!!!
How do you encourage your kids to spend less time on screens and more time on other activities and hobbies?