Our library has a large selection of board books—an entire wall with two shelves at toddler height below a big, bright window. My 5-year-old and 3-year-old head there as soon as we get to the library and sit down to browse the books. Often as we glance over the books on the shelves, though, I'm disappointed. Either the topic or the content of the board books is less than exciting (to say the least). I agree with authors Adam and Angela Smyth that we need better for our kids, and I am super excited to add their new board book, All You Holy Women, Pray for Us! to our own bookshelves.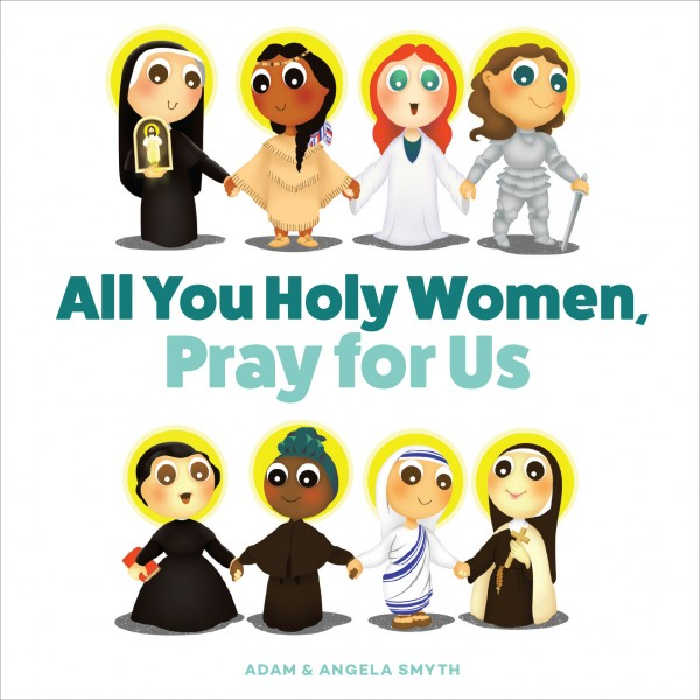 I received this book for review courtesy of the publisher; all opinions expressed remain my own. This post contains affiliate links; as an Amazon associate, I earn from qualifying purchases.
All You Holy Women, Pray for Us
This adorable board book features a rhyming story about each saint along with attractive, toddler-friendly drawings. It's the perfect way to introduce our youngest children to the amazing saints praying for them in heaven. Little girls will love to learn about St. Cecilia, St. Kateri Tekakwitha, St. Elizabeth Ann Seton, St. Joan of Arc and other women in the sturdy boards of All You Holy Women, Pray for Us.
Teresa walked along the streets,
Where people pushed and shoved.
That's when she noticed something wrong:
So many felt unloved.
So many board books for toddlers are too simple. Simple words, simple pictures. None of my kids have been attracted to those books. All You Holy Women, Pray for Us has the beautiful pictures and "meaty" stories that we look for in our favourite reading materials. Each little rhyming story has a lesson or thought-provoking tidbit. Toddlers may miss this, but my kids like to read the same story over and over and over again, and slowly, those little lessons will sink in.
5-year-old Pearl's favourite saint was St. Therese of Lisieux, with a beautiful ring of roses around her. The story says, "'Not great deeds but great love,' she said,
When asked what mattered most." Pearl is our giver-of-hugs who frequently says, "I love you" to her siblings and parents. She may be small, but like St. Therese, she spreads great love wherever she goes.
Inspiring Our Children
The saints have had a special place in my heart since my conversion. As a child, I remember reading saint stories with my best friend and arguing about who got to play the role of the beautiful virgin martyr in our pretend games. As an adult, the saints continually inspire me as I find men and women who've gone through situations similar to those I'm experiencing. As God has carried them through difficult times, I can trust He'll carry me through too. I want my children to also know that they have friends, mentors, and role models in the saints.
In an article for Catholic Exchange, Adam and Angela Smyth share the inspiration behind All You Holy Women, Pray for Us. Like me when I wrote my own books, they went looking for something for their daughter and couldn't find it:
So my wife and I decided we could either complain about the selection of children's books available to us, or we could do something about it and create our own. To find the women with the particular feminine genius we were looking for, we turned to the Saints. For who could be more fitting for our young children to emulate than the ones we know are with Christ forever?
More about Adam and Angela Smyth
Adam and Angela Smyth wrote All You Holy Women, Pray for Us while preparing for the birth of their first daughter. The couple has been married almost two years and live in Colorado. Adam works in finance and Angela supports various Catholic apostolates as a marketing consultant in between naps, feedings and playtime with their daughter. They hope this book will inspire the next generation of female saints.
All You Holy Women, Pray for Us is available from Sophia Institute Press, Amazon, and your favourite Catholic bookstore.