Because my husband and I are both Catholic converts, we didn't grow up with a lot of Catholic traditions. As parents, we've had to find and start these traditions for our own family. One tradition we enjoy every December is St Nicholas Feast Day. The girls have come to expect that their shoes will be filled with chocolates on December 6th (and usually drop a few hints so my husband or I can dash out for said chocolate!).
Here are some fun St Nicholas Day traditions and ideas to help your family enjoy this feast day!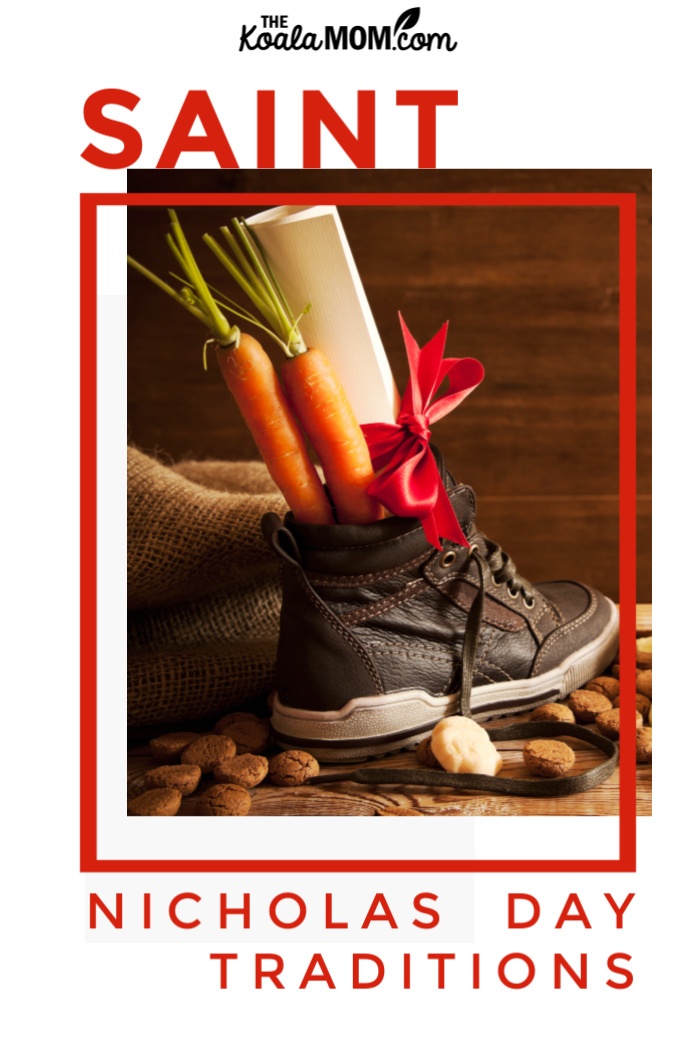 This post contains affiliate links; as an affiliate, I earn from qualifying purchases.
St Nicholas Feast Day Shoes
We start off St Nicholas feast day with little gifts in the kids' shoes. It's kinda like stockings on Christmas morning. The girls line their shoes up by the door before they go to bed. Hubby and I tuck some little presents, chocolates and loonies in the shoes (or on top, for those with small feet…). The next morning, the girls get to look in their shoes as soon as they wake up.
Haley from Carrots for Michaelmas gets her kids new shoes for St Nicholas Day and then fills them with gifts. She says this is also their big gift-exchange day, while Christmas is spent with her husband's family.
Making a big deal out of St. Nick's Day is the way we handle the big Santa question. Daniel grew up doing Santa. I didn't. Neither of us are Santa-haters, but we do really want to keep the focus on Jesus. So, by celebrating the St. Nicholas, our kids get to honor a real saint. And when they ask questions about Santa, we just refer them back to the amazing St. Nicholas and talk about all he teaches us about being brave and compassionate. ~ Haley, Carrots for Michaelmas
CatholicMom has a great list of things to put in the shoes. What you include in the shoes can be a surprise each year, or can become part of your family tradition!
As a child I remember gathering with my siblings the night before, clunking down our shoes in an uneven row along the front door, everyone trying to pick out the widest pair they owned to make sure St Nick had plenty of room to stuff in treats. ~ CatholicMom
Books about Saint Nicholas
Yes, I usually turn to books for feast days. We have a big collection of saint stories and books. If you want to know the story behind St. Nicholas (and Santa Claus), this is a great place to start.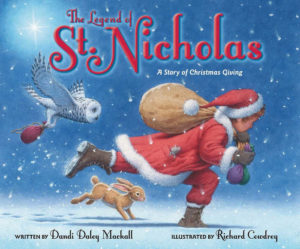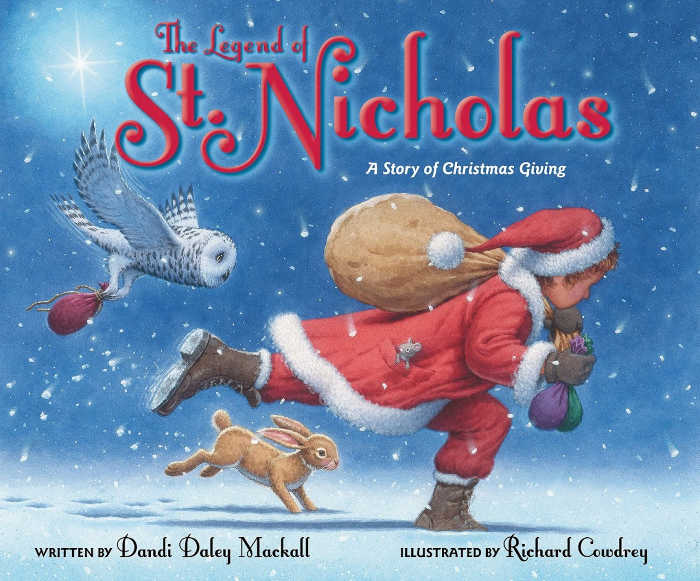 The Legend of St. Nicholas is a beautiful story about a boy named Nick who goes to the mall thinking about what he wants for Christmas, not what others want. Then he hears a mall Santa telling the story of St. Nicholas doing good works. In this story, St. Nick is portrayed as a boy helping his friends, so it's easy for kids to connect with him.
Nicholas the Giver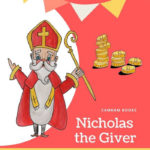 is a NEW book by Cam and Trisha McManus that connects St. Nicholas and Santa Claus. This story teaches kids about storing up treasures in heaven. Nicholas the Giver has adorable illustrations and discussion questions at the end of the book.
The True Saint Nicholas: Why He Matters to Christmas is a heartwarming book for the whole family about the history behind Santa Claus. Written by the author of The Book of Virtues, this book blends historical expertise with excellent storytelling. This book would be great for older children, parents, or as a family read-aloud.
The Baker's Dozen: A Saint Nicholas Tale, with Bonus Cookie Recipe is a fun story about a baker who makes cookies for St. Nicholas day. His cookies are gingerbread men that look like the great saint. One feast day, however, he refuses to give an extra cookie to an old woman, and everything goes wrong after that. In a dream about the saint, the baker realizes what he needs to do. With beautiful illustrations, this book offers kids another way to think about generosity and giving to others.
Saint Nicholas and the Nine Gold Coins features Byzantine-style iconographic art in this story about the historical Bishop of Myra. This book reacquaints those boys and girls with the authentic Santa Claus Nicholas, a man who found greatness not simply in spreading "good cheer," but in being a true icon of Jesus Christ in word and deed.
St Nicholas Day Crafts & Activities
St. Nicholas Word Puzzles is a hands-on, no-prep activity package that includes word scrambles and searches, crossword puzzles, crack the code, and more. Kids will have fun learning more about St. Nicholas or testing their knowledge!
FREE Printable Catholic Saints Study: St. Nicholas lets you make this feast day educational! The tot pack includes shape recognition, pre-writing practice, a do-a-dot page, a maze and coloring page. The preschool pack has a  maze to enjoy, a word search, a roll and cover game to help practice math skills and copywork to help practice writing the letter N. Elementary kids can make a bishop's mitre.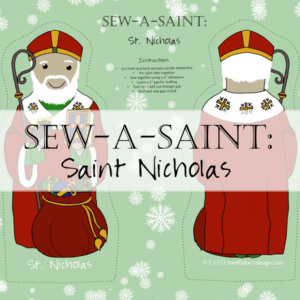 A St. Nicholas Sew-a-Saint Doll from Faith and Fabric is a great craft idea for an older child or a gift idea for a younger child (you could sew it and put it in their shoes!). This doll pattern is easy to sew (perfect for beginners) and lots of fun to play with afterwards.
Catholic Icing has a great selection of St. Nicholas crafts for kids. Your children can make their own paper Saint Nick puppets and figures to play with during Advent.
Happy Saints also has St. Nicholas printables, including a prayer card you can laminate for your kids (or tuck in their shoes!).
A St. Nicholas Treat Bag is a great alternative to shoes for children's gifts (if, say, your kids fight over who has the biggest shoes, or their shoes happen to be stinky because they don't like wearing socks…). Check out Jen's pattern for a super cute, easy-to-sew gift bag (which would also work for small Christmas presents on Christmas Day!).
Movies about St Nicholas
If your children enjoy VeggieTales, join Bob and Larry in Saint Nicholas, A Story of Joyful Giving. When Junior Asparagus and his Veggie friends learn that Laura Carrot's dad has lost his job on Christmas Eve, Bob the Tomato decides to tell the kids a very special story about giving. Using a big storybook and a little imagination, they all travel back to ancient Greece to meet Saint Nicholas — the world's greatest giver.
For younger children, CCC of America also has a saint movie about Nicholas: The Boy Who Became Santa. Our kids love these half-hour animated saint stories. This cartoon follows both the historical and legendary information we know about Saint Nicholas, including the death of his parents when he was young, his generosity with his inheritance and his imprisonment during Diocletian's persecution of Christians.
Other St Nicholas Day Traditions
Wellness Mama has a great post about St. Nicholas Day traditions around the world. She also shares traditions of the traveling St. Nicholas.
If your children like candy canes, do a Blessing of the Candy Canes on December 6th. Candy canes also have a faith significance that is often overlooked. These little treats can be a good reminder to kids of St. Nicholas throughout the Christmas season.
Bake the Little Santas from The Vatican Christmas Cookbook with your children (or to put in their shoes!).
Do some random acts of kindness like the great saint! Some ideas:
donate food to your local food bank
participate in your parish's giving tree
donate shoes and clothing to your local homeless shelter
bring cookies to your local police or firefighters
What St Nicholas Day traditions does your family have?