When I went into labour on a Tuesday afternoon in 2013, the cardinals were gathering in Rome to elect the successor to Pope Benedict. When we woke up on Wednesday morning with our new baby and recovered from the post-labour haze to see what was going on in the world, we found out we had a new pope: Francis I. Because he began his papacy on the same day Jade was born, I've always felt we have a special connection to the pope who has been winning the world's hearts.
Last month, I watched on social media as American Catholics welcomed Pope Francis to Washington, New York and Philadelphia. Friends of ours actually had the chance to travel to the U.S. to see the Pope in person. Even from afar, it was neat to watch the excitement over the Pope's visit, especially since the beginning of October marks the feast day of his namesake, Saint Francis.
I received this DVD for review courtesy of CCC of Americal; all opinions expressed remain my own. This post contains affiliate links; as an Amazon associate, I earn from qualifying purchases.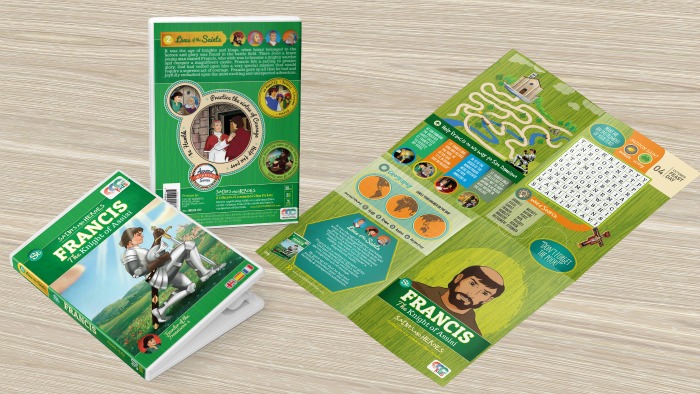 To celebrate the Pope's visit, CCC of America sent us a copy of Francis: The Knight of Assisi, along with a special poster celebrating both saint and pope. The girls were super excited to open the package. One of their favourite Glory Stories is about Saint Clare of Assisi, a good friend of Saint Francis, so it was neat to learn more about the saint himself by watching this animated movie about him.
Francis: the Knight of Assissi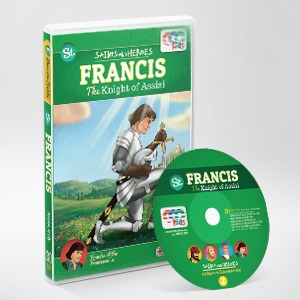 Francis: The Knight of Assisi begins with the pope dreaming that the church is falling to pieces until one man holds it up again. We then see Francis partying with his friends in Assisi and preparing to head off to war.
On his way to the battle, however, Francis falls ill and hears God call him to return to Assisi. There, he meets ridicule from his father and his former friends as he seeks to find out what God wants him to do.
Yet Francis persists, drawing others to him by his simple faith. Finally, the persecution in Assisi sends him on pilgrimage to Rome to seek the pope's approval of his work.
Why We Like this DVD
This 30-minute animated movie does a good job of quickly capturing the highlights of this great saint's life. What 2-year-old Jade remembers about both the movie and the Glory Story is that "Francis take off all his clothes!"That scene in which Francis renounces his father and his worldly wealth, and declares his intention to live for God alone, is definitely a turning point in his life.
Lily's favourite part is when Francis saves a little girl from a vicious dog and demonstrates his special relationship with animals.
More about Saint Francis
Saint Francis is the patron saint of animals and ecology and is known for helping the poor. He is the founder of the Franciscans, an order of friars now spread around the world. (We actually have a friend who is now a Franciscan friar in Victoria, BC.)
If you're looking for more ideas for talking about Saint Francis with your kids, check out my popsicle stick bird feeder craft. Or your kids can pretend to be Pope Francis himself with the CCC poster: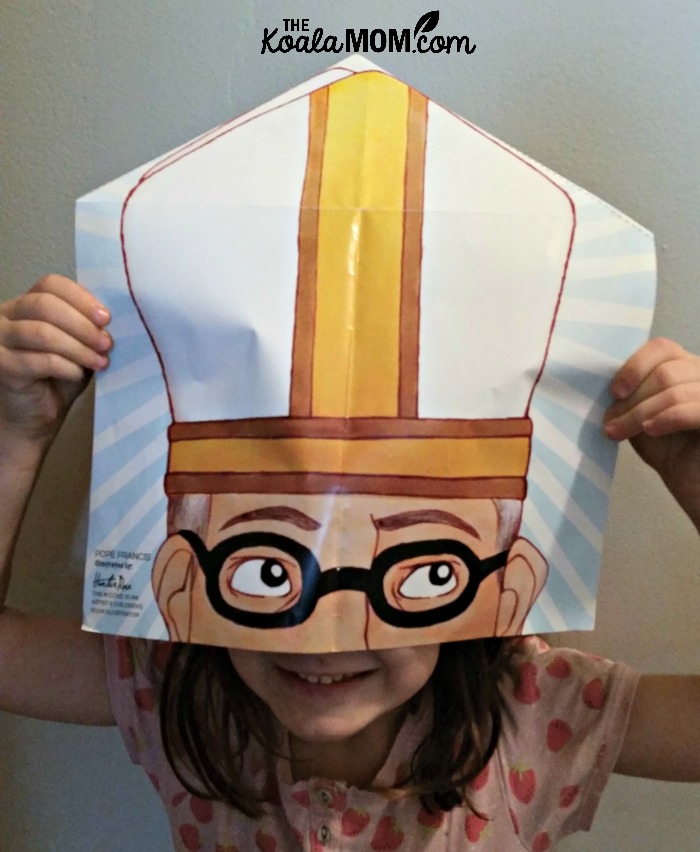 Francis: The Knight of Assisi is part of the Saints and Heroes animated DVD series from CCC. You can find out more about the series or order copies for yourself by dropping by the CCC website.
This DVD is one of Jade's favourites; I love hearing her ask, "Watch Saint Francis?"