Somehow we're past the middle of November already. In the Catholic Church, this Sunday is Christ the King Sunday, which is the end of the church year. Next Sunday is the first Sunday in Advent, a time of preparation for Christmas. I've already been thinking about what to do with the girls for Advent this year and considering new books to add to our Christmas collection, such as The Legend of St Nicholas: A Story of Christmas Giving.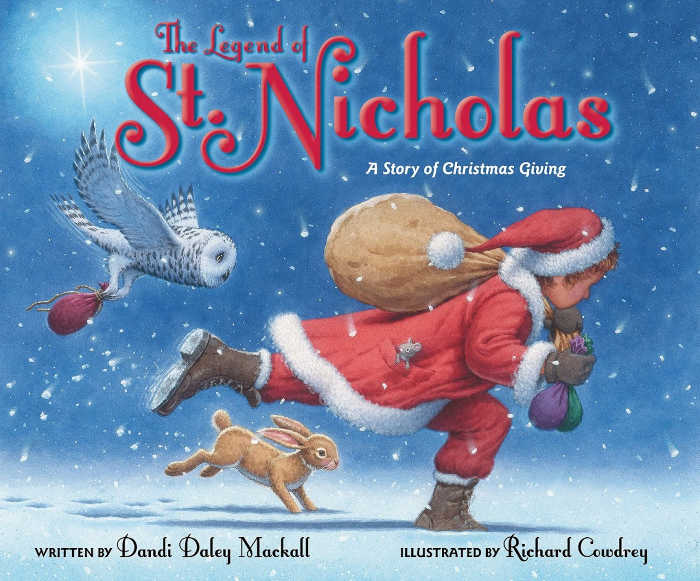 I received this book in exchange for my review; all opinions expressed are my own. This post contains affiliate links; as an Amazon Associate, I earn from qualifying purchases.
The Legend of St Nicholas
The Legend of St. Nicholas: A Story of Christmas Giving is a beautifully illustrated story about a little boy named Nick who doesn't want to go Christmas shopping. He's supposed to buy presents for his brothers, but he's hoping to get them little gifts so he can use the rest of his money for himself. Then he overhears a staff person entertaining other children with the legend of St. Nicholas.

In this legend, St. Nicholas' parents are very rich and are able to travel with their son all over the world. Everywhere they go, however, Nicholas notices the poor children around him. His parents tell him about Jesus, the greatest gift ever given, and the wise men who brought gifts to baby Jesus. However, soon after that, his parents die and Nicholas is left alone with a fortune. His friends gift him suggestions about what they'd do if they had that much money. Nicholas prays about it and decides he'll use his money to help his friends.
Hearing this story inspired Nick to buy gifts not only for his brothers, but also for other poor kids. The Legend of St Nicholas ends with a little note about the legends and traditions connected to St. Nicholas. We know little about him, other than the fact that he was likely a bishop in Myra (modern-day Turkey) in about 33 A.D. who was a friend to the poor and helpless.
Our thoughts on this book
Sunshine and Lily really enjoyed The Legend of St Nicholas. We talk about St. Nicholas quite a bit around Christmas. His feast day is December 6 and many countries in Europe still celebrate it. Children leave their shoes or stockings out for St. Nicholas to fill with treats. In Austria, the saint appears in his bishop robes, mitre and staff, carrying a book in which the guardian angels have written the good and bad deeds of all the world's children.
Here are a couple other Christmas stories your children may enjoy as well:
For more ideas about celebrating St. Nicholas, check out these St. Nicholas Day Traditions.