Around here, we don't really stop school for the summer—but neither do we continue our regular bookwork either. Instead, I look for ways to keep the learning going in a light-hearted, fun way that also fits into summer camps and activities. One of my favourite ways to keep the summer learning going is with DK Books. Lately, the girls have been pouring over Utterly Amazing Earth, Super Earth Encyclopedia, and What's Weird on Earth (and telling me all sorts of cool facts about our world!). Read on to find out why we love these three kids books about earth.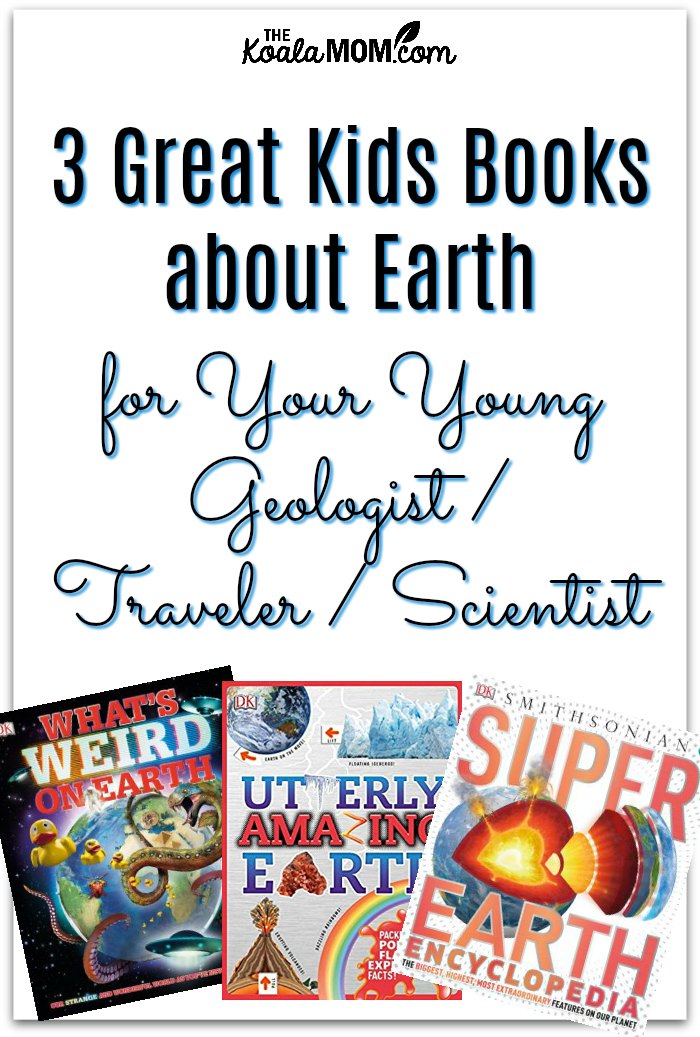 I received these books for review courtesy of DK Books; all opinions expressed are my own. This post contains affiliate links; as an Amazon Associate, I earn from qualifying purchases.
What's Weird on Earth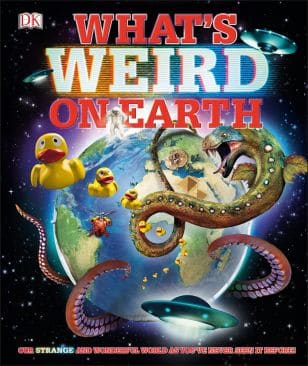 The girls picked up this book first and were soon fighting over who could share the weirdest fact about our world. What's Weird on Earth is broken into six categories: Nature, Supernatural, Places, People, History, and Fun Facts. They had fun finding Canadian places on the world maps throughout the book, like the hoodoos in Banff, Alberta or the raining lizards in Montreal, Quebec in 1857.
Nature includes facts about weather, animals, and volcanoes. Supernatural looks at UFOs, the Bermuda Triangle, and famous April Fool's Day jokes. Places talks about no-go zones, bridges, the ocean floor, and even the earth's core. People shares stories of survivors, festivals, and sports. History includes weird wars, bygone beauty, and historical health. And finally, Fun Facts is divided by continent and shares such facts as:
Jamaica has 1,600 churches—more per square mile than any other country
Coffee is Kenya's main export—but Kenyans prefer to drink tea
It's illegal to own a pet lizard, snake or turtle in Iceland.
If your child needs some fun facts to surprise a friend or relative with this summer, then check out What's Weird on Earth. This book is easy to flip through or to read cover-to-cover (as Sunshine and Lily did!). And if you have any road trips planned this summer, check to see if you can find your destinations on any of the maps in the book. You may just find a new place to visit in your travels!
What's Weird on Earth
includes two different world maps in the front and back covers, table of contents, and an index. This book would be a great geography study as well, with all the maps and geographical facts included in its pages. It's intended for children ages 8-12 (or grades 3-7).
Super Earth Encyclopedia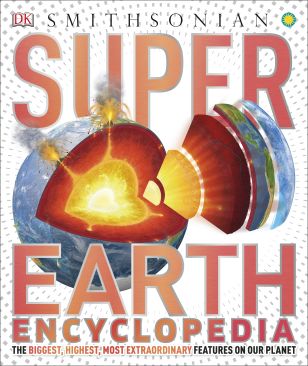 I'm a lover of good, old-fashioned encyclopedias. We have several now and I often encourage the girls to look their questions up in an encyclopedia. (I'd much rather have them get lost in an interesting page of the encyclopedia than stumble onto a questionable page of the Internet!) Super Earth Encyclopedia is an excellent resource for all the questions kids have about our planet and the world around them.
Super Earth Encyclopedia
is divided into eight sections: Unique Earth, Formidable Formations, Fire and Steam, Frozen World, Water World, Extreme Weather, Disaster Zones, and Living Earth. The photos alone are worth the price of this book. Many pages feature full-colour, full-page photos of unique places and phenomenon around the world, such as volcanic lightning, a view of the earth from space, and Horseshoe Bend in the Grand Canyon.
If you have a child who asks "why" about everything she sees, then this is an essential book for your home. The huge, attractive pictures make it accessible for kids of all ages. The index and glossary at the back make it easy to look up any question or topic your child is interested in.
Again, if you're traveling (or have relatives traveling) this summer, look up your destinations in Super Earth Encyclopedia. My aunt and uncle are world travelers and I recognized a few places they've visited, such as Victoria Falls (the world's biggest waterfall) and Antelope Canyon (an amazingly beautiful "storm drain").
Utterly Amazing Earth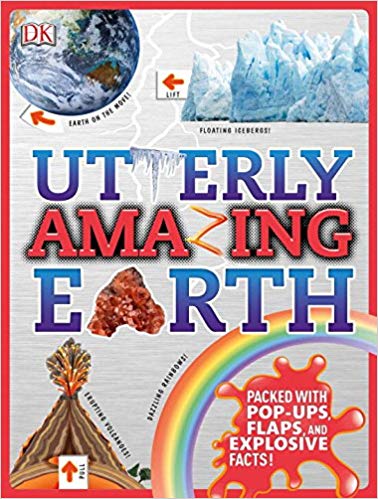 Utterly Amazing Earth is a fun pop-up book with lots of pictures and facts. We read Utterly Amazing Human Body earlier this year and really like this series, as all the girls get into it (even 5-year-old Jade).
Utterly Amazing Earth
covers topics like volcanoes, caves, earthquakes, rocks and minerals, seasons, and more. For the Water Cycle page, an entire ocean range pops out of the book! And for Extreme Weather, a big poster folds right out of the book.
The book features activities and experiments for kids to do at home—including building an erupting volcano. Together, the pop-ups, experiments, and bite-size facts ensure kids have different ways to absorb the information, no matter how they like to learn.
Perfect for little geologists, Utterly Amazing Earth is sure to fascinate even the most reluctant of readers. This book is recommended for children ages 7-9 (or grades 2-4), but Jade (in pre-K) also enjoys flipping through it and lifting the flaps.
Looking for more great homeschool resources? Check out these other books from DK:
Which of these three kids books about earth do you think your little geologist / traveler / scientist would enjoy reading?