Sunshine has been interested in maps ever since she was old enough to ask "Are we there yet?" Back when we used a hefty map book to navigate the province, we'd often let her flip through the maps on long road trips. She couldn't read yet, but something about the colourful lines and pages captured her interest. I have to admit a similar love of maps and geography resources myself.
In our homeschool, we've used various resources to discuss the land around us. The girls no longer mix up the "city of Canada" with the "province of Vancouver" (at least, not very often). Here's our favourite geography resources for the elementary school years, from reference books to workbooks and even one hands-on resource.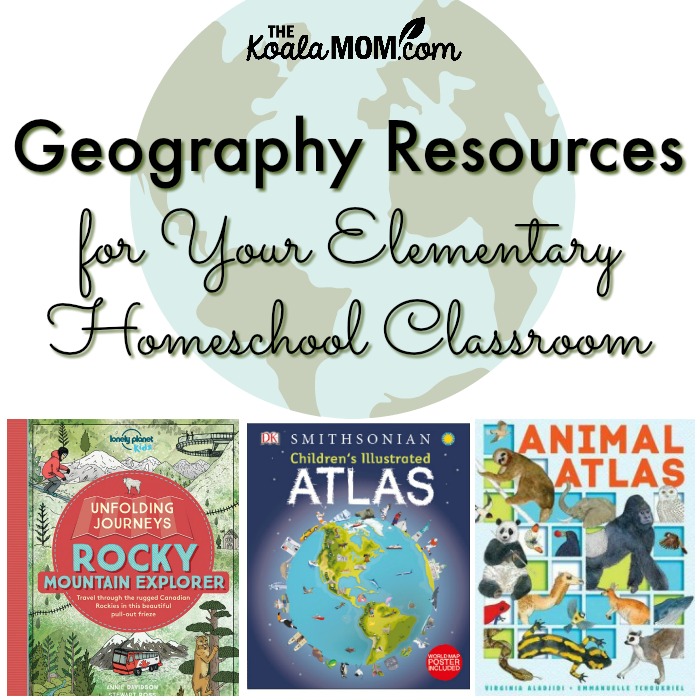 This post contains affiliate links; as an Amazon Associate, I earn from qualifying purchases. I received some of these books for review from the publishers, and bought others.
Smithsonian Children's Illustrated Atlas
At the top of my list of geography resources is a good kids' atlas. The Smithsonian Children's Illustrated Atlas is sure to catch the interest of any child. It begins with a couple pages on "How to Read Maps," followed by a map of the world. The atlas then covers each continent. Each page is bright and colourful, with lots to look at and information about the country's geography, culture, and history.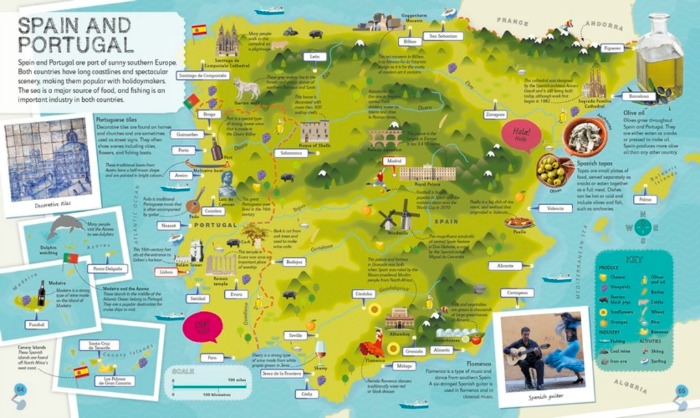 For example, Canada's map includes pictures of Niagara Falls, a grizzly bear, the Vancouver coast, hockey and cycling. Icons on the map show where the Calgary Stampede happens, Lucy Maud Montgomery's birthplace, the Chateau Frontenac, the CN Tower, and Dinosaur Provincial Park.
The back of the atlas includes a picture quiz, glossary, and index. There's also a world map poster included. The Children's Illustrated Atlas
is handy as either a resource for looking up facts that come up in other subjects, or as a jumping-off point for discussing geography. Each page gives children plenty of ideas and information that could be explored in more depth.
Animal Atlas
Animal Atlas shows the land animals, flying animals and aquatic animals of each continent. It's a great way to take your study of geography a bit more in-depth by looking at the sorts of animals that live in various geographical regions. For example, we're familiar with North American animals, but it was fun to flip to other continents and see how the animals were different there.
In each section, Animal Atlas provides a map of the continent with pictures of the animals who live on that continent. Dots on the map match each animal, indicating where they live. The next page provides a paragraph about each animal with their class and their Latin name.
Unfolding Journeys: Rocky Mountain Explorer
If you live in Western Canada, then this sturdy cardbard map is a kid-friendly way to learn more about the Rocky Mountains and the land between Vancouver, BC and Calgary, Alberta. It features fun pictures of important landmarks along the way, from Westminster Abbey in Mission to the Banff Hoodoos.
This map follows the path of the Rocky Mountaineer Train from Vancouver past Kamloops and Mount Robson to Jasper. Readers are then invited to "hop on a bus" to travel down the Icefields Parkway to Calgary. Flip the map over to find more details about each item on the map, from the historical places to the local flora and fauna.
The girls have enjoyed using this map while we've drive to Grandma and Grandpa's. Whether you are planning a road trip or simply using the map as part of a unit study, it offers plenty of details and information for children.
Apple Press Map Books
Last year, I ordered a map book for each of the girls from Apple Press. Lily (in Grade 1) did My Very First Primary Map Book, which introduces the idea of reading maps. She had fun colouring her maps. Sunshine (in Grade 2) did Canada Map Book 1, which introduced her to Canada's geography. The workbook included various activities for each province and required her to find landmarks and other interesting places across the country.
These map workbooks were among the girls' favourite books that year. The books were easy to use, as the girls could work mostly independently (although Sunshine occasionally needed help, and an atlas, to look up places or facts). Apple Press offers several other map books for the elementary grades, including My World in Maps and Landforms and Water Bodies.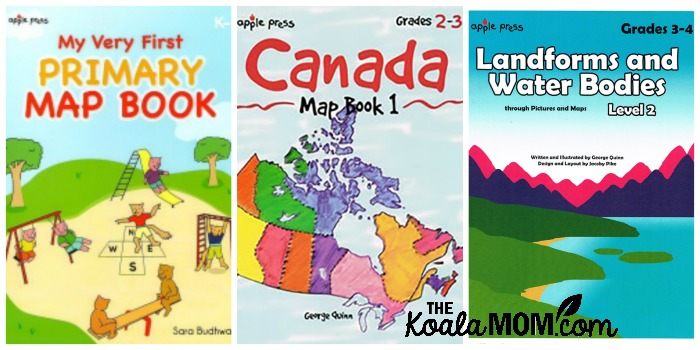 3D Puzzle Globe
Like a map or atlas, a globe is a must-have resource for studying geography. Understanding that the earth is round helps children understand changing seasons and climates, tides, and time zones. Children will enjoy spinning the globe to find locations mentioned in their other workbooks and atlases. Take your globe a step further by putting it together yourself!
We built The Earth 3D Puzzle several years ago (maybe even before the girls started school!) and have used it ever since as a homeschool resource. Daddy had to do quite a bit of the work, but the girls were very interested in the process and helped match some pieces. The globe is made of sturdy plastic pieces which stick together very well (unless you drop it…).
Additional Geography Resources
What geography resources have you used for the elementary years? Do your children enjoy studying maps and atlases?