One of the things I hear over and over as a homeschool mom is the importance of good reference books. This last year, I saw that. So many times, the girls came across something we could have looked up in a reference book… if we had one. So when I saw the selection of kids' reference books from DK Canada, I jumped at them.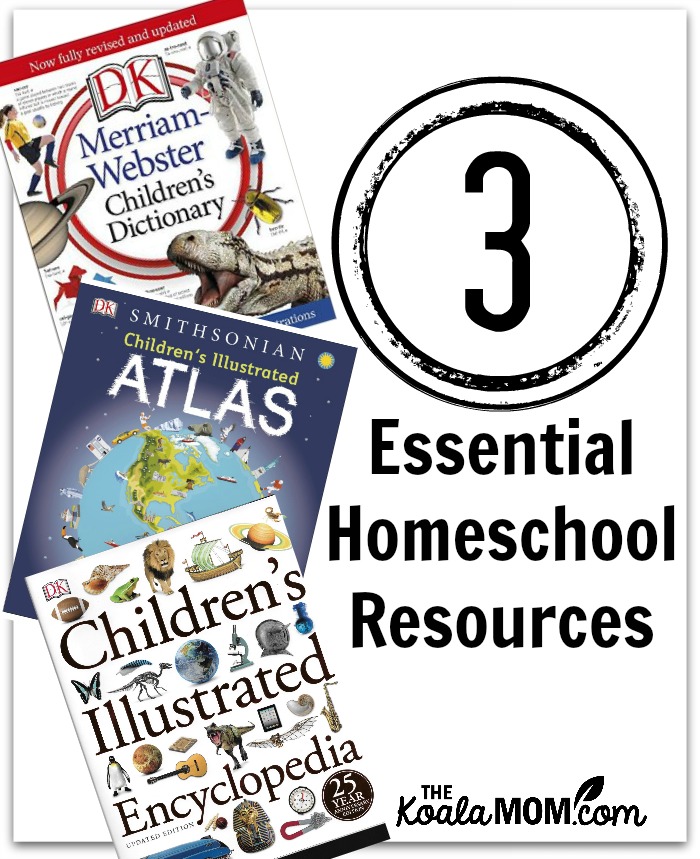 These three books trickled into our home in big boxes over the summer. I thought the girls wouldn't be very excited about a dictionary, encyclopedia, and atlas, but I was wrong. In fact, Sunshine and Lily got into fights over who got to look at each book. I have to say, with the bright pictures and glossy pages, these are attractive books.
This post contains affiliate links; as an Amazon Associate, I earn from qualifying purchases.
The Children's Illustrated Encyclopedia
Children's Illustrated Encyclopedia is a hefty book. It covers everything from the Abolitionist Movement to Zoos, including Caves and Celts, Earthquakes, Heat, Musical Instruments, Plants, Shells and Shellfish, Trains, Victorians, and more. There's a table of contents at the front of the book and an index at the back to make it easy to find every topic.
Flipping through The Children's Illustrated Encyclopedia, I could see multiple ways we can use this in our school. It covers history, science, geography, culture, music, and more. Beautiful pictures—both photographs and illustrations—bring the text alive. Many of the pages have a "Find Out More" box at the bottom, teaching kids how to research a topic further.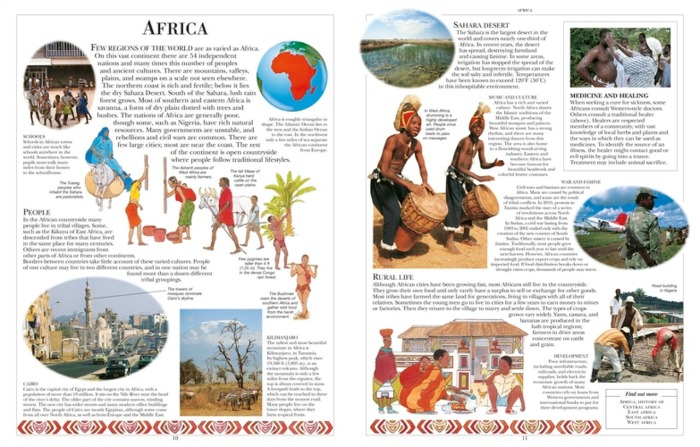 In an age when nearly everything can be looked up in seconds on Google, I still think an encyclopedia is a valuable resource for any family. For starters, I trust the information in The Children's Illustrated Encyclopedia has been checked and checked again, while information on Google doesn't always come from a credible source. Second, if my girls are going to get off-topic while researching, I'd rather that they do that in a book than on the worldwide web. And third, it is often easier to grab a book as to turn on a computer and look up something.
Merriam-Webster Children's Dictionary
Another essential reference book is a dictionary. While my husband and I have multiple other dictionaries between us, I thought the Merriam-Webster Children's Dictionary
would engage the girls better. Like the encyclopedia, it's bright and colourful with lots of pictures.
The front of the dictionary includes a guide to using the dictionary. At he back is a handy reference section with geographical information, flags of the world, states and presidents of the USA, and more. Each letter of the alphabet is colour-coded on the edge of the page so the dictionary is a rainbow. It goes from a yellowish A through pink I to green Z.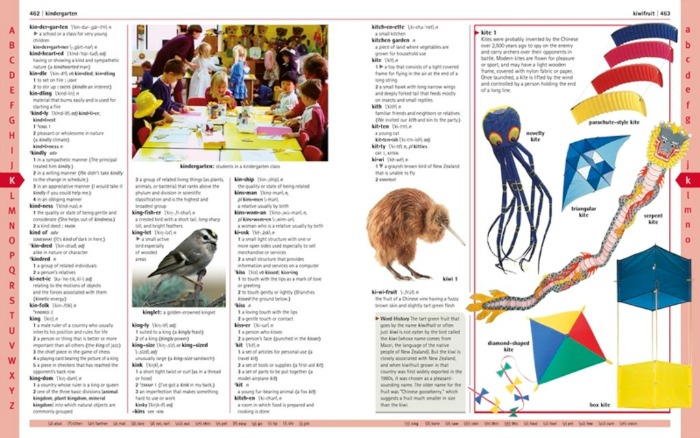 This year, with Sunshine and Lily in grades 3 and 2, I'll be working more on their spelling and writing. Lily is pretty good at guessing how to spell a word, while Sunshine prefers to ask for help. I'm excited to teach them how to use the dictionary, not just to look up words but to learn new words as well.
Smithsonian Children's Illustrated Atlas
This is the smallest of our reference books, but by no means the least. The girls have surprised me many times with their interest in geography. This year, with our study of history and some geography, I often wished for an atlas. Even in general conversation about people we know or movies we've watched, I've thought an atlas would be handy to show them where things happen.
The Children's Illustrated Atlas
begins with a couple pages on How to Read Maps, followed by a map of the world. The atlas then covers each continent. Each page is bright and colourful, with lots to look at and information about the country's geography, culture, and history.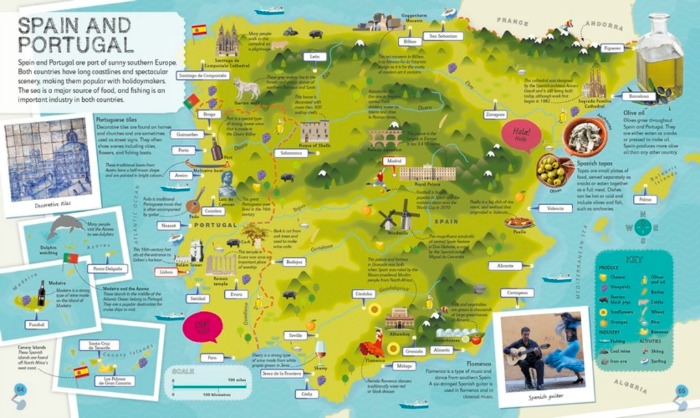 For example, Canada's map includes pictures of Niagara Falls, a grizzly bear, the Vancouver coast, hockey and cycling. Icons on the map show where the Calgary Stampede happens, Lucy Maud Montgomery's birthplace, the Chateau Frontenac, the CN Tower, and Dinosaur Provincial Park.
The back of the atlas includes a picture quiz, glossary, and index. There's also a world map poster included. As I mentioned, this will be a great addition to our studies and the girls' reading this year.
Reference Books for Children
I love the fact that each of these books is created specifically with children in mind. And, judging by my girls' reactions to the books, they have succeeded. I'm really excited about using each of these reference books during our studies this year.
If you're looking for great back-to-school books,visit the DK Canada website. It's now fully searchable and easy to use, with tons of great resources.
What are your essential homeschool reference books?
I received these books for review courtesy of DK Canada; all opinions expressed are my own.