I fell in love with Cheri Magill's CD Tour Guide from the first lines of the first song. Every song on the album felt like it was written just for me as a mom. Cheri is a mom who gets it, as even my daughters recognized. The lyrics speak to the every day ups and downs of being a mom, sung in Cheri's clear, vibrant voice with soaring music drawing the listener in.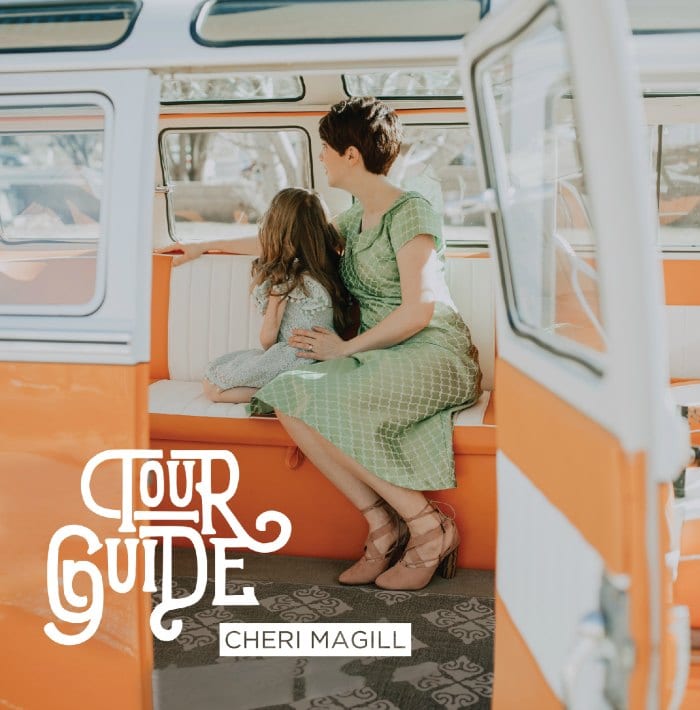 I received this CD for review courtesy of the publicist; all opinions expressed remain my own. This post contains affiliate links.
"Snapshots of motherhood that deliver sage wisdom with a saucy touch and a positive outlook."
Music for Moms that Kids Like too!
As a homeschool mom, I almost always have my kids with me. We all like music, but we don't all have the same taste in music. Usually, we listen to CDs in the van, as we're running about their activities. I put Cheri Magill's CD in with a bit of trepidation (as I was pulling out Pearl's absolute favourite CD to do so) and waited to see what the girls thought. I needn't have worried. They fell in love just as fast as I did.
Pearl's favourite song is the second on the CD. (Yes, they all know the number of their favourite song.) She often asks, "Can we yisten to a moon?" And so I'll put in Tour Guide and skip it to "Lasso the Moon," a catchy, upbeat lullaby about going to bed and dreaming about the moon. When it ends, she says, "Adain, adain!"
Jade and Lily like "Crazy," which makes us all laugh. It's about the little things that drive moms crazy… the meals we cook that they refuse to eat, the LEGOs they don't clean up. This was the song where Sunshine piped up, "Oh, I know why you like this CD! This is what we do!" Um, yes. While Cheri thinks her daughter will have to be grown up to understand, my girls caught on after listening to this song once.
"You Are Here" always makes me think of friends of mine who've waited and hoped for a baby. Cheri sings, "You are here, you are here, after much time on my knees, you are here." It's a beautiful song of hope and love, acknowledging that motherhood doesn't always come as or when we expect.
Sunshine likes to sing along with "Brave." Like me, Cheri is a mom of a daughter, and this song celebrates strong girls. The things our children do may push us outside our own comfort zones, but as parents, we still encourage and support them. The daughter who climbs the tree to the top is brave, but so is the mom who stands on the ground and lets her explore.
I love every song on this CD. I don't mind hitting repeat when one of the girls cries "Again!" at the end of their favourite song. Yet I'd have to say that "Still" speaks to my mom heart the most. This song is about the mistakes we make as moms… the times we say the wrong thing or yell at our kids or let our own stress and hurt get in the way of being a good parent. Even when we do that, our kids still love us, as Cheri notices. This song is a good reminder to me to reset, take a deep breath, and work at being a better mom, even if I've failed more than I want to admit in a day.
"I felt drawn to write about motherhood because it has stretched me more than any other thing I've been a part of in life. I don't write about it because I believe I'm a perfect mother. I write about it because many times I've struggled and grasped at straws. I believe that mothers need to feel they aren't alone, and they need to know someone else feels the same way they do. I want this album to be that healing and nurturing power for mothers." ~ Cheri Magill
This CD would be a great gift for any mom in your life. Even my husband, listening to "You Are Here," mentioned a friend to whom I should send the CD. (I need to see if Cheri offers a bulk discount, because I'm pretty sure every mom I know would love these songs.)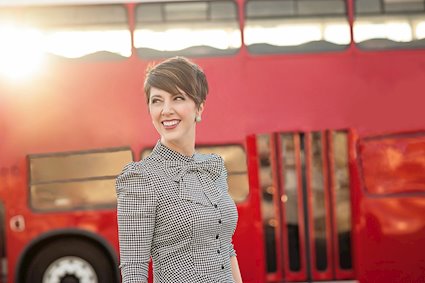 I love the music on this CD as much as I love the lyrics. Cheri's beautiful voice is accompanied by a full orchestra (at least it sounds like it is!) and I find myself paying as much attention to the instruments as to the singing. "Lasso the Moon" and "Crazy" both have upbeat, fun tunes. The music in "Brave" is heroic and inspiring, as befitting the lyrics. "You Are Here" and "Still" have quieter, more reflective melodies.
More about Cheri Magill
Cheri Magill was born in Elkton, Wisconsin. She grew up playing piano and singing with her three sisters. She earned a B.A. in music and then began recording and touring professionally. After releasing her second album in 2007, she gave birth to her first child and stepped away from music. She missed having a creative outlet and began blogging at I Am Momma Hear Me Roar. After five years, and the arrival of her third child, Cheri stepped away from the blog. She began composing a song for each of her children, and that led to Tour Guide.
To find out more about Cheri, you can find her on Instagram or Facebook.
"I think there is a real need for music about motherhood. Nothing has stretched me more than the journey of motherhood. I want this music to take away the loneliness we sometimes experience as mothers and to feel like a healing power." ~ Cheri Magill
Tour Guide is available for download at digital retailers such as iTunes, Google Play, Bandcamp, and more. If, like me, you're old-fashioned and prefer CDs, you can order them on CDBaby and Amazon. Streaming is available on Spotify.
If you like Tour Guide, you may also like: