Soon after we began physical distancing because of covid-19, I pulled down our Lego bin for the girls. For the next several hours, the only sound I heard was the clattering of bricks against bricks. Lego has been a huge sanity saver during these days of staying home, so I was super excited to get some books from DK to give the girls new Lego building ideas. If your kids are also in need of some Lego inspiration, read on!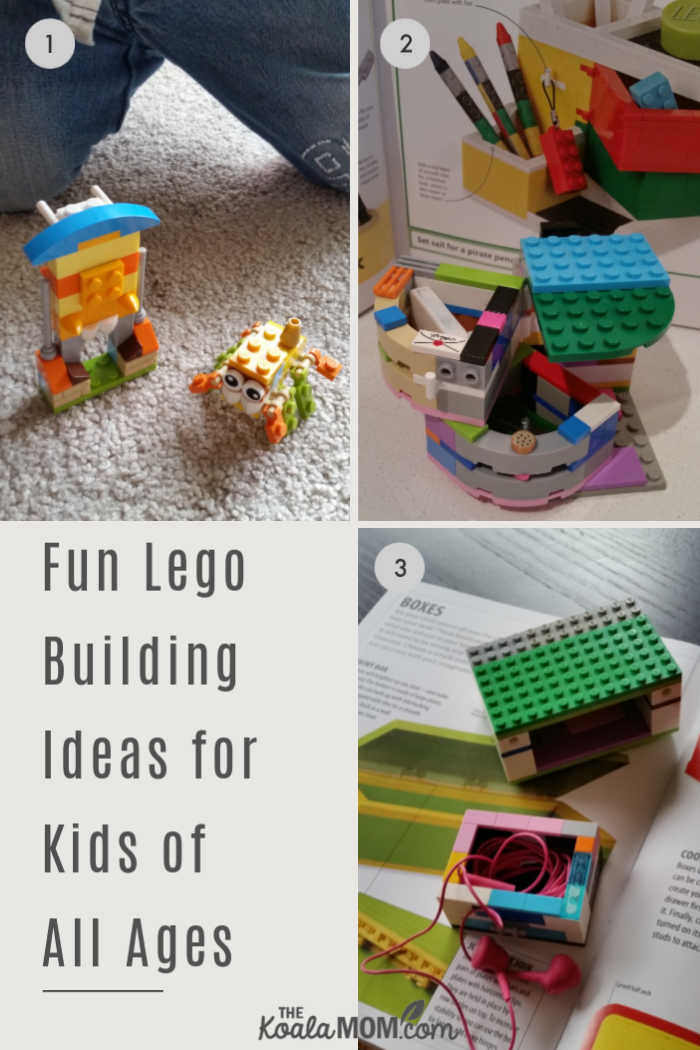 I received these books courtesy of DK Canada; all opinions expressed are my own. This post contains affiliate links; as an Amazon associate, I earn from qualifying purchases.
The Book of Bedtime Builds
I thought The Book of Bedtime Builds would be great for four-year-old Pearl. She enjoys doing quiet activities by herself, whether at bedtime or earlier in the day when her sisters are busy with school. Instead, it's been two-year-old Joey who has used this set this most. The Book of Bedtime Builds has been a great way to start him on Lego.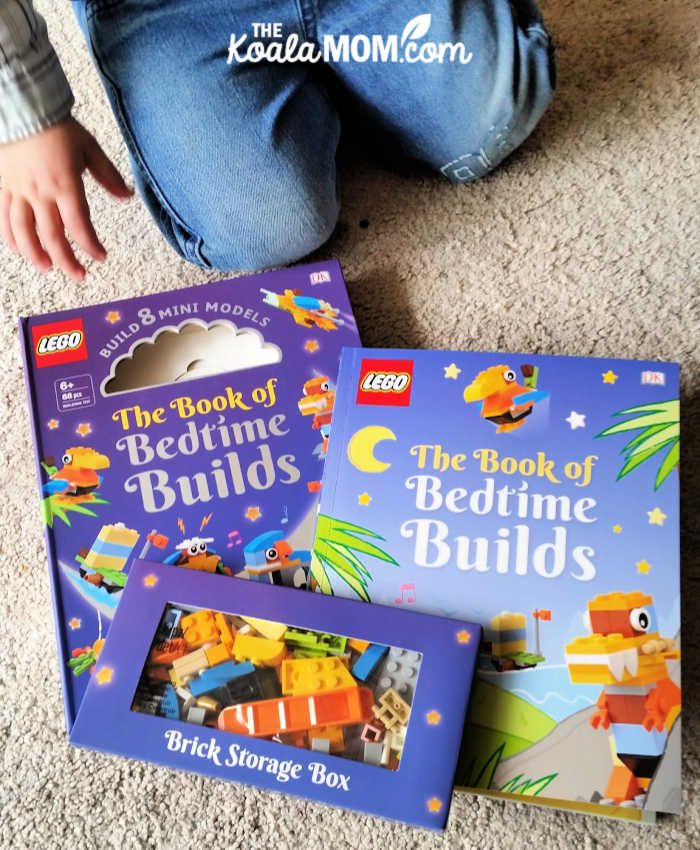 The Book of Bedtime Builds includes bricks to make eight mini models and a book with stories about each of those models. Children can make a robot, dinosaur, parrot, space ship, elephant and more and then enjoy a short, fun story about that figure. Joey isn't quite building the models himself, but he loves having me or one of his sisters build for him and then read a story to him.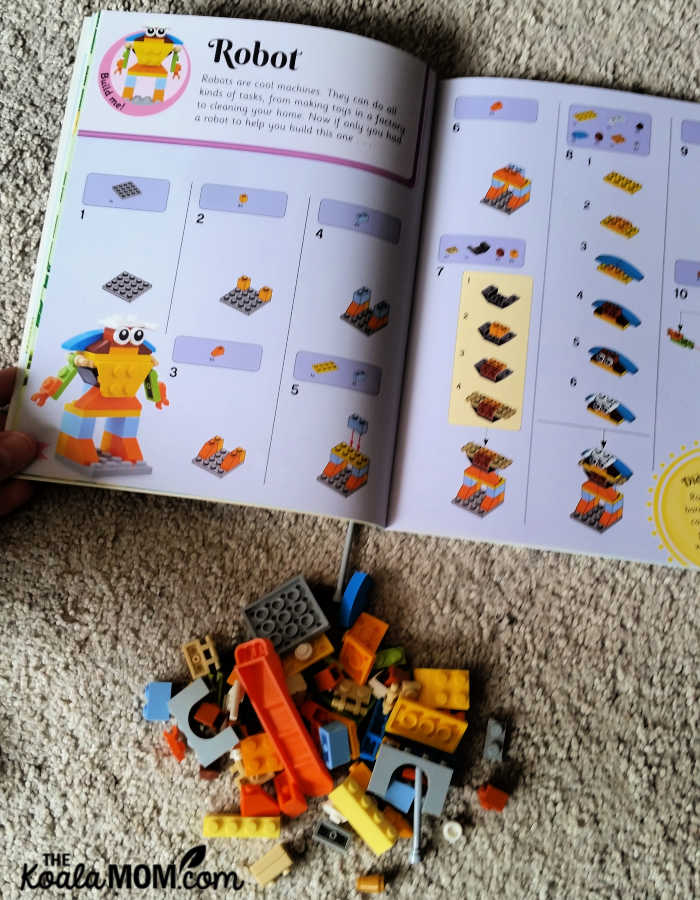 One of Joey's favourite figures is the robot (he says "bobo" when he wants it). The instructions for each figure take only two to four pages and are easy to follow. (Pearl could probably make these small figures, if Joey would let her have a turn with them…) Lily (ages 9) likes making the minifigure and then using the leftover pieces for her own Lego building ideas. She's come up with some pretty cute models, like this little… robot? alien? dragon?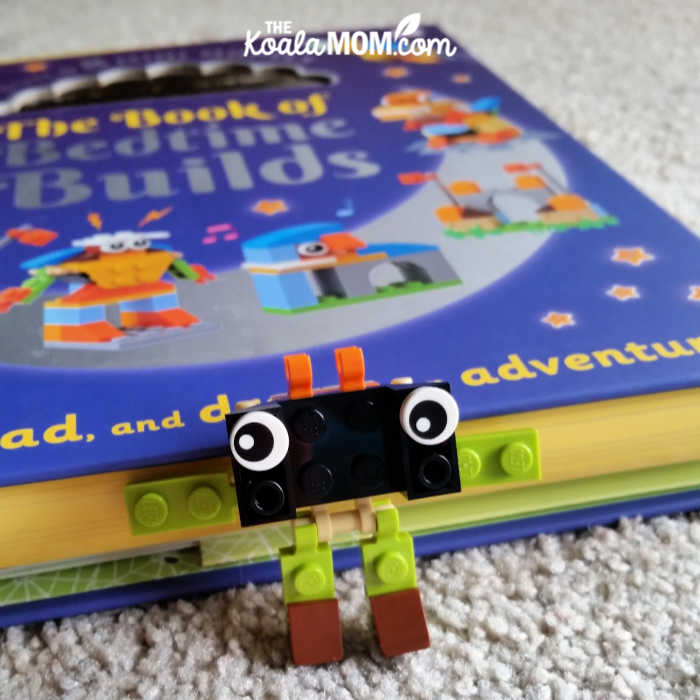 Each story is about two to four pages and has a positive lesson. In one story, a dinosaur wakes up a museum and goes on an adventure with a little girl. In another story, a space racer stops to help a fellow racer who's in trouble. Bright pictures of the models accompany each story.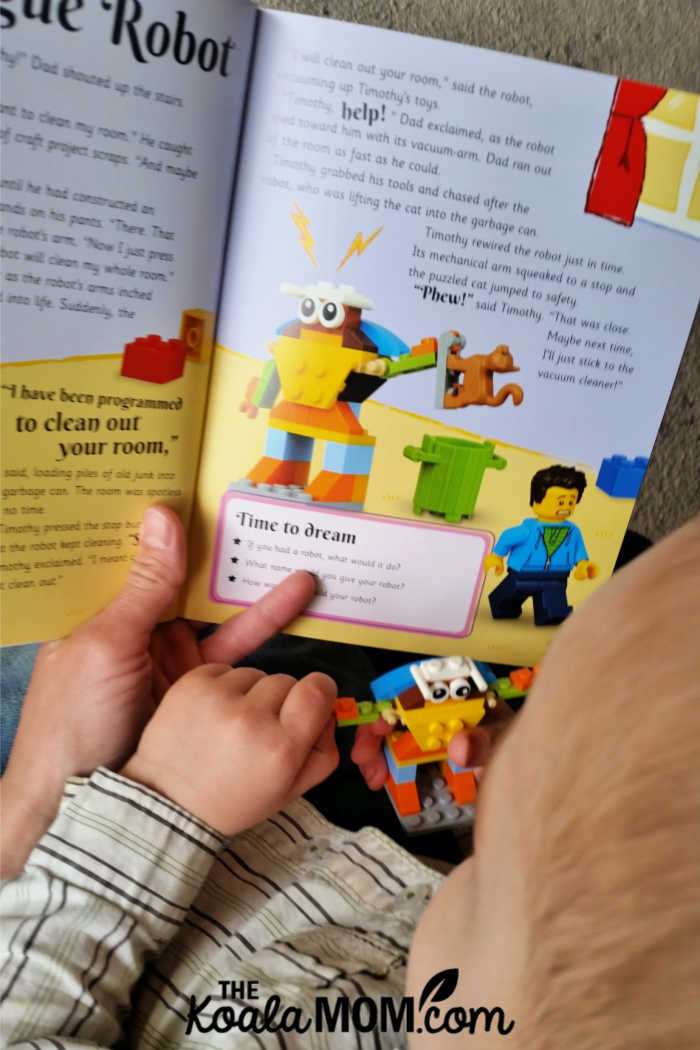 This Lego set caught my attention for two reasons. First, the girls tend to build their Lego sets and then might as well glue those sets together because they don't like to take them apart. And if Little Brother should happen upon those Lego sets, you'd think the Apocalypse had occurred. (If you've watched The Lego Movie 2, that sibling dynamic is what often occurs in our house! I just wish they always managed to make up as nicely as the movie ending…)
The Book of Bedtime Builds requires kids to take one minifigure apart to build the next, as each minifigure uses overlapping pieces. The minifigures are easy to build, which encourages kids to build and rebuild. I will admit it's easier to keep the book around than the usual magazine-style instructions that come with Lego sets, but I still hope this will encourage the girls to realize that Lego models and figures can be taken apart and rebuilt easily.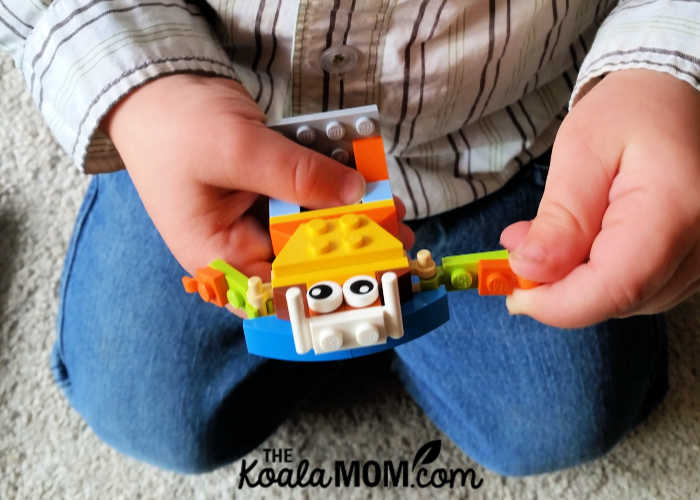 Second, The Book of Bedtime Builds encourages kids to create stories about what they've built. I love seeing my kids' creativity as they play with their Lego. I also love to hear their chatter about what their Lego figures are doing. The stories in this bedtime book encourage kids to think beyond the little bricks in their hands and dream big.
If you're looking for a fun Lego set for your preschooler, The Book of Bedtime Builds is a great place to start.
The Lego Ideas Book: Unlock Your Imagination
While the girls have quite a few Lego Friends and Lego Princess sets, they also have Daddy's Lego bricks. The instructions for these bricks are long gone, and some of the pieces from the sets are missing (for example, we have half a ship). I ordered The Lego Ideas Book to inspire the girls to create more with these bricks. Lego building ideas in this book are organized under the categories of Planes, Trains & Automobiles, Town & Country, Out of this World, In Days of Old, A World of Adventure, and Make & Keep.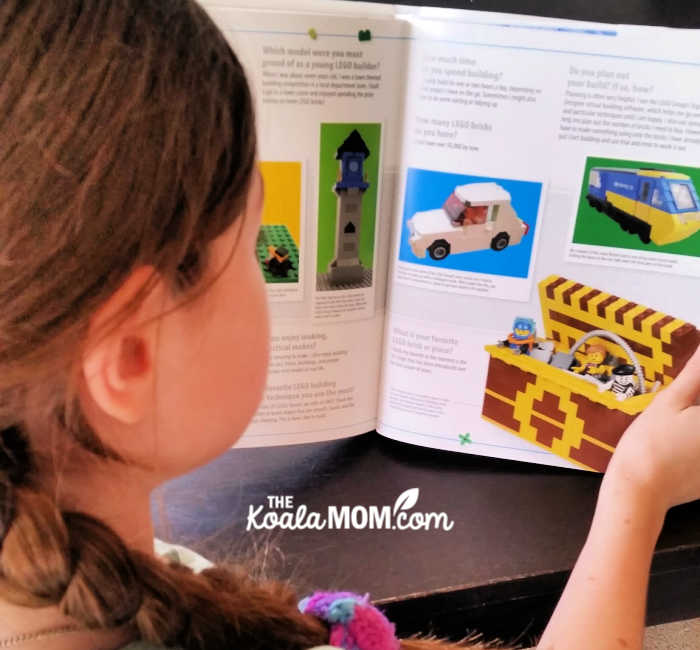 The Lego Ideas Book does not include step-by-step instructions for any models or figures. Instead, it provides detailed pictures of the model with tips on creating it, including what to do if you don't have the exact bricks pictured. For example, on the page about Monster Trucks, the hot rod is pictured with a top view, bottom view, and side view to give kids lots of perspective on it. The turbo truck has a front view and rear view as well as side view.
Each section also starts with a diagram of the sort of bricks needed. Kids are encouraged to think about what bricks they'll use to create space models or gardens or pirate islands. These pages include tips such as "choose an unusual windshield for your cockpit as a starting point" or "be adventurous! build with different textures, shapes and colors." We have the rigging used in one of the models, but the girls have never tried building anything with it before. Now, they can see how it's used to create a pirate island!
Sunshine sat down with this book and made a list of things she wants to build. She and Lily have built quite a few of Lego building ideas from the Make & Keep section. They've each made a Lego box to store their ear buds in.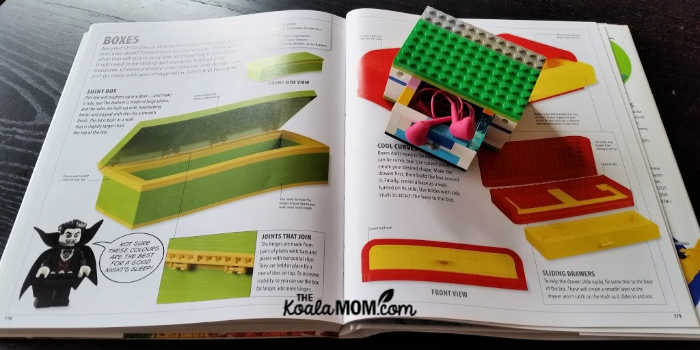 Lily made herself a desk organizer. It has space at the top for about ten pens or pencils, and a drawer in front for her erasers. She has a small desk that she shares with her sister, so the desk organizer has been useful for taking her pens and erasers with her. In the morning, she'll grab her school books and pen organizer and head to her room or my room to do her schoolwork.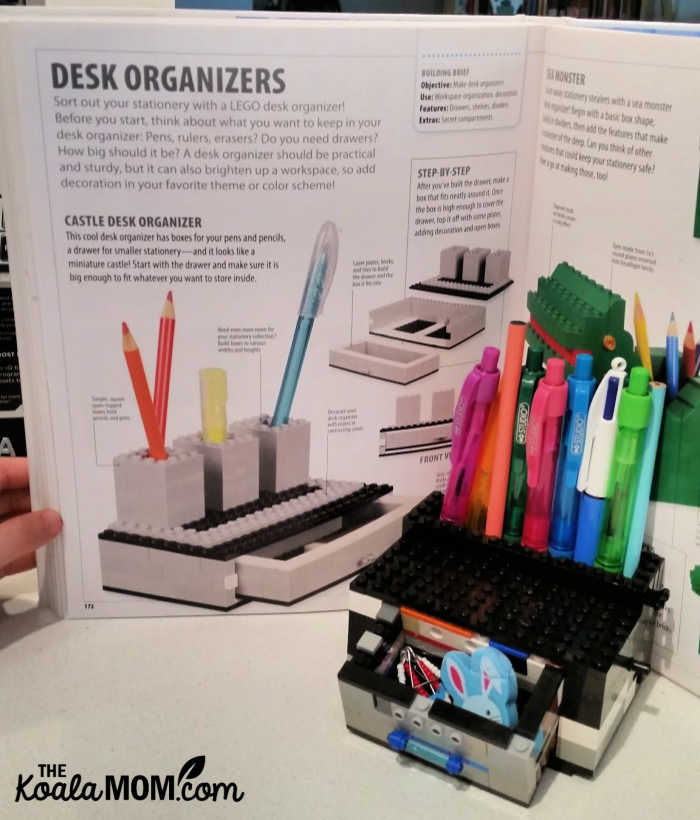 The images in The Lego Ideas Book are fabulous. Joey enjoys flipping through the pages just to look at the pictures. Even if your kids can't make all the Lego building ideas pictured, they are sure to be inspired to see what they can create with their own bricks. Especially if they've inherited a random selection of bricks from Daddy or uncles or garage sales.
365 Things to Do with Lego Bricks: Activities, Games, Challenges, Pranks
Now, if those two books don't inspire your kids with enough Lego building ideas, I've got one more book to recommend. I liked 365 Things to Do with Lego Bricks for a couple reasons. First, if your child is a checklist or bucket list sort of person, this book has plenty of ideas—or one activity per day to keep your child busy. It also comes with an activity selector and timer on the front cover, which opens up some other fun games.
For example, has this conversation ever unfolded in your house?
Kid: "I'm bored. I don't know what to do."
Mom: "Why don't you go play Lego?"
Kid: "I don't know what to build."
Mom: "Get out your 365 Things book and build whatever it tells you."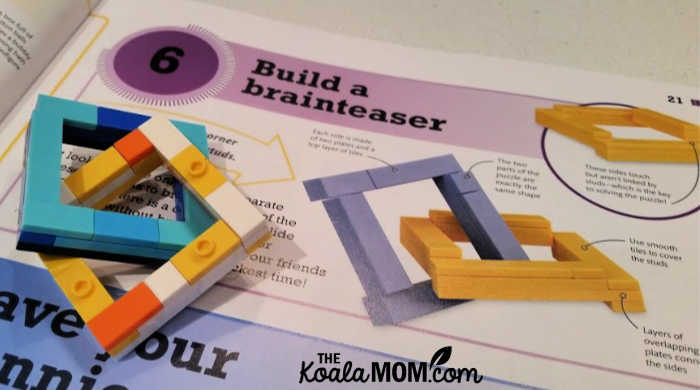 The activity selector on the front is a random number generator. Kids can press the big white question mark and watch the numbers roll until the activity selector makes a fun noise and presents them with their number—say 83. Then they find 83 in the book to discover that they need to build a 3D butterfly picture. That should keep them busy for the rest of the afternoon. If your kids like an extra challenge, they can race against the timer to build their project.
Sunshine and her friend have been using this book for virtual playdates. Out of all the activities we've given up during this pandemic, playdates are what the girls miss the most. We've helped them have virtual Skype playdates, but kids have less to talk about than adults and only so many activities translate well into the virtual world. Lego has been one of those activities that they can together apart.
Each of the girls get out their Lego bricks. Sunshine uses the activity selector and shows her friend the Lego building idea. Then they each work on creating that model or project with their own bricks. In some ways, this works better as a virtual acti365 Things to Do with LEGO Bricks: Lego Fun Every Day of the Yearvity because they aren't fighting over the bricks they both want and they can't see what they're each building until they're done and show off via video.
365 Things to Do with Lego also has several "practical" or useful Lego building ideas. Activity 31 is to organize your pens. The pictures in the book show a brightly-coloured pen organizer, with tips for creating hinged drawers and adding smooth tiles for a sleek, finished look.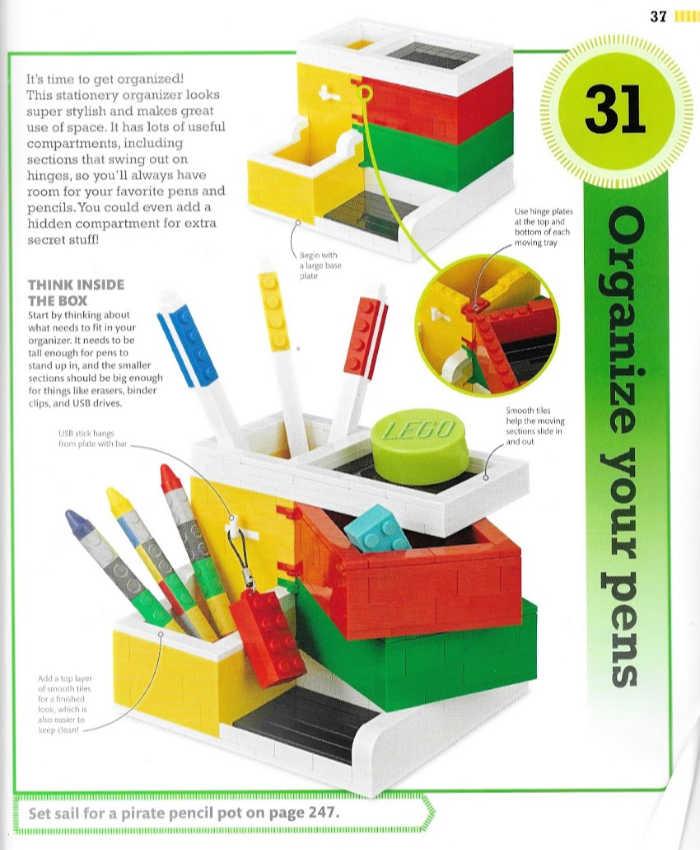 Sunshine adapted this idea slightly to build it with bricks that she had. Her pen organizer isn't square and doesn't have matching colours, but the drawers slide out to reveal spaces for her pencil sharpener and erasers. I like how she improvised with her bricks — there's a cookie and a letter on her box, because she ran out of flat tiles. The book provides the inspiration for the project, but kids can make it their own.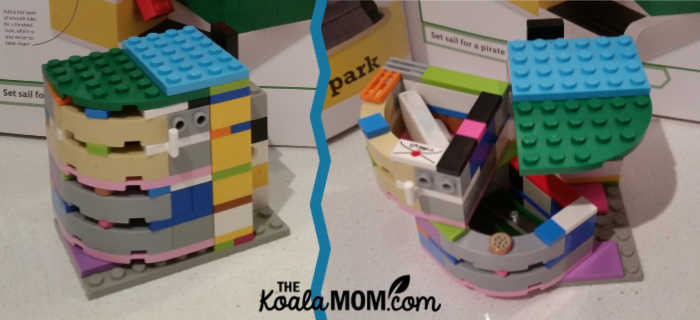 365 Things to Do with Lego has more ways that kids can play with their Lego bricks, from games to magic shows to party ideas. Sunshine has already declared she wants to have a Lego party for her next birthday. She's actually suggested this in the past, but I haven't been able to picture it. What would they do besides build some Lego models together or play with their already-built Lego sets? Well, now we have TONS of ideas for her next party!
Do your kids enjoy playing Lego? Where do they get their Lego building ideas?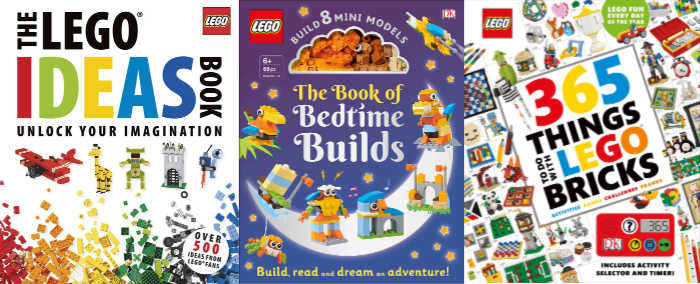 DK Canada is my go-to for fun, educational books for kids! Check out some of the other great books we've gotten from DK. You can also browse the DK website for more fun Lego-themed books.