Many of us recognize that physical activity is important to the overall health and well-being of ourselves and our kids. However, an active lifestyle can sometimes come with a big price tag. Our family enjoys biking, downhill skiing, swimming, and skating, all of which cost money, whether in buying equipment or paying user fees. Here are my tips on how to stay active as a family without breaking your budget.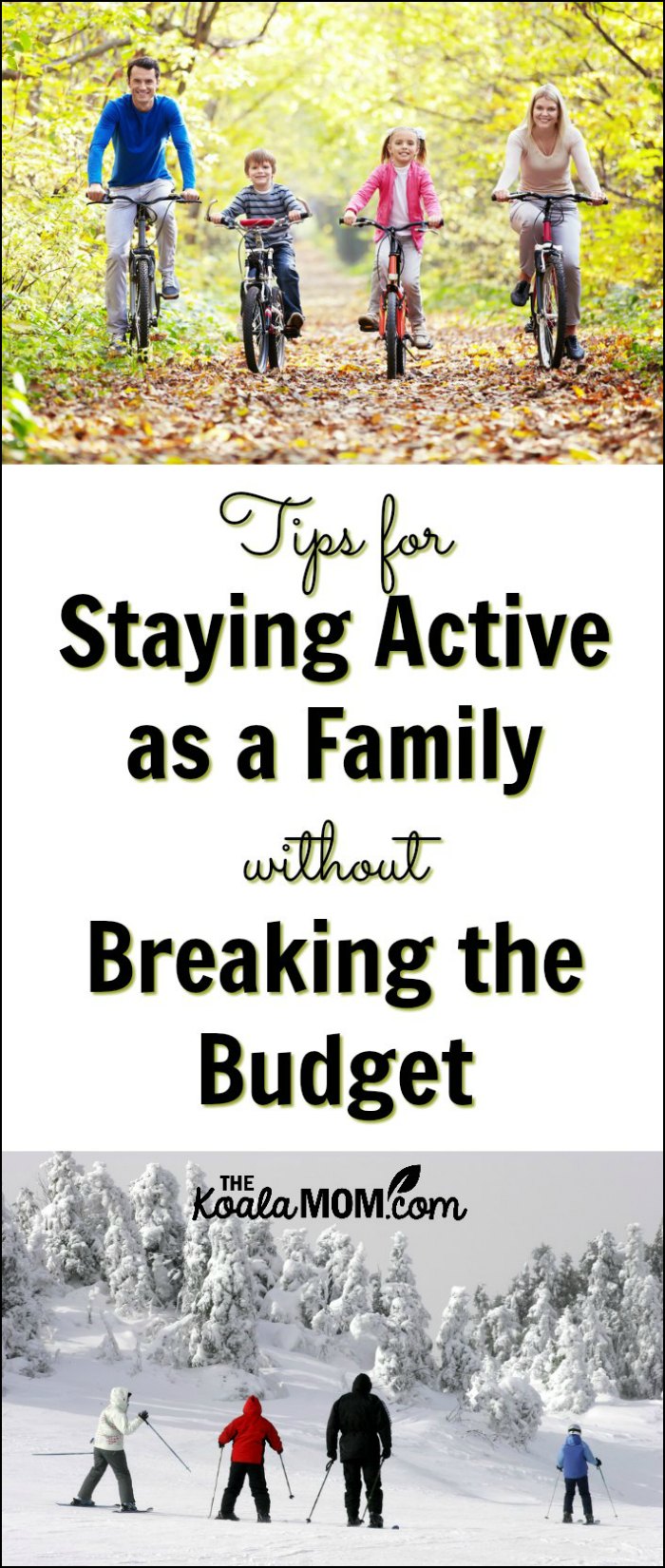 This post is brought to you by Loan and Go, but all opinions expressed are my own.
Look for secondhand equipment
This spring, when our oldest daughters outgrew their bikes, we began researching new bikes for them. Two new bikes were well out of our price range, so my husband spent hours online, combing bike ads. We also dropped by a few secondhand bike stores, which sold refurbished kids' bikes. In the end, we were able to buy two almost-new girls' bikes (in our daughters' favourite colours!) for less than the price of one new bike.
I also replaced my own worn-out bike secondhand this spring, and have outfitted the girls in good skates from thrift stores. Both my pairs of skis (downhill and cross-country) are secondhand, from a used sporting goods store.
If you know your equipment well, browsing online buy and sell sites can be a good way to find great deals. If you're a bit unsure about what you need (size, style, etc.), then look for a store that sells used equipment. The salesperson there can help you find the right equipment for your needs. Alternatively, shop at a new store to find out what you need, then look for it used.
Watch for low-fee or free activities
Many of our local recreation centres have low-fee or free activities. These can be found in the program guide. We watch for the loonie swims at our favourite pools or drop in on the toonie skate times.
Our rec centres also have a late-night deal on drop-in prices. My husband heads over there for his workout after the girls and I have gone to bed, and pays less than half the regular price. If you're willing to workout during non-peak hours, such as late at night or early in the morning, you may be able to find similar low prices or memberships at the gym.
Of course, activities like walking and running are mostly free. If you have a good pair of running shoes, you can workout! Many cities have walking and running trails that make your daily workout more interesting. We enjoy both cycling and walking on our local trails. As a child, I enjoyed skating with my brothers on our local pond, once it had frozen. (We got extra exercise by shoveling the ice every time it snowed!)
To get out with kids, I put the baby in a carrier and the toddler in a stroller. My older girls run ahead, especially if we're headed to their favourite park, and we all get some exercise!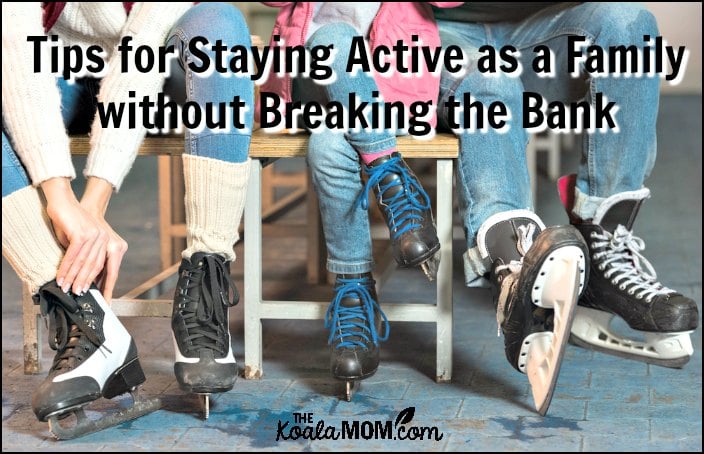 Stay active as a family at home
Instead of paying for a gym membership, workout at home. If you're a mom who would have to pay for childcare in order to get to the gym, this is another way to save money. You can do your workout while the baby naps or before the kids wake up in the morning. Or have the kids join you in your workout! My kids think it's fun to follow along with the workout DVD.
We enjoy Beachbody's home workout programs, which require minimal or no equipment. Invest in a workout DVD that you'll enjoy doing for several months, and add it to your schedule to make sure it happens.
Join a sports team
Joining a local sports team can be a great way to stay active as a family. During the first years of our marriage, my husband played rugby. His annual membership fee at the club let him join the biweekly practices with a coach, who could offer specific fitness tips and advice. Having the team counting on him kept him accountable to showing up.
If you want to encourage your kids to play sports, look for community or recreation leagues that have lower fees. You can also look for sports that can be done outside. For example, if you have a friend that plays tennis, take advantage of free outdoor tennis courts to have a weekly game.
You could also organize a team yourself! During the summer, we join other homeschoolers once a week at a local park for a soccer game. Dads and kids run together for an hour and a half, having fun and staying active. Pick a sport that your family enjoys, find a venue where you can do it, and invite some other families to join yours.
Get an annual family pass
If the whole family is doing an activity on a regular basis, an annual pass may be worth the price. Look for passes that offer you multiple ways to use it. For example, a pass at a recreaction centre might let your family use the pool, skating arenas, and gym. We currently have an annual pass at a local ski hill, where we've gone tubing, sledding, and skiing, and also hope to try snowshoeing.
Before buying your annual pass, look at what's included in it and who will be using it. You can also watch for sales on the passes. We bought our ski hill pass in the spring and got free spring passes as well as a huge discount on the next year. Compare prices at different locations, if possible. It may be worth driving a few extra minutes to save more money on a pass at a different venue.
While an annual pass comes with a bigger price tag, it can pay itself off over the year. Divide the cost of the annual pass by 12 to see what you'd be paying each month. Compare that to drop-in fees or monthly prices. It may be worth getting a short-term loan to buy the annual pass, then paying off the loan month-by-month (as if you had a monthly pass).
Staying active as a family is worth the price
My mom has a T-shirt that shows a little fish swimming as fast as it can from a huge fish. The caption is, "Stay in shape—you never know!" Most of us won't have to run for our lives, but staying fit is still worth the price tag. It's easy to find ways to save on being active—plus your family will stay healthier and have more fun!
How do you stay active as a family without breaking the budget?
Looking for more budgeting tips? Download this FREE ebook for financial tips from your favourite bloggers!