About a month after Pearl's birth, a large box arrived on our door step. It was our new Graco FastAction Fold Jogger Travel System. The girls were nearly as excited about it was I was. For a while we just admired the box. Then I got impatient with waiting for my husband to come home to help assemble it, and decided I'd see if I could figure it out myself.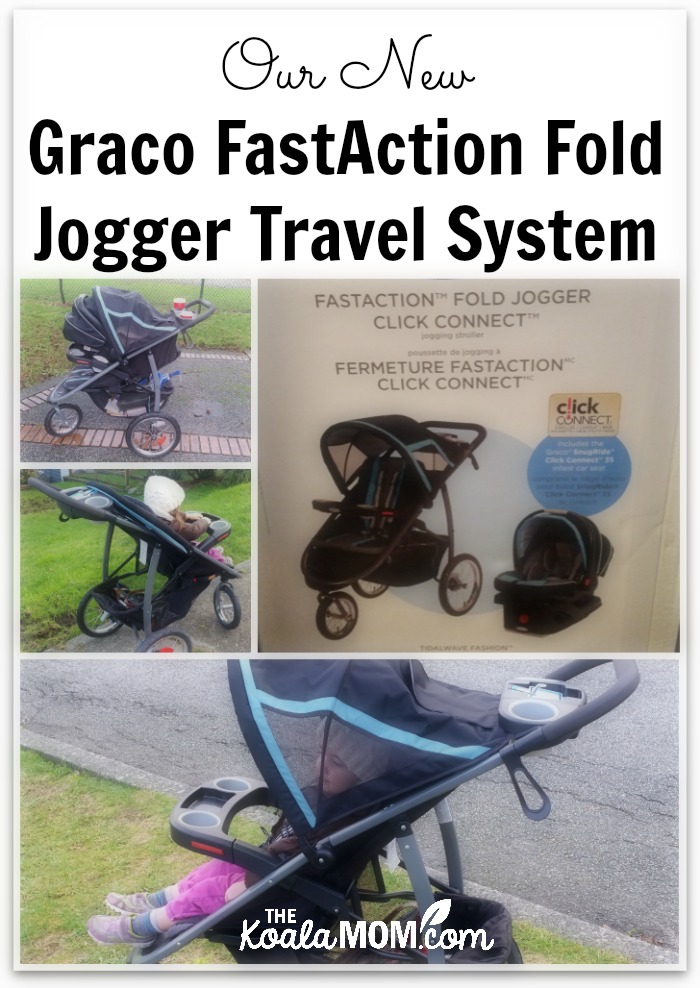 Within minutes, I had cardboard strewn around the house. The infant bucket seat sat neatly in the corner, stripped of its packing plastic. I quickly clipped the stroller wheels into place, unfolded the stroller, and consulted the instruction manual about how to finish fastening straps. Then, with the stroller ready to go, the obvious decision was to take it for a walk.
Since Pearl's arrival, the one thing that Jade hasn't wanted to share with her baby sister is the Ergo carrier. With the new stroller here, the Ergo was no longer an issue. Jade wanted a ride in the stroller. So I strapped Pearl into the Ergo and buckled Jade into the Graco and off we went. I think Jade and I smiled for the whole walk.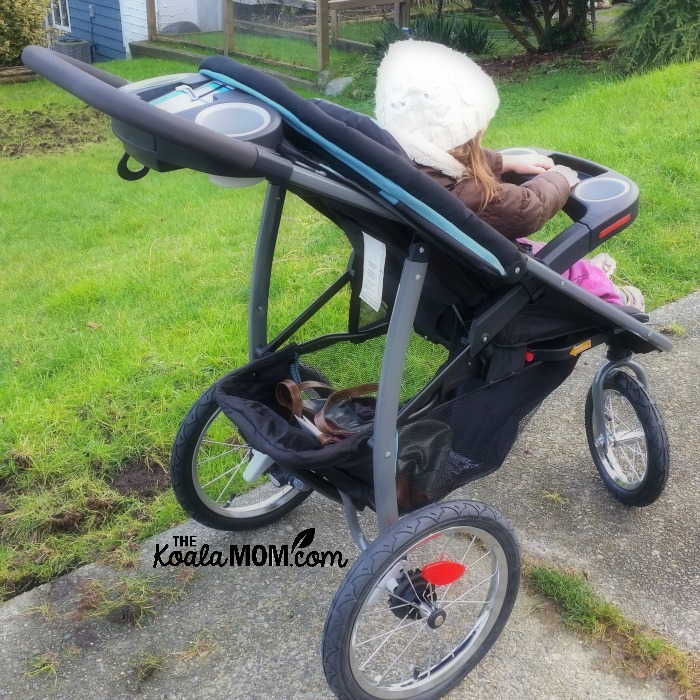 The big wheels mean that the stroller is so easy to handle, whether we're rolling down the sidewalk or taking a shortcut along a grassy path. I even appreciated the wheels in the mall, where I was able to push the stroller with one hand and hold Jade with the other. We have a smaller stroller with smaller wheels that is much harder to handle. The size and configuration of the Graco's wheels make it easy to control anywhere, even in tight spaces.
On another day, I convinced Jade to walk while Pearl went in the stroller. Here, because Pearl is still so small, I used the bucket seat of the Graco FastAction Fold Jogger Travel System. I love the way it clicks into place on the stroller. That day was a particularly rainy day, so I pulled both awnings over the car seat. Pearl stayed cozy and dry inside for our whole walk. (Notice the umbrella, parcels and purse in the basket—that was an errands day.)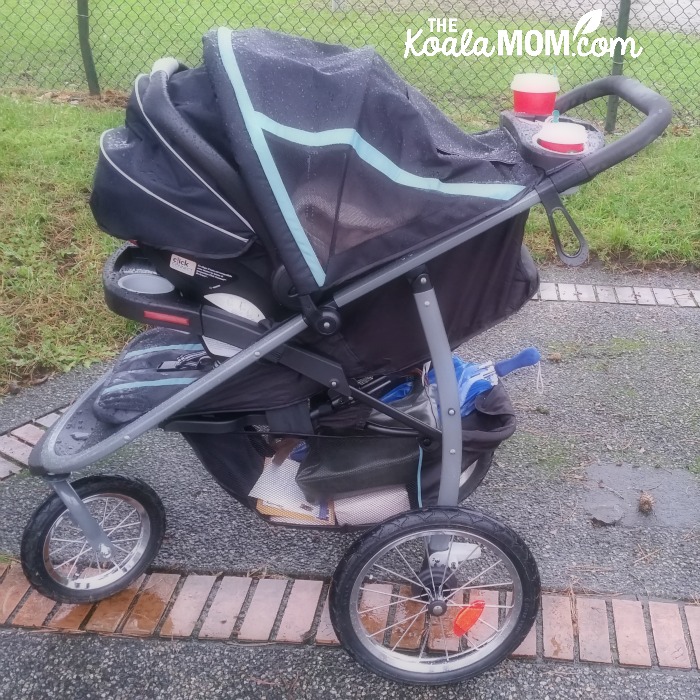 The handle is smooth, wide rubber that lets you put your hands wherever you like. It's not adjustable, but I find it comfortable. I noticed that my younger brother (who's at least a head taller than I am) did as well. There's a tray with cupholders for Jade and a tray on the handle with two more cupholders for Mom. (It's really hard to push a stroller while also holding a coffee cup…) The parents' tray includes a clip for a cell phone, but unfortunately, my phone won't fit there because of its Otterbox.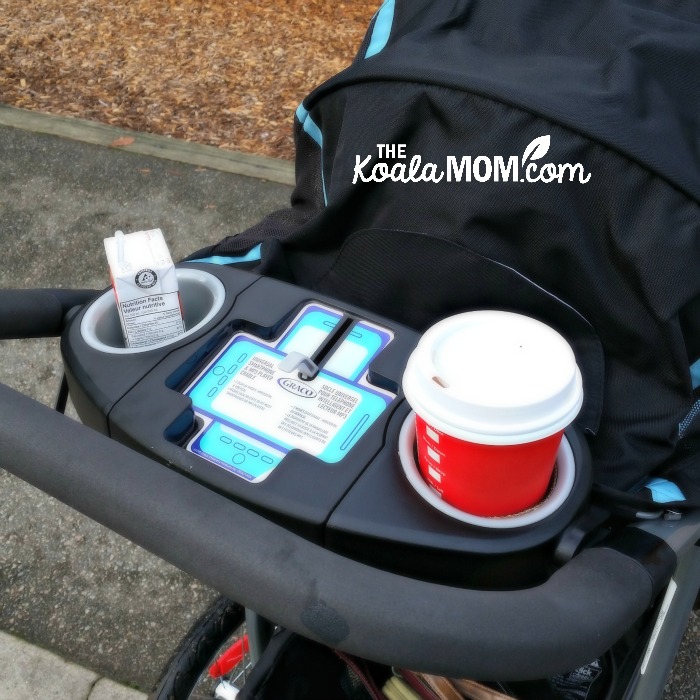 One of the things I love about this stroller is how easy it is to fold. My husband and I spent a lot of time in secondhand kids stores, folding and unfolding strollers. I was often surprised at how hard it was to fold some strollers. Several times, we had to ask a store associate how to fold the stroller, because we couldn't figure it out. Graco has one-handed stroller folding down pat; other strollers require both hands and a foot to fold.
Now, I did have to consult the instruction manual to find out how to fold this stroller, but it's easy. Just push a button on the frame (a big red button with a big orange arrow pointing to it) and then pull the handle in the centre of the seat (also marked with a red tag). I can do it with one hand. Plus, once the stroller is folded, there's an easy latch to clip the frame together so it stays folded. It also has a stand so it will stay upright when folded.
One thing I don't like about this stroller is the brakes. There's a brake for each wheel, so you have to kick it twice to set the brakes on each. Other strollers have a bar for a brake, so that one kick locks both wheels.
My biggest concern with getting a jogging stroller was fitting it into the back of our minivan. Even folded, the stroller is quite large. For a while, I just kept it in our front hallway and used a smaller stroller in our van. Then, when my brother visited, we wanted to go for a walk with him. I had him take the stroller out to the van. We popped it into the van sideways, removed one wheel (they come off with the push of a button) and closed the door. Hurrah! We're ready to hike.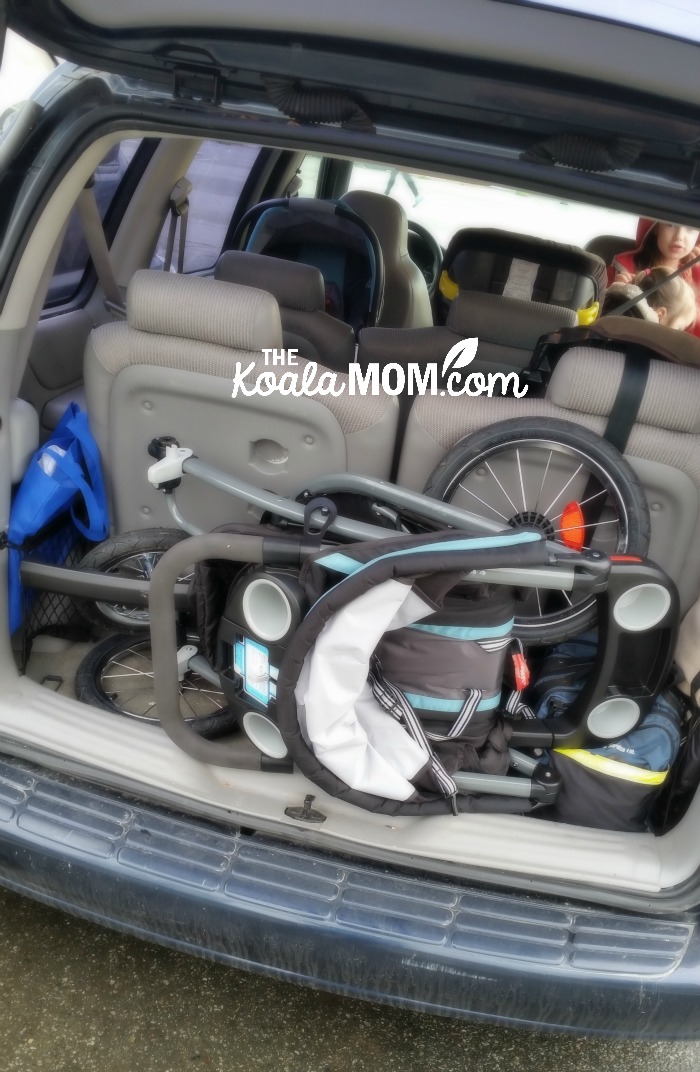 The Graco FastAction Fold Jogger Travel System is everything I've been wanting in a stroller.  It has big wheels, making it easy to handle on all terrain. It has a big basket, so I can cart a lot of stuff along with me. It folds easily. It fits in my minivan. It matches the infant bucket seat. And it's even got cupholders ('cause I love my coffee mug).
If you're looking for a new stroller, I highly recommend checking out Graco's travel systems. Our first stroller was also a Graco travel system. It served us well for three girls and, when the car seat expired, I only sold the stroller because I wanted a jogging stroller for hiking. I was happy to find out Graco makes jogging strollers too.
For more information about Graco strollers, check out their website. You can also follow them on Facebook and Twitter to find out about sales, giveaways, and new products.
I received the Graco FastAction Fold Jogger Travel System courtesy of Graco for the purposes of this review; all opinions expressed are my own.