By the end of February, most of us who live in snowy parts of the world are looking forward to spring. Here in Vancouver, we've actually had snow this year (compared to none last year). We've had fun building snowmen and snow forts and just playing in the snow. This weekend, we finally made it out to go sledding at Mount Seymour. It was snow much fun!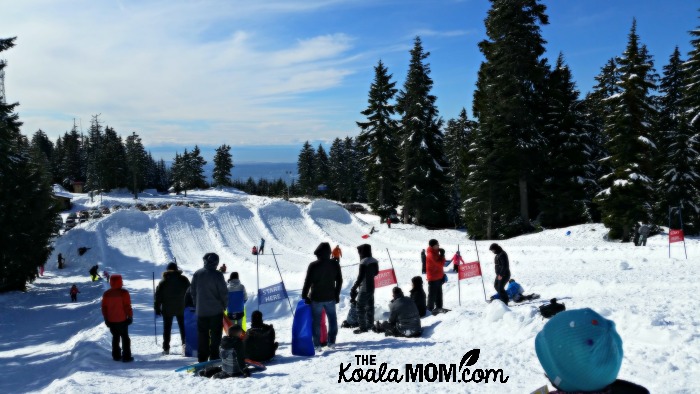 It was a gorgeous day for sledding. The sky was blue and the sun made all the snow sparkle. The girls wanted to leave the house in sweaters, but we insisted on full winter gear. I'm glad we did. It was much colder and windier at the top of Mount Seymour! Down here in Vancouver, most of our snow has melted. Driving up the mountain was like driving back into winter.
While other areas of Mount Seymour looked busy, the tobogganing area wasn't. We found parking pretty close to the chalet and got our tickets (thanks to our Kidsworld passes). Then we headed up to the top of the sledding hill… and nearly got blown back down by the wind!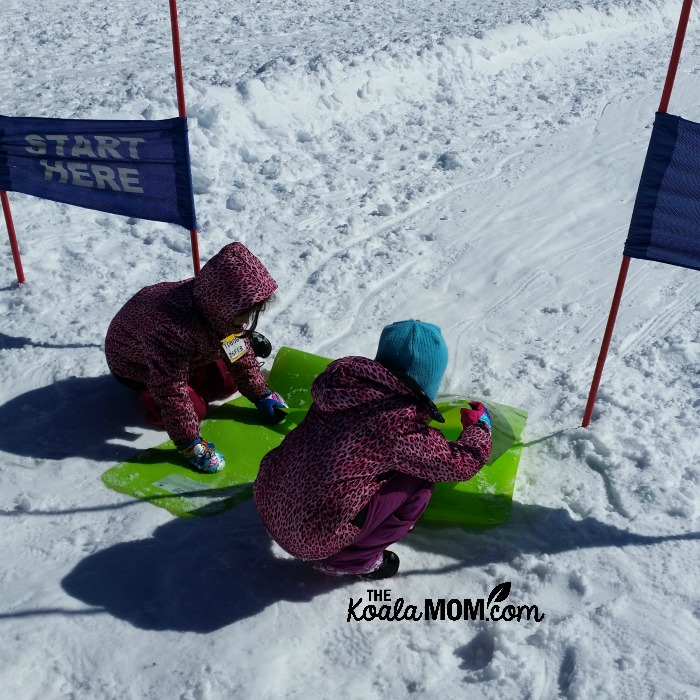 There were four sledding runs, with a walking path between and on either side. The runs were groomed and fast! We'd grabbed crazy carpets on sale before heading up there. The carpets rocketed down the hills… once the girls got on! Crazy carpets are definitely a bit crazy in getting started.
After doing a couple runs down the upper hills, we asked about any other places to sled. A Mount Seymour employee told us there was another sledding area, just down from the chalet, more protected by the trees. We headed over there. That hill faced another direction (with a great view of Vancouver!) and was warm and sunny.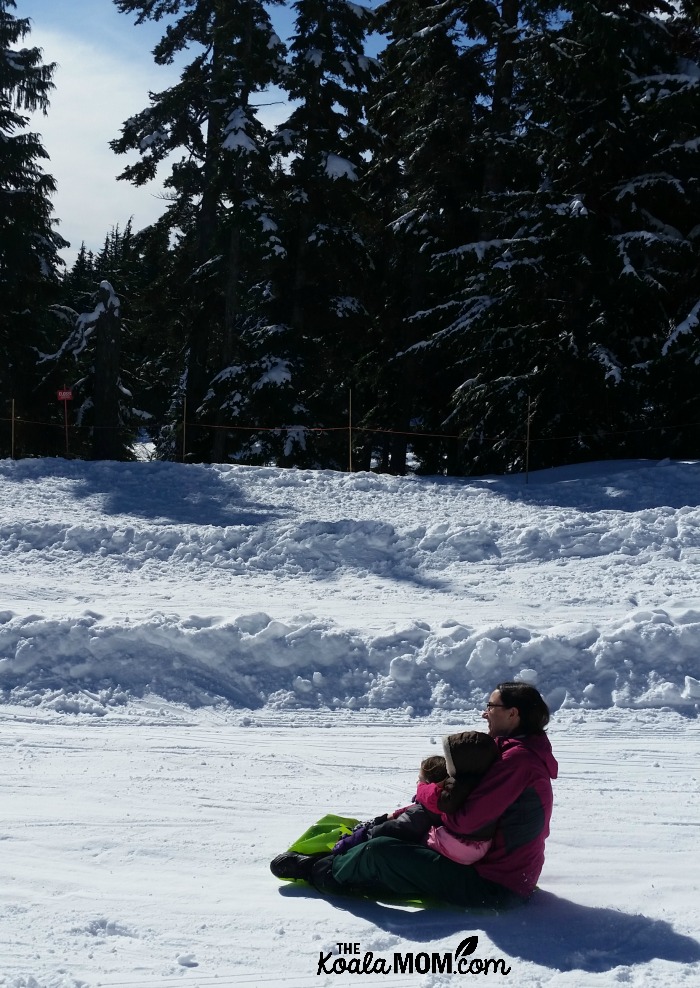 I did several runs with Pearl and Jade, because Jade wouldn't go by herself. She'd wiped out on her first run down and didn't want to try again. Pearl loves sledding! She had a big smile each time we reached the bottom of the hill. Then we'd run back up again to do it again.
I was surprised that on such a sunny Sunday, we had a tobogganing run entirely to ourselves. We shared with one other family for a bit. Then they moved over to another run. The girls were able to go down as much as they wanted, without waiting in line. Plus we had that awesome view to admire when not racing down the hill.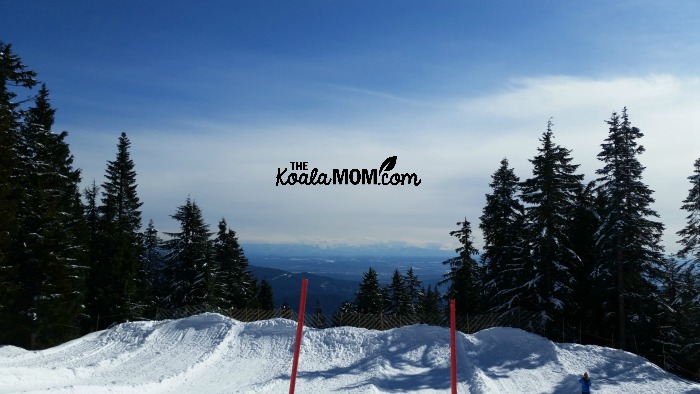 We had a few hiccups to start the day. At the upper hill, the girls didn't like the wind. The runs were very fast, so Jade got scared by her first wipe-out. Sunshine found the hill a bit bumpy on her tummy. The crazy carpets slid all over the place, causing more wipe-outs and top-of-the-hill frustrations. Sunshine complained someone took her turn.
Once we got past all that, the girls started having fun. My husband mostly stood at the top of the hill, keeping an eye on them and offering tips for getting on crazy carpets. Then he took a run down to demonstrate proper crazy carpet technique. It's the first time, in the decade plus that I've known him, that I've ever seen him slide down a hill!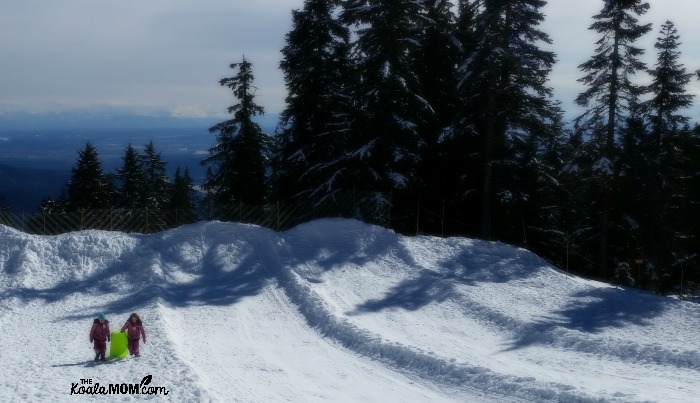 I wasn't about to leave the sledding hill just because of that. I love the snow, and I've missed it in the past several years that we've been on the West Coast (or the Wet Coast). Being up in the mountains makes me happy. Sledding with the girls brought back so many childhood memories—my brothers and I spent hours doing that every winter.
And as we stayed, and kept encouraging them to try again, it was fun to see the fun start. Sunshine and Lily decided to share a crazy carpet, instead of going down by themselves. They could help each other hold it while getting on. Then when they wiped out, they just laughed at each other instead of getting upset. They took turns carrying the carpet back up again.
If you're looking for some winter fun here in Vancouver, I recommended heading up to Mount Seymour. They have a larger tobogganing area than Cypress Mountain. Plus, if you have older kids too, the tubing area is close by.
Getting there: Mount Seymour is located in North Vancouver. From Highway 1 near the Ironworkers Bridge, head up the Mount Seymour Parkway (just follow the signs). The windy road up the mountain offers great views of Vancouver. The tobogganing / tubing area are one of the first parking lots on the right.
Baby-friendly: Yes. Take a baby carrier for baby, to keep him or her close to you and warm. There are baby change tables in the chalet washrooms. The chalet was also reasonably close to both sledding areas, so you can pop inside to warm up or change diapers. The hills were fairly fast, so whether you take baby down or not depends on you (and your sled). Pearl is just over one and enjoys sledding, but I've taken her on smaller, shorter hills before and was comfortable on these hills.
Fees: a day of tobogganing for a family costs about $50 on weekends and $40 on weekdays. Children 3 and under are free when going with a paying adult. If you don't have a sled, you can get one there for $10.