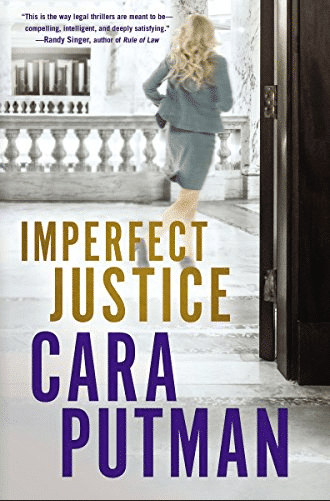 Emilie Wesley is a lawyer who works with women in abusive relationships. Then tragedy strikes the shelter where she works. One of their clients, Kaylene, appears to have shot her daughter and then herself. The police consider the case open and shut, but Emilie isn't convinced. Kaylene was trying to get out of a bad relationship, so why would she shoot herself? Kaylene's brother Reid agrees with Emilie, but they have little evidence to go on.
As Emilie and Reid work together to prove Kaylene's innocence, Emilie faces personal and professional crises. Her editor is hounding her for her next article, but Emilie can't write… either newspaper articles or legal briefs. At the shelter, each new woman who comes to her brings up memories of Kaylene. If she couldn't help Kaylene, how can she help these women? And then there's the feeling that she's being watched…
Imperfect Justice is a suspense-packed legal thriller
about a contemporary social issue. Cara highlights some of the issues faced by women living in abusive relationships. It was easy to understand Emilie's emotional struggles following her client's tragic death. Emilie's own experience with an abusive relationship and a stalker give her personal insight into her clients' struggles.
While I enjoyed reading Imperfect Justice (and may have read the first half of the book in a couple days), I found that the ending seemed to wrap up rather quickly. I had a few unanswered questions at the end of the novel. While I admired the way Emilie was finally able to resolve her case, I thought a few key moments were skipped over when they should have been part of the story.
Imperfect Justice is the second book in Cara Putman's Hidden Justice series. I haven't read the first book, which centers on Emilie's roommate Hayden. While Imperfect Justice stands on its own, readers who enjoy getting to know Emilie and her friends will want to check out the other books. I found that Imperfect Justice had a large cast of characters, which were sometimes hard to keep straight.
"A legal thriller that takes on a burning social issue and the role of faith and strength in meeting that challenge." ~ James Scott Bell, bestselling author of Romeo's Rules
If you're looking for an action-packed legal thriller, check out Imperfect Justice.
Cara C. Putman is the award-winning author of 24 books. She started college at 16, graduated college at 20, and completed her law degree at 27. Cara is active at her church and a lecturer on business and employment law to graduate students at Purdue University's Krannert School of Management. She also practices law and is a second-generation homeschooling mom. She lives with her husband and four children in Indiana.
I received this book for review courtesy of the publicist; all opinions expressed are my own. This post contains affiliate links; as an Amazon Associate, I earn from qualifying purchases.