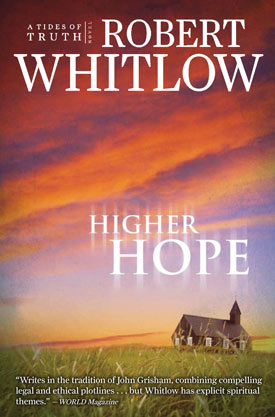 Legal thrillers aren't usually the type of books I'd pick to read, though I have read a few John Grisham novels. However, Thomas Nelson only had two fiction picks available for their book review bloggers the last time I looked, so legal thriller it was. Besides, Lisa Samson had advised us at WorDshop to read things we wouldn't usually read. So I picked up Robert Whitlow's novel.
This book was provided for review courtesy of the publisher or publicist. This post contains affiliate links; as an Amazon Associate, I earn from qualifying purchases.
Higher Hope Plot Summary
Tami Taylor is a law student in the firm of Braddock, Appleby and Carpenter. The partners are well aware of her conservative religious convictions, so when a case arises involving a developer suing a preacher for libel and slander, they put Tami on it.
It's Tami's job to understand and interpret the preacher. Tami approaches the case warily and tries to suggest alternatives to a lawsuit, but her suggestions are ignored—and her future with the firm hangs on her work in this case.
As the law suit develops, Tami is exploring the possibility of courtship with another lawyer in the firm, Zach Mays. She and Zach visit her parents for the weekend—to ask for permission to court. Tami knows Zach isn't exactly the kind of guy her parents expected her to meet; he wears a pony tail, drives a motorcycle, and doesn't seem to understand Tami's faith. When Zach's jokes land in bad humour, it seems that their courtship is doomed. Then a miracle changes Tami's view of Zach's faith.
My Thoughts on Higher Hope
I found the novel started a bit slowly with the weekend at Tami's parents' place. The lawsuit had barely been introduced before Tami and Zach were whisked out of the city. Those chapters seemed necessary to establish the nature of Tami's upbringing and faith—the reasons that she would connect with Sister Dabney, the defendant in the lawsuit.
While I enjoyed the back-and-forth between the characters and the moments of humour, I found the suspense lacking a bit.
Higher Hope switches between Tami's first-person perspective and the third-person perspective of Sister Dabney. Sister Dabney's character is built slowly through the novel, and I enjoyed how Whitlow introduced her. At first, she seems almost crazy, definitely fanatical, and perhaps a little bit astray in her religious beliefs.
However, as we get to know her, we come to understand her faith, her past, and her motivation in the lawsuit. More information is also revealed about the plaintiff, changing our opinion of him and his lawsuit.
One thing that surprised me was reading about a character such as Tami in a mainstream Christian fiction novel. She reminded me of the characters in Arms of Love by Carmen Marcoux. I've come to expect a sort of "generic Christian" in the Christian fiction market, not someone like Tami who wears skirts, refuses to work on Sunday, and practices courtship.
It was also a bit surprising to meet such a character in a legal thriller. I enjoyed seeing how how Tami's faith affected her choice of career. I also liked reading about a character who stood up for her convictions and was unique and different.
If you like Higher Hope, you may also enjoy:
Overall, I enjoyed Higher Hope. Whitlow deserves his reputation as a "Christian John Grisham," as one reviewer suggests. The characters were real and funny, the dialogue was quick, and the issues raised made the reader stop and think.
Higher Hope is the second book in the series, and I did wonder at times what was revealed in the previous book about Tami's relationships with Zach and Vince, another young law student who would also like to court her. Otherwise, because the first book was about a different case (briefly mentioned in this book), Higher Hope stood well on its own.