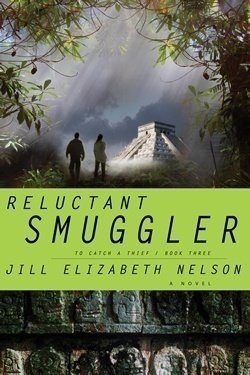 One of the first rules of writing is never use clichés. Writers are to avoid them like the plague—or should I say, writers are to stay as far away from clichés as they would from a skunk. This is something most of us struggle with, but author Jill Elizabeth Nelson seems to have mastered. In her novel Reluctant Smuggler, her use of fresh and new clichés kept me smiling and amused throughout the novel.
I received this book for review courtesy of the publisher; all opinions expressed are my own. This post contains affiliate links; as an Amazon associate, I earn from qualifying purchases.
Reluctant Smuggler is the third book in the To Catch a Thief series, but I haven't read the first two books. This one stands fine on its own, as any back story is quickly and adequately explained.
Reluctant Smuggler Plot Summary
Desiree Jacobs is a securities expert, fighting the rival Greybeck firm for a contract from the Museo de Arte Mejicana. Then the Mexican president asks her to take on a special assignment: find valuable antiquities that are disappearing around the country. Homesick for her fiancé, FBI Agent Tony Lucano, Desiree reluctantly takes on the assignment.
When things go wrong before she even arrives at her hotel, however, Desi realizes she's up against something big. But before she can find out what, Tony has an accident while making a raid on the smuggler El Jaguar and she's called home to him.
While he recovers from his near-death experience, Desiree must deal with emotions still surrounding her father's death and the fact he won't be part of her dream wedding. Tony must also fight doubts about whether he'll recover enough get his job back and be able to support Desi.
Desi and Tony soon realize that they have a common enemy—El Jaguar is responsible for smuggling not only drugs and women, but also antiquities. And he wants vengeance. Threats on their lives add complications to the wedding planning.
Finally, Desi walks down the aisle to her handsome agent. They fly back to Mexico for the honeymoon—only to find themselves in the middle of danger once again.
My Thoughts on Reluctant Smuggler
Jill Elizabeth Nelson writes a page-turner. Her research into places in Mexico, as well as the Spanish phrases used throughout the book, add authenticity to the story. Her characters show doubt and fear, yet also faith and courage.
While Tony and Desi are head-over-heels in love with each other, they also have their moments of disagreement and tension, like any normal couple. With humour and romance sprinkled through suspense and danger, Reluctant Smuggler is one fun read.
If you like Reluctant Smuggler, you may also enjoy:
About Jill Elizabeth Nelson
Jill and her husband have been married for 35 years. They have done short-term missions together in Thailand since 2000. They have four children and numerous grandchildren. She wrote her first mystery novel in 6th grade (but no trace of it has survived). She has been a journalist, columnist, essayist, poet, story teller and book reviewer.
Jill is the author of numerous titles for Love Inspired Suspense. She's also written two books for writers, Rivet Your Readers with Deep Point of View and The Art of the Edit. If you're an inspiring writer, I'd recommend checking out both of Jill's writing books as well as the To Catch a Thief series to see good writing in action.
To find out more about Jill and her other books, drop by her website.