India is a land of mystery and romance. I've only traveled there via books like The Inheritance of Loss, but it's on my bucket list of places to visit. If India is also on your travel bucket list, here are some tips for planning your vacation in Coorg.
Coorg, India, also known as Kodagu, is one of the most breathtaking places to visit with its lush green hills, spectacular landscapes and stunning waterfalls. Termed the "Scotland of India," it attracts a large number of people every year looking to experience the magic of Coorg.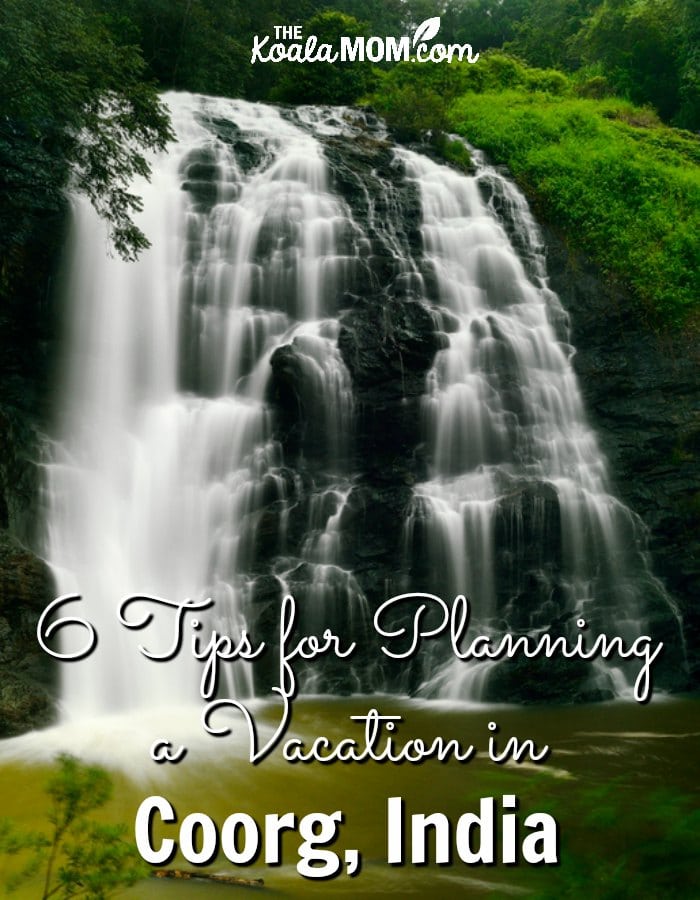 If you are also planning a visit to this beautiful place in the Western Ghats, here are a few tips that might help you make the most of it.
1) When to Go?
Coorg is accessible throughout the year and each season just brings out its various colours. The peak season, however, is from September to March where it is bustling with tourists, and it is also the time when most adventure activities take place. If you want to combine the peace and serenity with just a little adrenaline pump, then this is the time to go. While monsoons usually see a dip in the arrivals, the beauty is only amplified as the entire region glistens with rainfall.
2) How to Get There?
Bangalore is the nearest major city, and you can take either a car, bus or train to reach Coorg. While there are direct buses from Bangalore to Coorg readily available, there are no direct trains. The closest railway station is Mysore Railway station from where you can opt for a bus or taxi.
3) Where to Stay?
Coorg is busy all year round, and it is advisable to get your accommodation sorted in advance. Whether you are looking for a homestay or resorts near Coorg or want a more luxurious option, Coorg has some great options for all budgets. Choose from luxury options like Vivanta by Taj or the Orange County Resort. If you are looking for upscale, affordable options, visit Coorg Jungle Camp Backwater resort. Homestays like the Silver Brook Estate Homestay provide an authentic local experience.
4) What to Do?
Coorg is a trekker's delight with the forest trails providing the perfect setting. Hike the Brahmagiri and Pushpagiri Mountains to truly appreciate the beauty of Coorg. Challenge the tides on the Barapole River, which is famous for river rafting. For fun-filled adventure, try your hand at quad biking or fly away on a microlight aircraft. If you prefer a quieter experience, be sure to hop on the jeep drives to Mandalpatti to watch the sunset.
5) What to See?
A visit to Nagarhole National Park should definitely be on your itinerary. Explore your spiritual side with the Namdroling Monastery famed for its gold work on paintings inside it. There are also some stunning waterfalls to choose from that provide the perfect backdrop for a family picnic or just spending some time with your friends. For all coffee lovers, Coorg is a paradise with its vast coffee plantations. You can not only visit them but also take home samples of the fine coffee straight from the source.
6) What to Eat?
Pamper your taste buds with amazing South Indian cuisine offered in various restaurants. From the humble dosa to the less famous bamboo shoot curry, it is a heaven for foodies. Pandhi curry is a pork-based dish made from the special homegrown spices of Coorg and should be a definite fixture on your culinary journey. It has a range of options from fine dining restaurants like The Falls at the Tamara Hotel to some more economical options that offer great local cuisines.
Coorg is the perfect combination of old world charm and new age convenience. Despite the heavy tourism, the laid-back town has still maintained its calm and appeal. A must-visit for nature lovers, it is truly a place like no other.
This guest post was written for The Koala Mom; all opinions expressed are those of the writer.