My parents instilled a respect for our environment in me from a very young age. Most of our vacations happened in the Rocky Mountains, where we enjoyed pristine wilderness and the grandeur of God's creation. Eco-friendly travel makes sense to me because I want my daughters to be able to enjoy all the beauty our planet has to offer. Here, Kacey shares some great ideas for making your next vacation greener.
We only have one planet and we need to take care of it, even when we travel.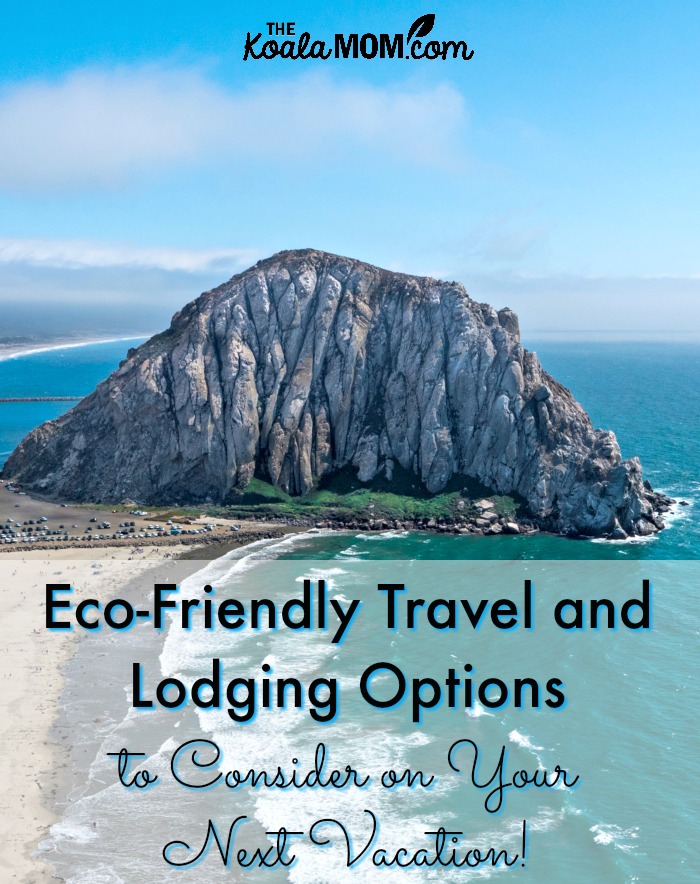 Vacations are a great way to see family, friends and new parts of the world. They are a way go on an adventure. Vacations help us escape from the mundanity of life. They allow us to reduce our stress and find a place to relax. There are a variety of benefits associated with vacations, so we should get out as much as we can.
There are some downsides to vacationing, including the impact it has on the environment, especially when it comes to traveling to our destination because of the carbon emissions  associated with traveling. However, there are many options for eco-friendly travel available to tourists today.
Choose Eco-Friendly Travel Options
Airplanes emit a lot of pollution, including carbon dioxide, which contributes to greenhouse gases and global warming. However, in some cases, a plane is the only way to get to your destination.
If you have no other travel options other than a plane, try to choose a nonstop flight since take-offs and landings produce the most pollutants. Full flights also reduce the amount of pollutants per person, so flying economy will ensure the plane is fuller and reduce the amount of per person emissions.
If it's not necessary for you to take a plane to your destination, choose another eco-friendly option, such as trains, buses, ships or cars. All of these are more efficient than planes, especially when there are numerous people because they lower the amount of pollutants per person.
Once you get to your destination, choose an eco-friendly way to get around, whether that means walking, biking, using local transportation or renting a hybrid or electric car. There are many cities around the country that are becoming more bike-friendly, which can be a fun option to lessen your impact while on vacation.
Choose Greener Lodging
Many hotels and resorts have been working to reduce their environmental impact in a variety of ways. One of these includes reducing the amount of laundry done at the facility to help preserve water, but some go even further. Some are built to LEED specifications, and offer innovative designs, energy efficiency, water savings and indoor environmental quality.
Other options for finding green lodging includes green log cabins. These cabins are generally built using logs that have been harvested to reduce their environmental impact and have amenities that reduce the amount of energy used.
Staying in a tent would also reduce your impact on the environment by reducing the amount of water and electricity you use during your stay. When planning your vacation, there are a lot of destinations you can travel to that offer eco-friendly accommodations.
Choose Local Food
Supporting the local economy of the destination you have chosen for your vacation will have a huge impact. When food doesn't have to shipped from one place to another, it reduces the amount of carbon emissions in the atmosphere. Plus, locally sourced food and goods sustain the locals and gives you the opportunity to experience more of their culture.
Choose Green Tourist Activities
More than likely, the destination you are planning to visit has a hot tourist spot or activity you want to experience. Go for it! But keep in mind that by choosing the eco-friendly option, you are benefiting the environment. It might be a little more expensive, but it's worth it in the long run, especially if this option uses environmentally friendly vehicles and has smaller groups—this last one could benefit you by giving you the opportunity to experience the local environment and not have to worry about tons and tons of people.
Be Respectful of the Local Environment
When it comes to sightseeing and being outdoors, be respectful of nature. Take care to dispose of your garbage in the proper receptacles and be cognizant of how you interact with plant and animal life—both on land and in the water. Don't touch things you aren't supposed to touch and don't wander off the path if you're told not to. Any of these practices could have a major impact on the environment and negatively affect the animals and plants that need to be preserved.
Making simple changes and choices when it comes to your vacation can have a huge impact on the environment. We only have one world, and we have to take care of it so it will last for generations to come.
Have you considered eco-friendly travel options when vacationing? What tips would you suggest for traveling green?
Kacey is a lifestyle blogger for The Drifter Collective, an eclectic lifestyle blog that expresses various forms of style through the influence of culture and the world around us. She graduated with a degree in Communications while working for a lifestyle magazine. She has been able to fully embrace herself with the knowledge of nature, the power of exploring other locations and cultures, all while portraying her love for the world around her through her visually pleasing, culturally embracing and inspiring posts. Follow Kacey on Twitter and subscribe to her blog to keep up with her travels and inspiring posts!