Road trips with toddlers can be stressful and tricky—but also fun and rewarding. Children ages one to four don't understand things like "We'll be at Grandma's in an hour" or "I know the potty has a black lid but you still have to sit on it!" Yet they can also find amusing ways to entertain themselves in a vehicle and express delight at various things along the way.
We've done long road trips since our oldest was a baby. Now, I have a list of must-have items for when we pack up for a long drive. Here's my tips for making road trips with toddlers a bit easier.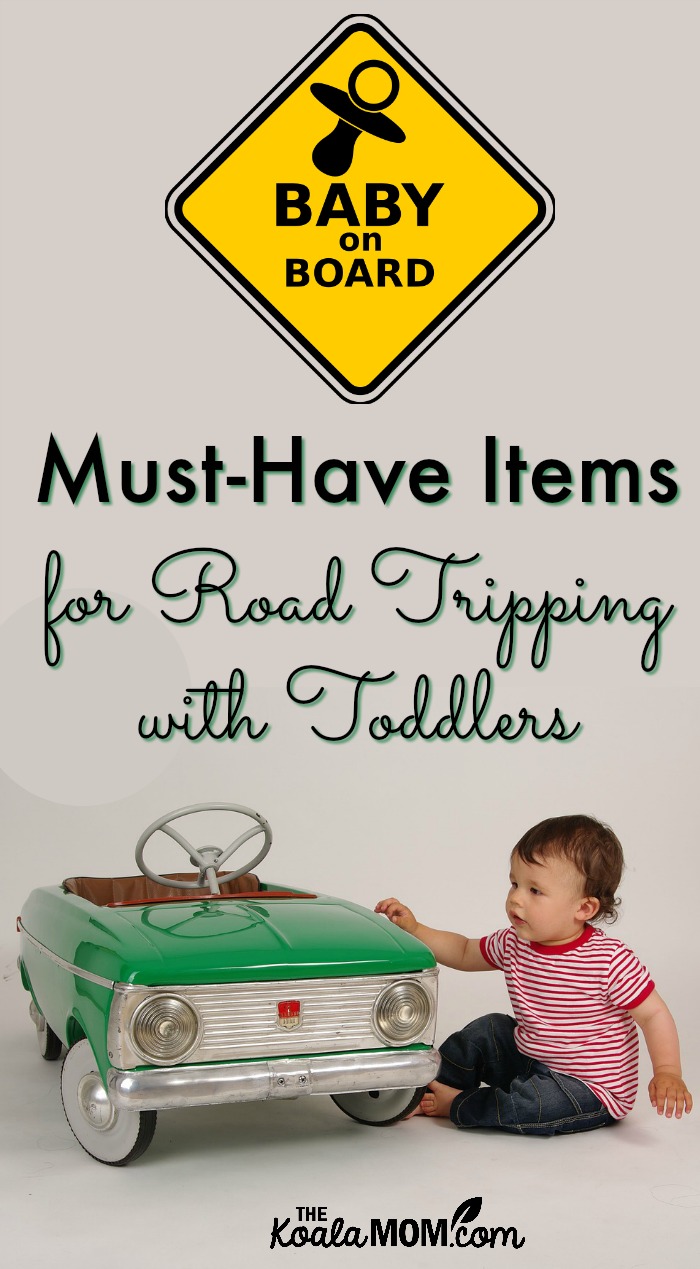 This post contains affiliate links; as an Amazon Associate, I earn from qualifying purchases.
Pack a Play Pen
Where your toddler is going to sleep while you are on a road trip is critically important—because if she doesn't sleep, neither do you. A good play pen can make all the difference, whether you are staying at Grandma's or at a hotel. We've had a basic Graco Pack 'n Play
for all of our girls. It's easy to pack, easy to set up, and even served as Jade's bed at home for quite a long time.
Even if where are you staying changes every night of your trip, your toddler's bed stays the same, helping them settle down in the evening. Along with the play pen, pack whatever your toddler needs for his regular nighttime routine: favourite stuffie, soother, sleep sack or blanket, white noise machine or app, etc.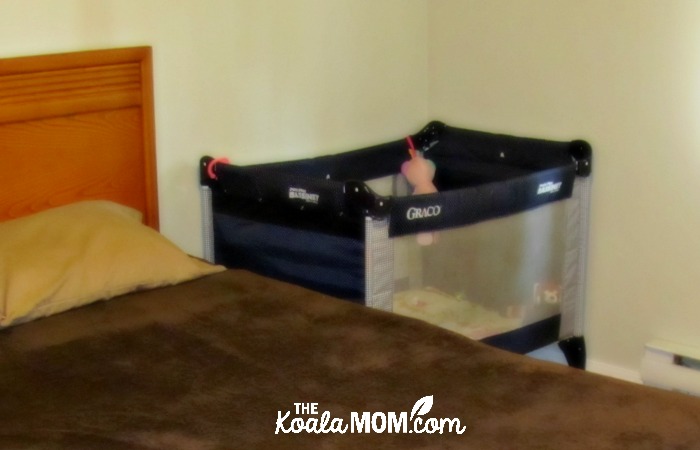 Pack the Potty
Potty training is a delicate, up and down time. It can be hard enough to master at home; a road trip can completely throw off your toddler's success. When Lily was two, she was almost completely potty trained—before we went on a two-week road trip to Grandma's. Between long hours in the vehicle, and the toilets at public rest stops (too big, too noisy, wrong colour), Lily completely gave up going potty. It took me another six months to get her back onto the potty once we got home again.
The 2-in-1 Potette Plus
is an innovative folding potty that's easy to take on road trips with toddlers. It can be used as either a potty seat on a regular toilet or a potty on its own. It's small size makes it convenient to stash in a vehicle for emergencies.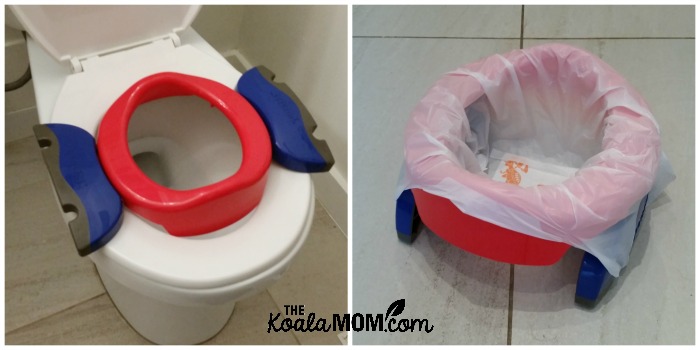 When your toddler yells "I have to go pee!" and there isn't a rest stop to be found for miles, simply unfold the potty legs, add a disposable liner, and sit your toddler down to do business. Dispose of the waste at your next stop. (A garbage is handy on road trips. See below for hand washing ideas.)
If you're at a rest stop and your toddler refuses to sit on the toilet, get out the Potette for them. The brightly coloured seat, in your toddler's size, will make that strange toilet less intimidating. The Potette also comes with a durable plastic bag to make it easy to carry potty and liners with you.
Prevent Motion Sickness
Nothing spoils a road trip as quickly as the sound and smell of puking. Toddlers are the worst at this, as they can't yet tell you "I have to throw up!!!" On our last road trip, Pearl (age 18 months) threw up twice. The second time, I recognized the cues for what was coming and was fast enough to catch half of it in a coffee mug thrust under her chin.
That trip, I was also prepared with Boiron Cocculine, a homeopathic nausea remedy. By the time we got to Grandma's, I'd figured out the best timing for administering doses to all the girls. For our trip home, we had no incidents of puke.
For more tips, check out How to Prevent Motion Sickness in Kids.
Use Leak-free Sippy Cups
When packing for road trips with toddlers, I always include a travel cup for everyone in the vehicle. Hubby and I have our coffee mugs and the girls each get a sippy cup or water bottle. It may be tempting to avoid drinks while driving to prevent accidents on the road, but a dehydrated, constipated toddler isn't any fun. (Besides, you've packed the potty, right?)
Make sure all sippy cups are leak-proof, even if dropped on their tops on the floor. There's nothing worse than a leaking water bottle that's rolled out of reach. I've found it's better to pack sippy cups than juice boxes, which tend to leak or spill (especially in the hands of a toddler). You can pack a box of water or a bottle of juice in a thermos bag, or just fill all cups when stopping along the way.
Plan to Sanitize
Toddlers touch everything. Whether it's the toilet, sink and walls in the public washrooms, or the ladders and slides at the playground you found, or the accumulated road dirt on your van… well, you're guaranteed dirty hands on a road trip. Public washrooms can also be a bit iffy, as they may or may not have soap and your toddler, like mine, probably hates the noise of the hand dryer.
Plan ahead with a set of reusable, anti-bacterial wipes in a wet wipes bag. Before your trip, place damp wipes in the front pocket. After using them, place dirty wipes in the back pocket and wash when you reach your destination. Or pack dry wipes and get them wet at rest stops or with your water bottle as needed.
Skip the lineups in washrooms and just wash back at your vehicle, after you've buckled your toddler in. I also like having all the girls use a drop of natural hand cleaner after we've stopped somewhere.
What are your must-have items for taking road trips with toddlers?
I received a Potette 2-in-1 potty courtesy of the brand to try for the purposes of this review. Photo credit: Pixabay.