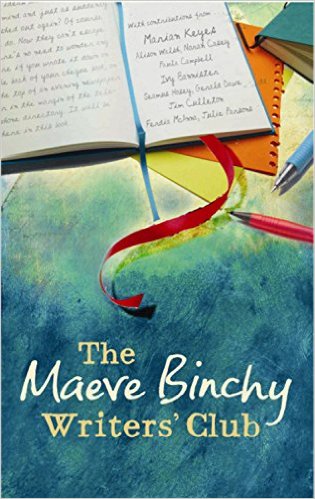 In a series of letters to aspiring writers, Maeve Binchy shares her advice on the writing and publishing industry.  Honest, warm, and inspiring, The Maeve Binchy Writer's Club is meant to be read over twenty weeks.  Included among Maeve's letters are short articles by other writing experts: Ivy Bannister, Norah Casey, Marian Keyes, Alison Walsh, Seamus Hosey, Paula Campbell, Jim Culleton, Julie Parsons, Gerald Dawe, Ferdia McAnna.  Blank pages are provided for the reader to jot down ideas and information.
The Maeve Binhy Writer's Club begins with advice on how to get started and a discussion of the pros and cons of a writer's group.  Maeve includes chapters on agents, editors, and publishers.  She discusses how to write short stories, giving concrete steps.  She covers writing mysteries, children's stories, men's fiction, comedies, stage plays, and radio scripts. In the last chapters, Maeve discusses a writer's unique voice, the importance of language, how to sustain progress, and the need to visualize success.
At the end of The Maeve Binchy Writer's Club, Maeve includes a short story about writers who have taken her course.  There is also a suggested further reading list and a selection of writing competitions, awards, and grants.  While most of the links are British, they still provide the reader with a place to get started.
The Maeve Binchy Writer's Club provides an excellent introduction for any writer getting started or one who has started and needs encouragement to keep going.  Maeve has a way of making even the greatest obstacles of writing, like finding a publisher, seem doable.
Maeve closes the book by saying,
"The idea of this book is to take the terror out of writing, to empower ourselves with the belief that we are as good as anyone else with as much to say as the next person.  The only thing that stands in our way is not saying it.  I hope you think it was all worth it and that you will never be among those who say that you could have written if only you had had the chance.  The chance was offered to you, and you took it up bravely and enthusiastically."
For more writing inspiration, check out: