Over the last couple of years, essential oils have been my go-to for a variety of problems. I've treated bug bites, colds and flus, mild depression, motion sickness and restless kids with various essential oils. However, I've often felt like I'm not using my essential oils as much as I could. I was very excited to get a copy of Essential Oils: All-natural remedies and recipes for your mind, body and home. This encyclopedic book has been an awesome resource for taking care of my family naturally.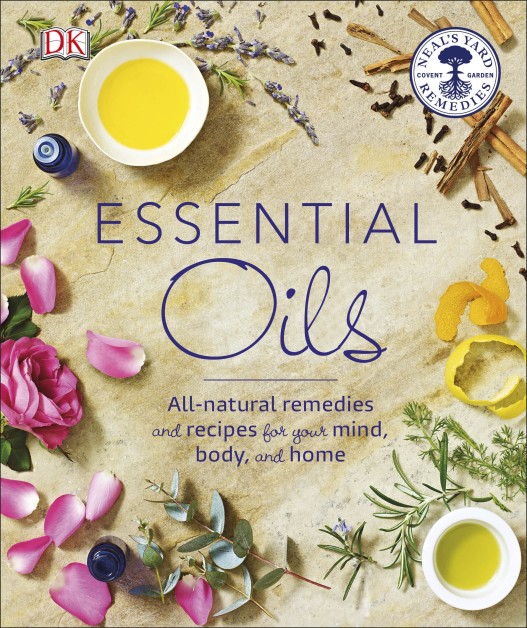 Essential Oils is broken into several sections, so you can jump in wherever you want to learn. I skimmed "Understanding Essential Oils," learned some new things in "Using Essential Oils", and then looked up my favourite oils in the "A-Z of Essential Oils." There's a large section on "Base Oils," which I need to use more often in creating all-natural remedies. Finally, it was fun to look at the "Essential Oil Recipes" and "Healing Remedies."
As you might be able to see from the cover, the book itself is absolutely gorgeous. The pages are filled with full-colour photographs of the various plants being discussed. There are boxes with more information, symbols to help you get information at a glance, and bold phrases to highlight important details.
The girls and I love making our own bath products. These are one of my favourite all-natural remedies for common aches and pains, stress, or just bouncy kids. I often add a few drops of lavender to Epsom salts or baking soda in their bath, to help calm them at the end of the day. Essential Oils has some recipes for bath melts and bath bombs that I'm looking forward to trying.
Essential Oils offers a variety of ways to look up the best uses for your oils. Toward the back are Treatment Reference Charts, which are easy to skim for common complaints and then their recommended oils. You can then look up the essential oils in the book for more details about using them. The Healing Remedies section is more detailed, with various recipes for treating common ailments.
For example, we've dealt with several colds this winter, so I looked up Respiratory Complaints. Here I found some specific tips for all-natural remedies to treat the girls' coughs and sniffles. Essential Oils suggested a Frankincense Throat and Chest Rub and Clearing Eucalyptus Diffusion. I ended up making the Eucalyptus and Lemon Inhalation from the Asthma section, as I had the oils on hand and didn't need a diffuser for it.
One thing I found frustrating about Essential Oils is that the A-Z section is organized alphabetically by the oils' Latin name. So tea tree (one of my favourite oils) is under melaleuca alternifolia and orange came under citrus sinensis. Since I'm not familiar with most oils' Latin names, this made it a bit hard to look up some oils. I'd check the oil in the Treatment Reference Chart, then have to flip to the index to find the right page.
If you also love essential oils, or have considered trying them, I highly recommend picking up Essential Oils. Thus far, most of what I've learned about oils has come from articles online—a how-to for this oil here, a list of recommended uses for this oil there. When I need a treatment, however, it's much easier to grab this book than to turn on my phone or computer and try to find that article I pinned weeks or months ago.
I received this book for review from DK Canada; all opinions expressed are my own.