There have been many times over the last three years I've sung to myself, "Let it go…" This song is probably one of Disney's most popular, from one of their most popular movies. Yet there are many more Disney songs that capture so many different emotions and events. One of our favourite CDs is a collection of Disney songs from some of our favourite movies. So I was very excited about a new album in which jazz artists record their favourite Disney tunes. Jazz Loves Disney is a fun, upbeat CD that puts a new twist on your favourite tunes—including "Let It Go."
This is a sponsored post from Disney Music and One2One Network. All opinions are my own.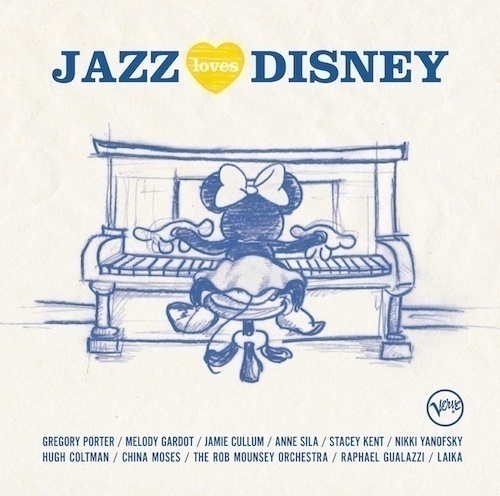 Walt Disney was a big fan of jazz music. He paid great attention to the writing of the music accompanying his heroes' adventures. Many of these songs have either been nominated for or won Academy Awards. Disney's love of music is also evident in Silly Symphonies and Fantasia, cartoons that bring music to life with various personalities.
"I've always loved Disney films and Disney music. There's magic about the fairy tale world they conjure up. The song I chose from Cinderella captures that feeling of magical wonderment that I felt as a child. The song BIBBIDI BOBBIDI BOO speaks to the child in us all, that still believes—or would like to believe—that we can do magic. As we grow up, we are at the risk of losing that sense of possibility but music has always had the power to transform the world and make it a better place. If that's not magic, what is?" ~ Stacey Kent
As I've mentioned before, some of my earliest memories include Disney movies. Now, I love watching these movies with my daughters. Frozen and Tangled were huge hits in our home. I still often hear one of the girls singing their favourite Frozen songs. We have two collections of Disney princess stories which they love to flip through—or read for bedtime stories. So many of the songs on Jazz Loves Disney brought back memories for me.
"Disney represents my childhood and the way I grew up listening and watching the movies. I used to sing the songs being a kid, I loved it so much. It brings back some really good memories for me so it's really cool to be part of [Jazz Loves Disney] and relive those moments.

The Disney movie which affected me the most probably was The Aristocats. That movie was the first time I heard jazz as a little kid, and I just remember loving the music so much. It was not the most popular movie when I was young but still my favorite one. "Someday My Prince Will Come" comes from Snow White and the Seven Dwarfs, I love that movie so much, all the different personalities…" ~ Nikki Yanofsky
Tracks on the CD span the years of Disney movies, from Snow White to Frozen. Each song is sure to bring back memories for you—or to make you appreciate again your favourite songs and movies. Some tracks include vocals while others are instrumental only. Every song on Jazz Loves Disney is tons of fun.
Here's a list of the songs and artists on the Jazz Loves Disney album:
Jamie Cullum – "Everybody Wants To Be A Cat" – from The Aristocats
Melody Gardot – "He's A Tramp" – from Lady And The Tramp
Stacey Kent – "Bibbidi Bobbodo Boo" (French version) – from Cinderella
Gregory Porter – "When You Wish Upon A Star" – from Pinocchio
China Moses – "Why Don't You Do Right" – from Who Framed Roger Rabbit?
Raphaël Gualazzi – "I Wanna Be Like You" – from The Jungle Book
The Rob Mounsey Orchestra – "A Dream Is A Wish Your Heart Makes" – from Cinderella
Hugh Coltman – "You've Got A Friend In Me" – from Toy Story
Anne Sila – "Let It Go" – from Frozen
Melody Gardot & Raphaël Gualazzi – "The Bare Necessities" – from The Jungle Book
Laika – "Once Upon A Dream" – from Sleeping Beauty
Nikki Yanofsky -"Someday My Prince Will Come" – from Snow White & The Seven Dwarfs
The Hot Sardines – I Wanna Be Like You (French & English version) – from The Jungle Book (US release only)
What's your favourite Disney movie or song? Is it on the above list?
Pssst… Christmas is coming up! Jazz Loves Disney would make a great gift for the Disney lover on your list.
Jazz Loves Disney is available on both Amazon and iTunes.