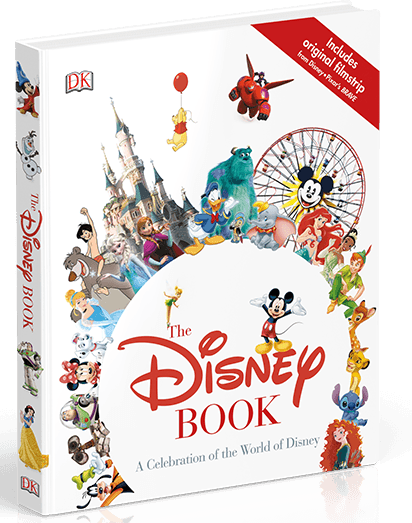 We are huge Disney fans. That might seem like an obvious statement, given the fact we have four girls (hello, princesses!). However, I feel like I've grown into my love of Disney just as I've grown into mommy jeans and coffee. We've had lots of fun exploring that love with Finding Dory: The Essential Guide and The Disney Book: A Celebration of the World of Disney from DK Books.
One of the very first movies I remember watching is The Little Mermaid. We didn't have a TV when I was growing up, so I saw it at my godparents' house. Appearing in 1989, Ariel was the first Disney princess in 30 years. She is "different from her three gentle predecessors" and "her courage as she risks everything to determine her own life paved the way for a whole new era of self-empowered princesses." What I found most interesting about this movie was that animators used footage of astronaut Sally Ride in space to create Ariel's flowing movements underwater.
Another early memory is seeing Bambi at the Alliance Church we attended. That iconic scene where Bambi's mother dies is etched into my memory, along with the grey classroom walls and the hard carpet I sat on, crying for Bambi. This movie was made in 1942 but began development in 1936. The animators actually used live models to help them draw the creatures in the movie. A neat bit of trivia I learned is that Thumper's voice was done by a four-year-old actor!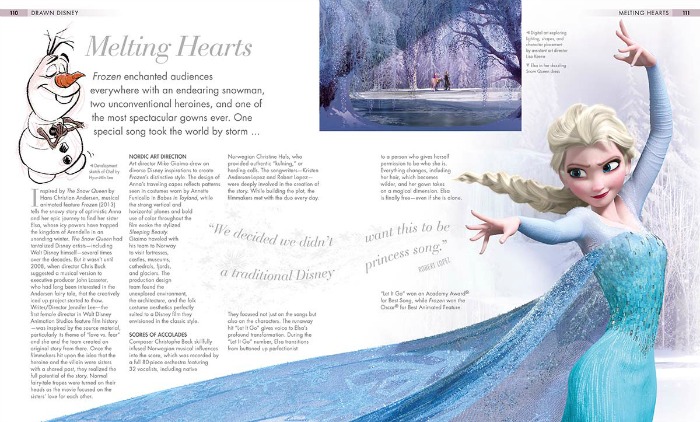 One of our favourite authors growing up was Bill Peet. Every time we went to the library, we headed for the Bill Peet section to borrow our favourite books. As a teen, I discovered his autobiography and was fascinated to learn he began his drawing career as an animator for Walt Disney. Now, when we're watching early Disney movies, I always watch the credits for Peet's name. So of course I looked for him in The Disney Book. I discovered he was one of the big-top aficionados who worked on Dumbo. He also worked on 101 Dalmations, and The Disney Book includes a story sketch by Peet.
The final chapter includes historical pictures and facts about Disneyland and Walt Disney World Resort. Apparently, the idea for a Disney theme park came to Walt Disney as he was on a daddy-daughter date with his two girls. As he sat eating peanuts and watching them on a ride, he had a vision for something better. The Disney Book explains what sets Disney parks apart from other theme parks. It includes details about Disney cruises, collectibles and pins, Animal Kingdom and Epcot, and the iconic castle.
The Disney Book spans Disney history from the 1920s when Walt worked at a newspaper in Kansas City to 2015, when Disney released 6 movies, including Cinderella, Inside Out and The Good Dinosaur (all worth watching more than once!). It includes archival photographs, original illustrations, scenes from the movies, trivia and fascinating facts, and more details about all your favourite Disney movies.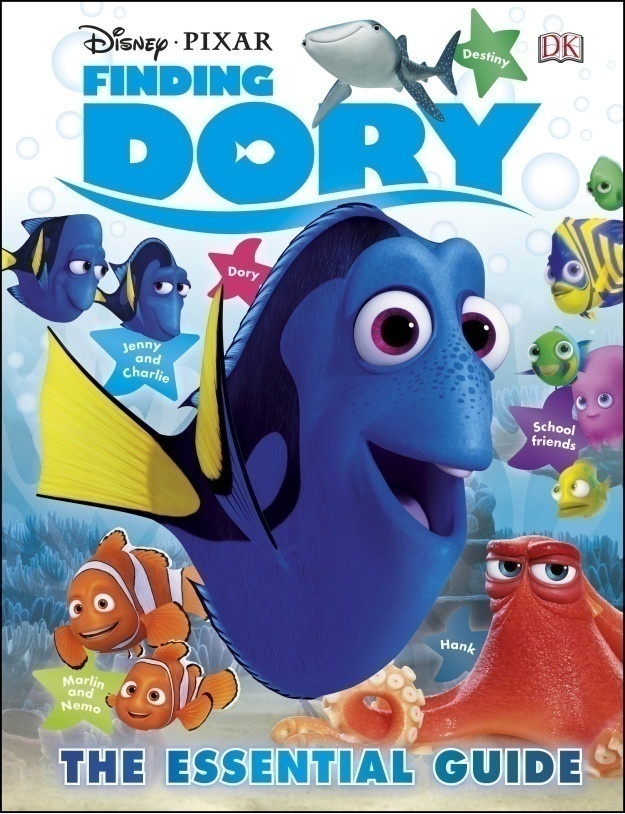 Finding Dory: The Essential Guide is an excellent companion book to The Disney Book. We saw Finding Dory in theatres (with much anticipation, like so many others!) and it was AMAZING. I laughed, I cried, I cheered. Finding Dory: The Essential Guide gives movie fans more details about Dory and all her friends. There are fun quizzes (e.g., "Memory Guide"), information about sea creatures (e.g., "How to Survive a Squid Attack"), and more.
Finding Dory: The Essential Guide is full of brightly coloured pages and scenes from the movie. It's perfect for a beginner reader, but the whole family will have fun testing their knowledge of the sea with this book. It's the perfect way to get more of your favourite fish (while waiting for Disney to make Finding Hank… or maybe Finding Destiny…).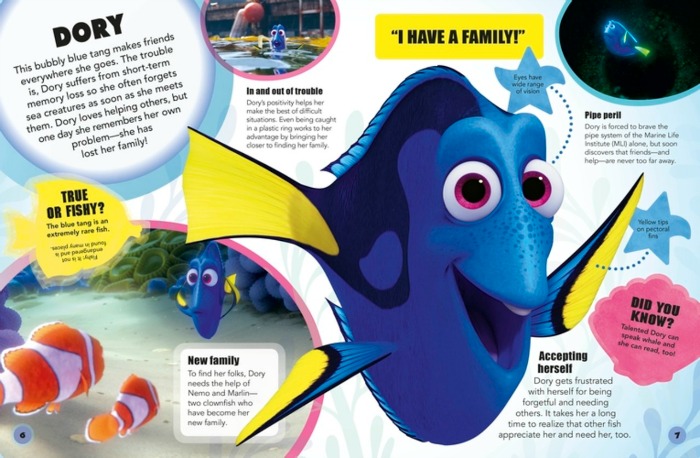 Are there Disney fans in your home? What's your favourite Disney movie?
I received these books for review courtesy of DK Canada; all opinions expressed are my own.