When Sunshine was a baby, another mom asked me, "What's your favourite baby stage?" At the time, the questions surprised me. I didn't have a favourite age or stage. Each new age in Sunshine's life brought with it new abilities for her, and new challenges and fun for me.
Now that I've had four children, I can definitely say I have a favourite baby stage. Or more exactly, a least favourite age. I dislike the newborn baby stage. Pearl's first few months in particular were difficult, despite the fact that I had the most help after her birth. (My mother-in-law came for two weeks and our community here showered us with meals.)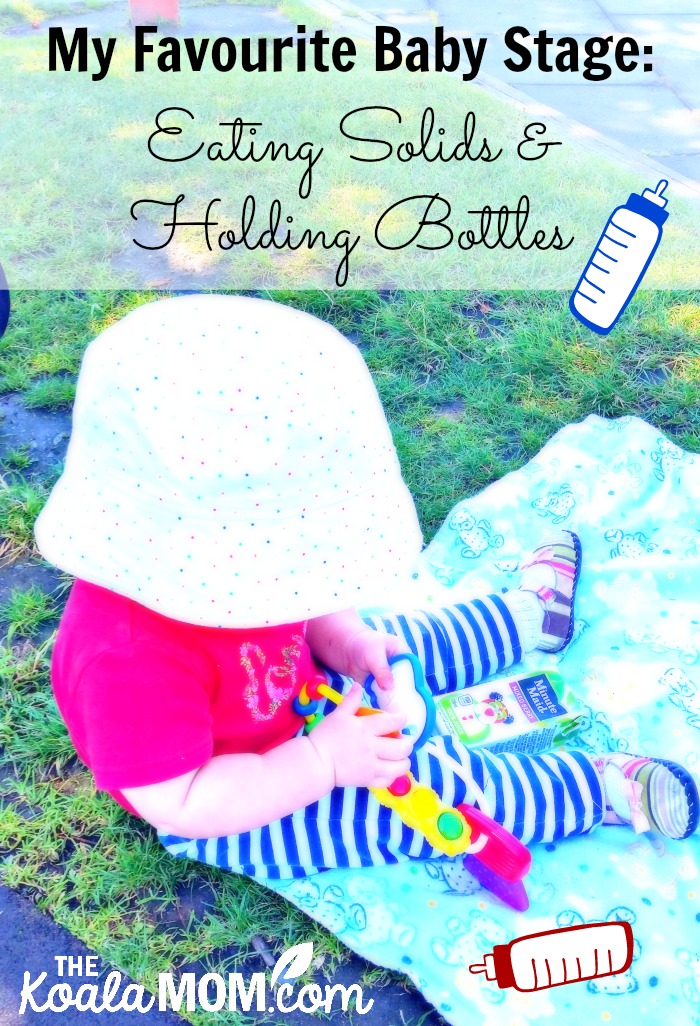 My Favourite Baby Stage…
My favourite baby stage commences around five or six months. I love it when the baby can sit up by herself, start to interact with me, and sleep more regularly. Adding first foods at six months is so much fun. Seeing baby's expression as she tries new tastes and explores different flavours and textures always makes me laugh. Then baby begins to try getting around—crawling, squirming, rolling over.
Right now, Pearl is 10 months old. She is adorable. I love this stage. She's just moving from army-crawling (pulling herself forward with her arms) to regular crawling (getting up on her knees and pushing too). She's pulling herself up on the couch and the stool. She's learned to wave bye-bye and I'm trying to teach her to blow kisses to Daddy and her sisters. She adores her sisters; she has big smiles and shrieks for them when she sees them after waking up.
And she loves eating. I'm often surprised by how much she can eat!!! I keep a stash of Baby Mum Mums in the cupboard and in the diaper bag. These are a great snack to keep her busy while I'm doing school with the girls or to hand her when we're out and about on errands. She also loves sampling whatever we're eating and feeding herself bits of food, like soft fruits or peas.
While I'm feeding her, I make sure she has some water as well. Adding solids to a baby's diet can often cause constipation. When I give Pearl water while she's eating, she's much less likely to get constipated. I still nurse her frequently, but I've found that she likes having her water bottle for "meals." In fact, she's started holding it herself. She's even figured out to tip her head back to get the water out.
I tried a couple different bottles before I found the right one for her. I've had a few bottles in the cupboard since Sunshine was a baby. Because I primarily breastfeed, the bottles haven't gotten much use. With Jade, I often used the bottles instead of a sippy cup. Unfortunately, Jade chewed holes through most of the nipples. I was happy to discover I could replace the nipples, which I did. However, two of the bottles have large nipples, which made Pearl choke and gasp when drinking. Then I tried another bottle, with a different nipple. She loved it.
If you're looking for a bottle for your baby, whether he breastfeeds or bottle feeds, I recommend the Tommee Tippee Ultra bottles. This bottle offers a breast-like shape for baby to latch onto, reducing nipple confusion if you are nursing as well.
The Tommee Tippee Ultra bottle features:
Revolutionary, offset nipple for a smooth milk flow.
Raised dome on nipple allows for a secure seal, reducing air intake and dribbles.
Breast-like shape for a natural latch and easy switching between breast and bottle.
Unique, ergonomic bottle shape for greater comfort and bottle control.
Super-sensitive valve reduces baby's air intake
BPA-free for your ultimate reassurance.
Our Ultra Bottles are compatible with Ultra Nipples only.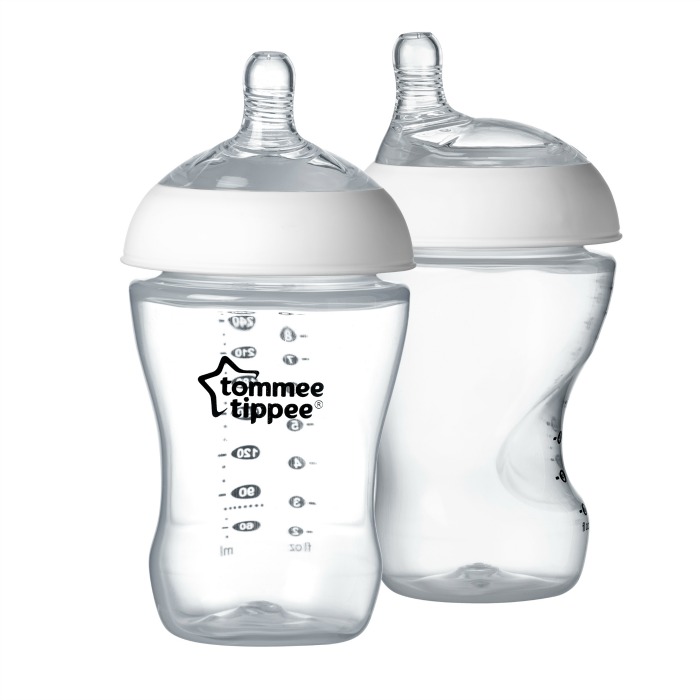 Drop by the Babies R Us website to view all the bottles and shop, or head in to your local store. You can also find out more about the Ultra bottles on the Tommee Tippee website.
With Pearl, I'm trying to appreciate each baby stage because I know how fast they pass. Right now, I love watching her crawl because it's her newest talent. Too soon, she'll be walking—and then running—around our house. Her sisters love helping her to drink with her water bottle, while I treasure moments cuddled up nursing her, wondering how long she'll keep breastfeeding. I'm anticipating her first words, while also appreciating that fact that at least one of my children doesn't talk back to me.
What's your favourite baby stage? Does your baby use a bottle?
I received compensation for this post from Tommee Tippee; all opinions expressed are my own.