These days, baby mealtime with Pearl feels like a reality TV show called "Eat it or drop it." I give her some food and wait to see what happens. If she likes it, she eats it. If she doesn't like it, she sweeps it off the table or picks it up and holds her hand out over the floor to let it drop. She seems to know there's a space between her high chair and Jade's booster chair that's hard to reach, and that's where all the "drop it" food goes.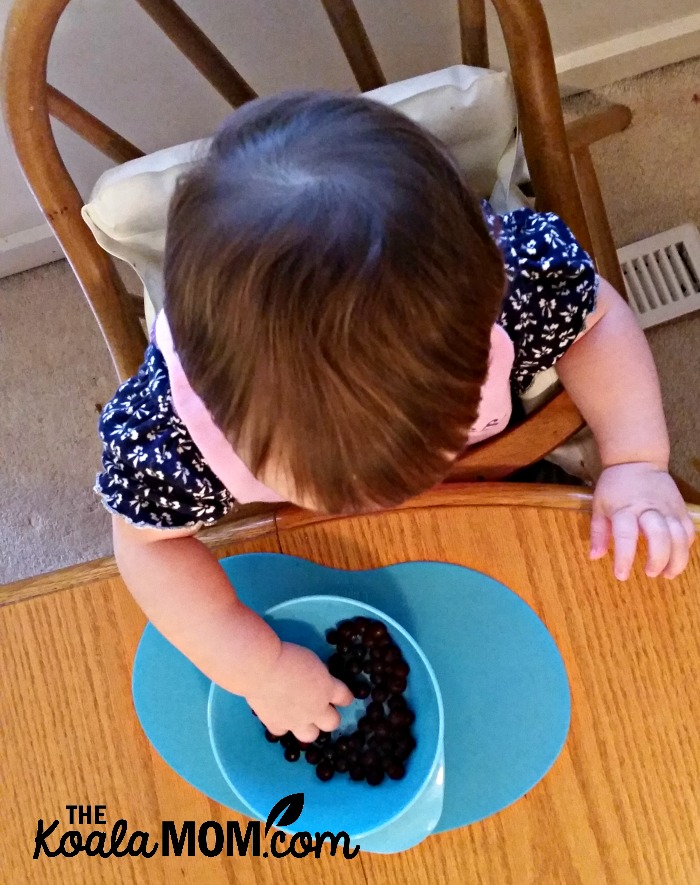 "Eat it or drop it" is particularly tricky with the white carpet in our dining room. Most foods Pearl drops can be vacuumed. I tend to avoid giving her a bowl, as that just hurries up the "drop it" process. Why drop blueberries one at a time when you can dump a whole bowlful on the floor?
I received the products featured in this review courtesy of Tommee Tippee; all opinions expressed remain my own. This post contains affiliate links; as an Amazon associate, I earn from qualifying purchases.
EasiMat makes baby mealtime easy!
Then I saw Tommee Tippee's EasiMat. I seriously wish I'd gotten this a long time ago (like when Sunshine was a baby). It is awesome! (Once I got my older girls to stop playing with it, that is… They all had to check out how the bowl stuck to the mat and then demonstrate the pull-to-release for me.)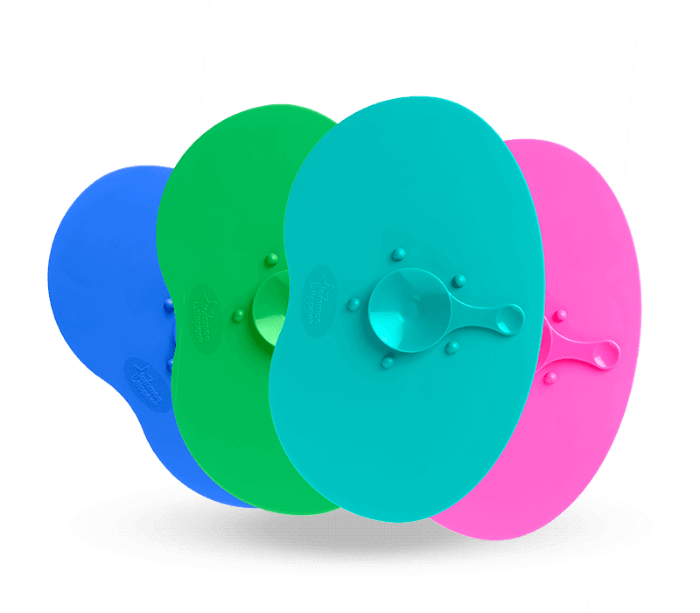 Simply slap the EasiMat onto the table in front of baby. Stick their bowl to the EasiMat. Put food in bowl. Let baby eat. No more bowls getting dumped or thrown or pushed around the table! Baby mealtime is so much easier now.
Of course, she can still drop her food one piece at a time over the edge, if she wants. Most of it stays in the bowl, though, and the bowl stays on the table. Win!
Right now, I usually give Pearl finger food. She likes eating chopped up pieces of whatever we're eating, from sausages to pasta. Grapes and other soft fruits make great snacks. As she starts to use a spoon more, the EasiMat will be great for keeping her bowl steady while she learns to scoop things out.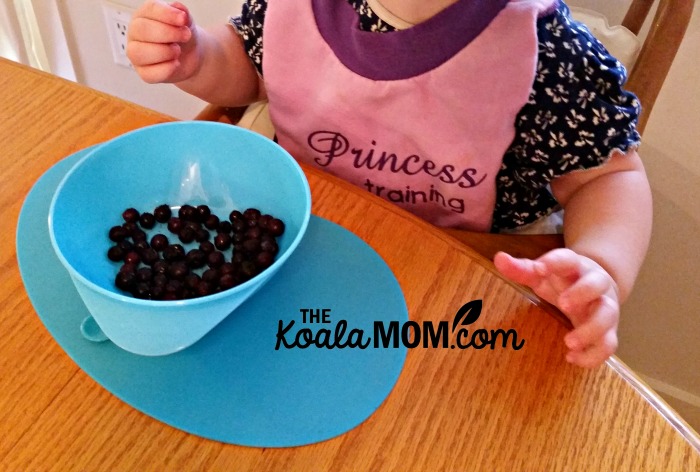 The EasiMat sticks to all flat surfaces (from our wood table to a plastic high chair tray). It is easy-to-use and wipe clean or can go in the dishwasher or sterilizer. It's also microwave safe. It's BPA-free and suitable for babies from 7 months up (about the age when they want to sit in a high chair feeding themselves—or throwing food around).
Easy Scoop Bowls are great on-the-go
The Tommee Tippee Easy Scoop Feeding Bowls are the perfect companion for the EasiMat. Their flat bottoms stick to the EasiMat. The unique triangle shape makes it easy to scoop food out of the bowl.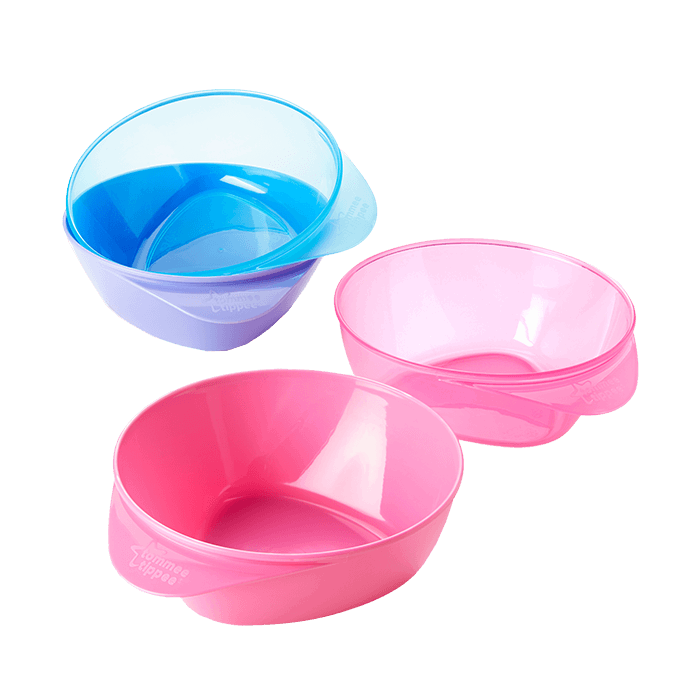 My favourite part of the Easy Scoop Bowls is the lid. It has this nifty little cover that holds the spoon in place, while keeping the spoon clean. It's perfect for outings with baby. And with the older girls' activities, we're out a lot! Now I just put a snack in the bowl, snap on the lid, and we're good to go! When Pearl gets hungry, it's easy to feed her anywhere.
The Easy Scoop Feeding bowls are stackable for easy storage.They are dishwasher, microwave and sterilizer safe. The bowls are also BPA-free.
Mealtimes with Pearl are so much fun. We love watching her face when she's trying a new food! Her reactions are often priceless, leaving us laughing hard—which makes her laugh too. Right now, one of her favourite foods in frozen blueberries. She ends up with purple hands and mouth when she's done! She's very interested in spoons and stirring things, but hasn't yet mastered the bowl-to-mouth process.
Sippy Cup minimizes spills
While I'm feeding her, I make sure she has some water as well. Adding solids to a baby's diet can often cause constipation. When I give Pearl water while she's eating, she's much less likely to get constipated. I still nurse her frequently, but I've found that she likes having her water bottle for "meals." In fact, she's started holding it herself. She's even figured out to tip her head back to get the water out.
I tried a couple different bottles before I found the right one for her. I've had a few bottles in the cupboard since Sunshine was a baby. Because I primarily breastfeed, the bottles haven't gotten much use. With Jade, I often used the bottles instead of a sippy cup. Unfortunately, Jade chewed holes through most of the nipples. I was happy to discover I could replace the nipples, which I did. However, two of the bottles have large nipples, which made Pearl choke and gasp when drinking. Then I tried another bottle, with a different nipple. She loved it.
If you're looking for a bottle for your baby, whether he breastfeeds or bottle feeds, I recommend the Tommee Tippee Closer to Nature bottles. This bottle offers a breast-like shape for baby to latch onto, reducing nipple confusion if you are nursing as well.
What are your tips for making baby mealtime easier? Have you tried the Tommee Tippee EasiMat or Easy Scoop Feeding Bowls?