Suffering is a topic that many Christians struggle with. None of us wants to deal with pain, and it seems strange that a loving God would force us to do so. This is exactly what Christy Beam (Jennifer Garner) expresses in the movie Miracles From Heaven
. When her daughter Anna (Kylie Rogers) is diagnosed with a rare, incurable, and painful disease, Christy walks away from church.
This post contains affiliate links; as an Amazon Associate, I earn from qualifying purchases.
Miracles from Heaven overview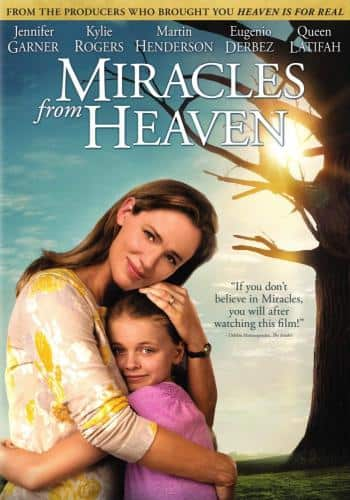 She becomes a fierce advocate for her daughter. In fact, it is only when Christy refuses to leave the hospital until she gets answers about Anna's illness that it is diagnosed. They are told one specialist in Boston deals with Anna's illness, but he has a 9-month waiting list. As Anna's condition deteriorates, Christy flies to Boston with her and refuses to leave until Dr. Nurko sees them.
Even with Dr. Nurko's care, however, Anna continues to get sicker. She gives her cross necklace to a girl in the next bed. Then she falls into depression, telling her mom she wants to die because then she wouldn't be in pain. Finally, she recovers enough to be able to go home. In an effort to cheer her up, Anna's older sister convinces her to climb a tree. Then the unthinkable happens: Anna falls 30 feet down inside the tree.
That's when the miracle happens. Anna not only survives her fall, but has a complete recovery from her incurable digestive disorder.
My thoughts on the movie
I cried through so many parts of Miracles from Heaven. As a mom, I could totally identify with Christy's fight to get help for her daughter. I have friends who've faced serious health problems and vague answers from medical professionals. And Christy's questions about faith have been asked by many others before her.
There were also moments of humour throughout the movie. During one of Anna's hospital stays, all three girls gangs up on Mr. Beam in a pillow fight. Um, yeah, that happens in our house too. 🙂 Dr. Nurko is the best pediatrician ever, with a great sense of humour despite the fact that few of his patients recover from their illnesses.
Miracles from Heaven features an all-star cast, with a shining performance by Jennifer Garner. The story focuses on her point of view, yet gives us glimpses of how the other family members are dealing with Anna's condition. Queen Latifah plays Angela, a waitress who is one of the "mini miracles" in the movie. And Third Day plays the church worship band, with two songs providing poignant music.
"This film is one of Jennifer Garner's most noteworthy performances as she excels as Christy Beam." ~ The Christian Film Review
Seeing movies like this come out of Hollywood and hit the big screen gives me hope that there's still some good left in America. From the non-preachy faith message to the stellar acting to the fast-paced plot, Miracles from Heaven is everything a good movie should be. If you missed Miracles from Heaven in theatres, you'll want to grab it on DVD. Although the movie raises tough topics like illness and death, it also shows love and hope and faith.
"You may think you know the ending to this one, but you really don't. There is a wonderful surprise ending. This is a must-see movie and one of my favorites so far this year. It is an uplifting and inspiring story of family, friends, faith, forgiveness, healing, and miracles. I give Miracles from Heaven my highest rating – five stars." ~ Catholic Fire
Family-friendly: There is no language or violence in the film. The only nudity is Mr. Beam changing his shirt on the run before church in the opening. To view the trailer and find out more about the movie, drop by the website.
If you like this movie, you may also enjoy 90 Minutes in Heaven and I Still Believe, two other faith-based movies about facing suffering.